Synergistic Research Foundation Cables Company Review
Synergistic Research Foundation Cables Company Review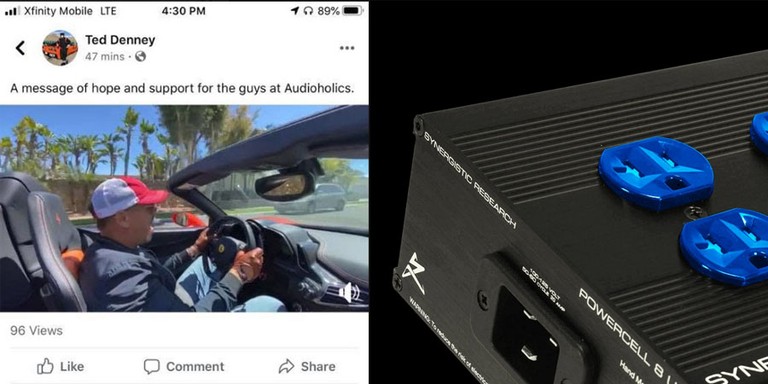 Ted Denney of Synergistic Research
Normally I don't waste time on this website venting out about any individual but this is a special circumstance worth noting for any potential reader that may come across an industry person named Ted Denney who owns and operates a company called Synergistic Research. Synergistic Research is an audio company specializing in expensive, exotic cables and audio tweaks based on pseudoscience. I've never heard of him or his company until I went public with my personal COVID-19 infection on how this situation was not only impacting my health but the Audioholics business as well.
After uploading our GoFundMe Youtube Video, Ted Denney made the following comment on our channel.
Theodore Denney III 1 month ago (edited)
"So sorry to see you having economic difficulties, would you consider selling me your Star Trek cut outs? I'd love to use them in my product videos. My company Synergistic Research is still operational, still taking orders every day, still shipping product every day, and still 100% fully employed. I think I'm gonna take my Ferrari for a spin after coffee this morning. Let me know on the cut outs. Cheers 🥂"
He then took it a step further by publishing a Youtube video on his personal channel where he was driving around in his Ferrari bragging about how well his business was doing in these tough times while mocking my health condition and the financial status of the Audioholics website. He went a step further by sarcastically offering to buy our Star Trek cardboard cutouts to help pay our bills.
Ted Denney didn't stop there. He went on his personal facebook page and continued to disparage me and the Audioholics website, threatening to report our GoFundMe to the IRS.
Theodore Denney III 1 month ago
"Audioholics Gene make 100% certain you report this income to the IRS and that you only use these funds in a way in keeping with their stated usage. It would be a real shame if the IRS were to get tipped off and launch a subsequent audit and investigation. Just looking out for you buddy and please get back to me on selling those Star Trek cut outs!"
When others on his Facebook page questioned his personal attack against me,  he stated that Audioholics slandered his company back in 2009 and it got "so ugly that the Feds had to shut down the Audioholics website and remove ALL posts related to his company". This of course NEVER happened and after he received a good amount of negative feedback for his callous posts, he took them down along with the Youtube video.
Several of our forum members shared their experiences with Ted Denney on our forum including Senior Administrator Dennis Young at avnirvana.com.
Ted Denney mocked Dennis Young's Asperger's condition on a public forum and continued to harass him. It's my understanding that Ted Denney has been banned by numerous forums and audio related Facebook groups for his despicable behavior. These are just a few examples of the nature and demeanor of Ted Denney and how he conducts business.
It's one thing to have disagreements regarding claims of audio products but it's something much different when an individual goes out of his way to mock a victim suffering from COVID-19 or struggling with a neurological disorder. Synergistic Research claims about being high-end audio may be questionable at best, but the low integrity of the man behind the company is undeniable.
Update: 2/28/21: As you can see in the screenshot below, Ted Denney has been plotting to hurt the Audioholics business and me personally for over a year.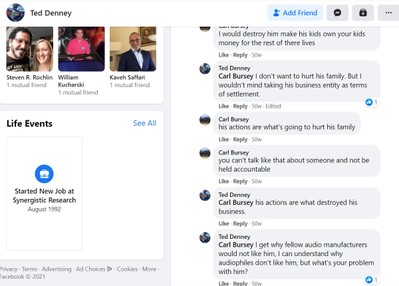 It appears Ted Denney is still at it with the threats and harassment towards the Audioholics community and me personally. A fictitious Facebook account under the alias Don Drapper was used to post disparaging comments on the AH Facebook page where he stated he and at least 10 of his supporters have filled fraud claims against me personally to the IRS over our GoFundMe. In addition, he has gone to various Facebook Groups like Audiophiles on a Budget to brag about reporting my GoFundMe to the IRS. He then deleted his posts and only retained my replies to make himself out to be the victim on his personal Facebook page.  I had to make my personal Facebook account private because he was taking family photos of myself and a cropped image of my 13yo daughter in bathing suits to mock me on his Facebook page to his friends. I also learned today that the numerous daily phone messages using CallerID spoofing I've been getting to the AH Business line either containing dead space for 5 minutes or random sound effects are likely his doing since Ethan Winer of RealTraps has been a recipient of similar behavior from Ted. I posted this in the Audiophile Facebook Group and continuing to monitor how this progresses to determine the next course of action.

Confused about what AV Gear to buy or how to set it up? Join our Exclusive Audioholics E-Book Membership Program!
Recent Forum Posts:
Pogre posts on May 09, 2021 10:45
Haven't heard much about this in a while…
ellisr63 posts on May 09, 2021 10:39
stalag2005, post: 1475060, member: 92863
From slander to covid. Gotta love it around here!
Well they are both something we wish would just go away.
Sent from my SM-T830 using Tapatalk
Gmoney posts on April 25, 2021 21:56
Eppie, post: 1478928, member: 94526
Yeah, and we already have a Covid thread.

You'll be right in saying "we already have a Covid thread" on Genes forum, it called " Steam Vent" its the only place AH members can postup " anything, talk about anything other than audio gear and so on. The one thing on "Steam Vent" are a Mod can lock Any Thread or remove a post or even if that Mod so choose to do even drop the hammer a profile.
Eppie posts on April 25, 2021 18:19
stalag2005, post: 1475060, member: 92863
From slander to covid. Gotta love it around here!

Yeah, and we already have a Covid thread.
Gmoney posts on April 25, 2021 17:03
The Weirdest thing happened last night, I was at this gas station, Just paid the Cashier for my fuel. Well this dude walks in who I have never met before. About umm 5f 9" tall had black hair Bald in the middle on top, look like he had hair implants in the front. He proceeded to ask me if I want to sell my car. Well long story short dude gives me a $500.00 dollar money order. As a deposit, thing is he wanted me to hand the keys over right than and there. Told the dude that I didn't have the title is a balance of $480 left to pay off that we have to wait till Monday. Than I could sign over title to him and he could pay me the rest. But was Insisted that I meet him today which is a Sunday that he knew somebody that was a notary. So he gave me his cellphone number and give him mine. Well I woke up had a change of mind of selling my car. Call my two Sons told them what went down last night. My youngest Son, tells me, Dad that was more than likely a Crackhead, methhead or some chump trying to Scam you out of your car. That the money order was maybe even a Stolen money order. Made Perfect sense to me for someone out of the blue to hand me over $500 on the spot as a deposit. But wanted me to get the deal done before Monday. Seems like something a Shyster would try to do. Didn't a dude like that try to buy Gene off, even going after Genes Star trek cut outs. Didn't one of AH members post up that Ted is Bald on the top and had hair implants in the front? complexion tan skin? If it wasn't him sure seemed like a Smooth fast talking "Eddie" Snake salesman. So I called my Local police department, Cop came over took a report. He told me, I more than likely will never hear aka "George Adams" best thing I can do is just burn the money order or shred it to be safe. So I burned that $500.00 dollar money order with a big smile on my face. Here the real kicker dude tells me after I said make me an offer
He tells me, I'll pay what ever price you want for that Mustang. It's a 07, he just wanted to take it back to the East Coast with the top down. Can't Imagine why, cause not much hair on his head. I have more hair and No hair implants.
Post Reply