Join Us this Week at the Audioholics SOTU Tradeshow Event
Join Us this Week at the Audioholics SOTU Tradeshow Event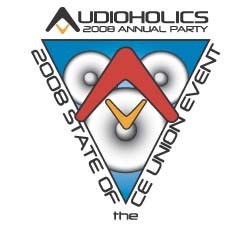 SOTU Logo
The Audioholics 10th Annual SOTU Trade Show event is upon us. This Thursday and Friday, October 23rd and 24th, please join us at the wonderful Disney Dolphin resort in Orlando, Florida to experience 7 state of the art demo rooms showcasing the latest A/V gear in the industry.
Casual Attendees
For casual attendees, all you have to do is show up from 9am – 5pm on Thursday or 9am – 4pm on Friday to experience the following absolutely FREE:
7 LIVE High Definition A/V Demo Rooms
7.1 Surround Sound Spectacle in Dolby TrueHD
See the latest in Blu-ray 1080p
State of the Art Never before seen A/V electronics from Emotiva, Sherwood, EMP and more…
FREE Educational Seminars (i.e. How to hook up…, speaker placement, more)
Get Free Swag (DVD samplers, HDMI cables, Blu-ray discs, and more)
FREE Ice Cream from Ben & Jerry's served by Jerry (Friday Only)
FREE Massage by licensed Therapist
Registered Attendees
For registered attendees, you can pick up your registration packages at our main registration booth in the convention foyer (look for the Audioholics banners and balloons) between 8:30am – 5pm. Enjoy two FREE days of breakfast on us while you register. Once you are registered, you will get your tickets to our special Ballroom Banquet Event / Halloween Costume party which will begin at 6pm on Thursday October 23rd in Southern Foyer I-II. Don't forget you wear your best costume to be eligible to win a prize. Be prepared to win home theater equipment and bid on hot items for the benefit of the National Conservation of Science & Policy.
| | |
| --- | --- |
| Demo Room | Exhibitors |
| Europe 4 | Sherwood Newcastle |
| Europe 5 | Yamaha / EMP |
| Europe 6 | Epson |
| Europe 7 | Marantz / Snell |
| Europe 8 | Audyssey |
| Europe 9 | Emotiva |
| Europe 10 | Dolby/Pioneer |
| Asia 5 | Educational Seminars |
> Show floor Map <

Show Hours 10:00am-5:30pm October 23rd, 9am - 4pm October 24th
Banquet / Halloween Party (registered members only) at 6pm on Thursday
See: SOTU Event Schedule and Educational Seminar Schedule
or download the files below