Is the Netflix Empire Built on a House of Cards?
Is the Netflix Empire Built on a House of Cards?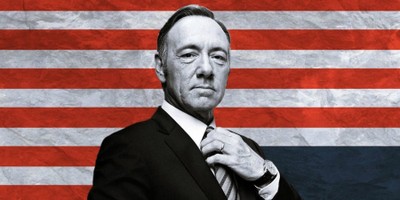 Netflix House of Cards
It's difficult to believe that Netflix started life as a subscription DVD rental service. The company that is now known for producing many of the hottest titles on TV, didn't even begin streaming video until 2007, one year after Amazon launched its on-demand video service. It wasn't until 2013 that Netflix produced its first original series, aptly entitled House of Cards. Netflix would go on to forever change how we watch TV while spawning a new lexicon consisting of "binge watching" and of course "Netflix and chill".

As of this week's Q3 2017 earnings report, Netflix is at an all-time high in almost any meaningful revenue measure. The online entertainment service now has over 109.25 million subscribers worldwide. That's up from 86.74 million from this time last year. Netflix is already projecting it will net over 115 million subscribers before 2017 is over. Meanwhile, the company reports a Q3 2017 revenue growth of 33%, thanks in large part to a 24% average increase to our Netflix bill. All-in, 2017 has seen the company nearly double its operating income to $209-million.

The wealth generated from its success allows Netflix to lead the way in a war of content escalation against its rivals. Netflix has promised to spend somewhere between $7 to $8 billion on content in 2018.

If it accomplishes its goal of granting such a ginormous garden of greenbacks to content, Netflix will be the number one spender in TV with a larger content budget for 2018 than any other network, including ESPN. The sports network that annually secures the rights to broadcast the NFL's Monday Night Football as well as NBA and MLB games has held the top content budget for years. ESPN plans to spend $7.3 billion in 2018.

Netflix says, fans of its original series can expect more of the same, much more. It's award winning shows like Orange is the New Black, House of Cards, Stranger Things and Narcos have been mainstays of annual award shows for the last five years. "Netflix original" has carved a solid reputation. To put Netflix's success as a content producer into perspective, number one TV broadcast network, NBC only holds the number three spot for content spending with a 2018 budget of $4.3 billion, just over half of Netflix's budget. Star Trek owner CBS holds the number four spot at $4 billion. How far the mighty network TV has fallen, soundly being beaten out by a cable sports network and an online streaming service.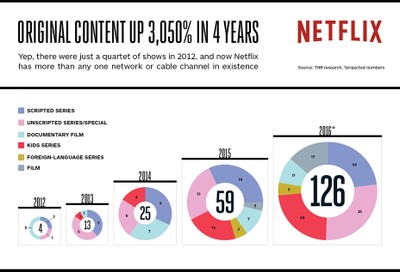 Speaking of online streaming services, Netflix closest competitor in the on-demand space is Amazon holding down fifth place with a $3.2 billion dollar budget. Fifth place isn't a position the number one retailer in the world will likely occupy for long.

Netflix Bubble
Despite Netflix's board having good reason to celebrate while giving high fives all around, there are concerns that Netflix shares aren't spiking as a result of all that revenue and subscriber jubilance. Some are even talking about a "Netflix bubble".

This is because all of that bold content budget comes at a cost of extreme debt. Netflix holds obligations that total around $21.9 billion dollars as of September 30 2017, and that's up from 16.8 billion from this time last year. Despite growing debt, Wall Street has proven that it won't turn away from a growth opportunity, even if the earnings still can't pay the bill on production. Some analysts wonder how long Netflix can sustain the growth required to pacify investors, especially in the current climate of intensifying competition from other top-tier content producers.

According to CFRA Research analyst Tuna Amobi, Netflix will need to maintain its present rate of growth to keep investors paying the bills for all that new streaming content. The pace of Netflix's growth is going to be more difficult to maintain with its market under siege by powerful brands like Apple, Amazon, Hulu and YouTube who are moving into the on-demand media market with plans to produce killer content of their own.

How sustainable can the growth of a streaming media company really be?
Even with a stable of award winning shows like House of Cards, once viewed, it has negligible value to the consumer. This means that Netflix is on a runaway treadmill of constantly requiring massive investment at a rate that is well beyond its means, to produce more and better shows to keep existing audiences subscribing while continuing a steadily escalating pace of growth. It may seem inconceivable to us now, but one crack in the cycle between incessant borrowing and growth, could bring the House of Cards producer tumbling down.

Confused about what AV Gear to buy or how to set it up? Join our Exclusive Audioholics E-Book Membership Program!
Recent Forum Posts:
Gunny posts on October 31, 2017 18:06
j_garcia, post: 1218186, member: 10856
Looks like house of cards was built on a house of cards….

https://www.cbsnews.com/news/house-of-cards-production-season-6-netflix-kevin-spacey/
Cute but not exactly. House of Cards was already on a downward spiral, getting worse with every recent season and, from what I've heard, Netflix was going to call it quits after season 6 anyway. The original developer, Beau Willimon, had already left the production years before. The fact they have allowed this decision to be pinned to Kevin Spacey is yet another reason for me to consider leaving the fold.
j_garcia posts on October 31, 2017 15:58
Johnny2Bad posts on October 28, 2017 02:11
The way to make money in TV is twofold:
Get a popular program, so that you can sell re-runs. Stations are still paying for episodes of 'The Munsters" and "I Dream of Genie" fifty years later.

Get a program you can sell to other markets. Some rather benign shows like "Degrassi High" are sold in like 120 markets and two dozen dubbed languages. When I turn on my UK TV subscription I see "Dr Quinn Medicine Woman" on British stations. It's a rather ordinary show, but it's making money, trust me.

"Baywatch" is another example, it's in a hundred markets in syndication, making cash every day.

Netflix doesn't necessarily need to do those things, exactly, but it can leverage that strategy to get Netflix subscribers in the 100+ markets that they could be in. Netflix doesn't have to have "nothing but hits" … people will still pay for TV when they've watched all the blockbusters and still want "something" to watch.

Maybe that's a little hard to see from America, where Netflix still is seen partly as a DVD subscription service. In the countries where it's doing well broadcasting on a subscription basis, they never did the "mail DVD" thing, and they are doing well in those markets. Better, actually, than they ever did renting movies.

Netflix is disruptive technology. The proof is how many players are trying to get into the subscription model. You need a base of subscribers, and Netflix has that. Some players have already failed, not getting the subscriber base needed to reap profits. If there was no money in it, nobody would be doing it besides Netflix, and that't not the case.

Rights to programming are National; you can't show a program just because you have the US rights outside the US. Getting those rights signed is key, and Netflix is way ahead of the game internationally. Even Amazon has little inertia there; they don't have nearly as many Amazon Prime members outside the US as they need to knock Netflix off their lead.

In the US, it's a dogfight. Outside the US, Netflix is way ahead of the game. That's TV 2.0, basically.

I'm not saying they have it made, the last words haven't been written yet, but they have a huge lead in most markets versus the competition. They've just committed to produce a half Billion $ worth of original programming in Canada over the next five years. Just an example of where they are at. So, it's their game to lose.
mtrycrafts posts on October 27, 2017 19:29
In the end, isn't everything built on a house of cards?
Gunny posts on October 27, 2017 15:13
BoredSysAdmin, post: 1217656, member: 28046
I had a thought that unlike traditional content model, where syndication is required, Netflix technically doesn't need it since they could serve their original content without restrictions to any of their customers globally.
Unless I'm missing something, herein lies the rub. As the original article stated, even when Netflix does produce amazing new content, once viewed, it is largely useless to their current subscriber base. To generate new revenue from them a price increase is required and even ardent subscribers will eventually reach a breaking point with paying for content that doesn't interest them. Simple math illustrates the problem. New content costs way more to acquire or produce than new member revenue can ever be hoped to generate. Companies like HBO have corporate parents and a portfolio of other content producing companies that can subsidize and augment their efforts. Netflix lacks this. In short, I don't see how a company like Netflix can ever win a long-term content war with the likes of HBO. Reed Hastings has proven me wrong in the past. Maybe he will again.
Post Reply