The High Road to SOTU, Audioholics Home Theater Tradeshow
The High Road to SOTU, Audioholics Home Theater Tradeshow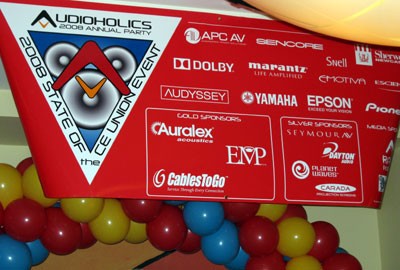 Audioholics' tenth Annual SOTU (State of the Union) Expo is my first and a welcomed trip to see Florida. I admit I'm a complete Mickey virgin. That's not as bad as it sounds but I'm sure the late Walter Disney would not approve.
We left Buffalo's quaint little airport being pelted by wet snow and a freezing wind. The late October weather gave me a last kick in the drawers before I flew into mild temperatures and sunshine.
Orlando airport is massive and makes you appreciate simple air-strips, like the one in Buffalo N.Y. My tested method for getting around a busy airport is to try to follow signs. When the signs stop making sense I just follow someone that looks like they know where they're going and it will all start to make sense again, eventually.
Orlando's airport is so big that it actually has its own train. It's a people mover that whisks passengers above a manicured swamp and into the terminal. I would soon find that much of Florida is manicured swamp. The state is full of such contradictions, as the entire nation learns every four years. Is this a red state or is it a blue state? Nobody knows!
We arrived at the Walt Disney World Dolphin Hotel in a shuttle driven by a big muscular black man who could be doing stand-up in a comedy club. He'd simultaneously crack a smile and a joke tailored to your situation. It's a skill that must serve him well in carting milky hued air-travelers to their hotels.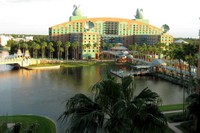 Pictures of this magnificent resort do it no justice. It must be seen to be truly taken by its dazzling colors and lights that dance inside fountains placed in decidedly random locations. Florida seems to love the sight of spraying water, especially if it has light shining into it.
The Swan and Dolphin
Egypt has its pyramids and Europe has its ancient castles and churches. Disney has monuments to leisure and the Dolphin and Swan hotels are among its most opulent. Say what you want about the superficiality of the prefab city designed solely for leisure - perhaps those ancient Egyptians are jealous. I can think of no more perfect a venue for a conference dedicated to home entertainment.
As tradeshows go, Audioholics' State of the Union is smaller than the nationally covered ones like CES or CEDIA. But it's got a certain feel that all the Las Vegas tradeshows put together cannot match. It's a relaxed atmosphere. Engineers, sound experts and reps from every angle of the business mingle like old friends.
I even took a friendly ribbing from a presenter who was giving a class on Home Theater setup. It was for sentiments I wrote in the past about certain, ahem, products. But even then it's more of a friendly jibe and simple explanation, then it's quickly forgotten.
Watching the setup of the tradeshow during the busy night before was refreshing. An engineer at Emotiva was happy to string cables across the room as part of a team from the company there to promote its wares, and there were many more like him. This show was unlike other shows where you don't get to see anything behind-the-scenes. I had finally arrived!
The day of travel through unfamiliar parts of the country was over. Airline deadlines, security

checks and pointed questions from Homeland Security officers were gone. I set down my bags in the Dolphin room and wandered this maze of a luxury hotel, a complete stranger in this strange place. I stick out among the bleary-eyed vacationers as they're dragged by tireless children through the Kingdom of Mickey and his brand of overstimulation.
But finally, somewhere within the tradeshow halls, I turned a corner and saw the logos of many of my favorite electronics and audio companies. I saw the gleam of power LEDs lighting up components draped with thick cables, and felt the specific anticipation that only accompanies the setup of a home theater system. I heard the friendly voices of people I had only messaged and written to in countless emails, posts and forum threads. Here I found audiophiles, audio-fans and audioholics alike waxing excitedly about their hobby - not from some dead-pan sales pitch, but from the genuine excitement that comes of your life's passion.
Here in this manicured swamp of contradictions, I got a sense that I was home.
Confused about what AV Gear to buy or how to set it up? Join our Exclusive Audioholics E-Book Membership Program!
Recent Forum Posts: