Denon & Marantz Introduce a FREE HDMI Adapter Kit To Solve 4K/120Hz & 8K Incompatibility Issue
Denon & Marantz Introduce a FREE HDMI Adapter Kit To Solve 4K/120Hz & 8K Incompatibility Issue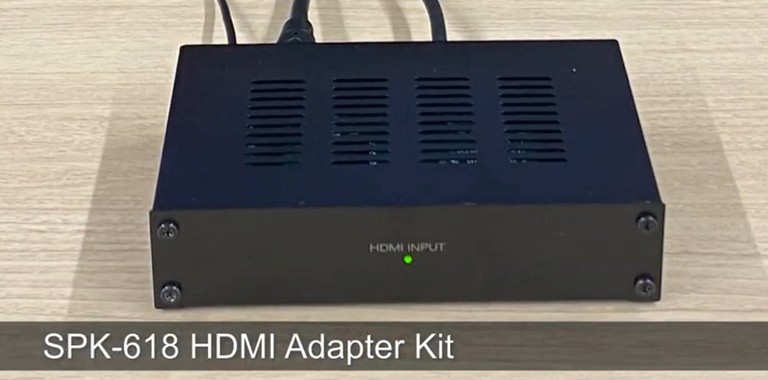 SPK618 HDMI Dongle
Audioholics loves working with companies like Sound United who are proactive at taking reviewer and customer feedback to make their products even better. In October 2020, Audioholics reported the discovery of a chipset bug in the latest HDMI 2.1 chipsets sourced by Panasonic and used in the new Denon, Marantz, and Yamaha HDMI 2.1 AV Receivers. The bug can inhibit pass through of 4k/120Hz HDR and 8k/60 HDR for some devices like NVIDIA's newest graphics cards and the latest XBOX Series X gaming console. When engaging these resolutions with these source devices directly connected to an HDMI 2.1 capable receiver utilizing the Panasonic HDMI 2.1 chipset, the user can experience a blank screen.

In December of 2020 Sound United, parent company of both Denon and Marantz, reached out to Audioholics to let us know that they have been working diligently on the problem and released an official statement regarding the issue.
Sound United completed additional testing and is pleased to report that 4K/120Hz passthrough works without issue on Nvidia and PS5 devices. Outside of what was originally reported regarding Xbox at 4K/120Hz output setting, we have had no further HDMI 2.1 device interoperability issues reported as of this writing. 
In our article on the HDMI 2.1 Bug Fix we address what can be done to fix the issue and what still needs work.This was great news for consumers who purchased one of the Denon or Marantz HDMI 2.1 compatible receivers in 2020. Sound United continued working to nail down a long-term solution for Xbox users who are looking for a 4K/120hz pass-through solution on their 8K AV receiver.
Today, Sound United announced a fix for the remainder of the issues regarding the chipset problems. The SPK618 HDMI adapter is designed to remedy the compatibility issue between SPECIFIC Denon and Marantz A/V receivers that support 4K/120 and 8K/60Hz video resolutions (models listed below) and gaming consoles that support 4K/120Hz and 8K/60Hz video resolution output.
Some new 8K source devices that support 4K/120Hz and 8K video resolution output did not work fully with Denon and Marantz 8K AVRs prior to the development of the SPK618 solution. When users attempted to output 4K/120 or 8K via these specific 8K sources, the 4K/120 or 8K video could not be passed through the AVR. This issue occurred even with the AVR's menu/GUI option "8K Enhanced" enabled. 
--Sound United
To mitigate the issue at first discovery, Denon and Marantz recommended users connect the gaming console directly to the display, and then send audio back to the AVR using ARC or eARC. Another workaround involved outputting the 8K source at 4K/60 resolution. At that video resolution, the AVR could pass the image with no issue.
The Denon and Marantz SPK618 HDMI Adapter: Installation and Use
The SPK618 Adapter

The SPK618 adapter takes an HDMI input signal from the gaming source and delivers the corrected HDMI data to the AVR, thus remedying the error and allowing a 4K/120Hz or 8K/60Hz signal to pass. The SPK618 adapter will be available for the customers who own an affected AVR and are observing the aforementioned pass-through issue. Current Denon & Marantz AVR users will be asked to update their firmware to ensure the adapter compatibility if they do not have their products set to Auto Update. The adapter will ship starting from the middle of May 2021 in North America. Customers who have an affected receiver will not need to ship anything or retrofit their products at home.  The low-profile adapter will be provided to customers with the listed AVR models at no cost during the warranty period.
Note: We reiterate that this solution works only with the models listed below that are having problems working with Xbox gaming systems at 4k/120Hz and that consumers with other models should NOT order the SPK618. You will NOT need this device unless you are planning on running the latest XBox gaming system at 4k/120Hz through your AV receiver.

Affected Models
Denon AVR-A110                   Marantz AV7706
Denon AVR-X6700H               Marantz SR8015
Denon AVR-X4700H               Marantz SR7015
Denon AVR-X3700H               Marantz SR6015
Denon AVR-X2700H               Marantz SR5015
Denon AVR-S960H                 Marantz NR1711

Those interested in receiving SPK618 will need to:
Step 1: Go to www.denon.com/hdmiadapter for Denon.
            Or go to www.marantz.com/hdmiadapter for Marantz.
Step 2: Fill out the form with the required information starting on May 15th, 2021.
Once received, users will need to update their AVR's firmware to complete the process.
Confused about what AV Gear to buy or how to set it up? Join our Exclusive Audioholics E-Book Membership Program!
Recent Forum Posts:
WookieGR posts on May 05, 2021 10:33
All this activity over a single input is a joke. There are still at least two more devices for gamers that need consideration. That box should have had three in and one out to compensate for the lack of inputs on the receivers. The industry desperately needs a modern switcher and as of today, none exist. One with not only HDMI in but cat6 for extended runs. I would imagine a modern HDMI 2.1 switcher with five in and one out that does the signal processing to compensate for the display device would sell tremendously to not only the mature gaming market but for high end videophiles wanting future proof options on their 8K projectors and TV's to distribute high bandwidths from their server closets.
Trebdp83 posts on May 04, 2021 21:23
I'm shocked, just shocked.
AVR Enthu posts on May 04, 2021 18:57
It shoud be noted that Sound United's video demo of the new adapter box shows that the signal passed through was 32 Gbps at 8-bit, with no HDR and no VRR. The XboxX console is capable of outputting 40 Gbps, with HDR and VRR to capable TV. It works perfectly fine, at 40 Gbps+HDR+VRR with LG TVs when connected directly to it.

HDR and VRR are still officially advertised features on AVRs by Sound United. Both features have not been shown to work with a new HDMI adapter box. What is going on here?

The last section of the video demo does show info screen with 40 Gbps, but this is not signal from XboxX. This section of new video is a fake - it's a copy and paste from their December's video where they showed video connection with Nvidia's 3080 GPU, which was 40 Gbps signal. Why did they copy and paste irrelevant information into new video?

At 3:33 in the new video we see 10-bit at 40Gbps. We don't know what the source of the signal is here. New video clip is not 100% original recording.
If you freeze 3:33 moment in the new video and freeze December's video on 6:30, you will see exactly the same room and furniture setting, position of cables and devices.
New video with HDMI adapter 32 Gbps
December video with Nvidia RTX 40 Gbps

Therefore, new HDMI adapter has not been demonstrated to pass 40 Gbps with XboxX; only 32 Gbps - a degraded signal.

Someone needs to call or write an email to SU and request from them to clarify why is it that they did not show general info menu with new HDMI adapter at eh end of new video, but instead used information from old video with Nvidia GPU. Are they trying to hide that new adapter can only pass through 32 Gbps?
M Code posts on May 03, 2021 15:00
ouchmythumbs, post: 1480375, member: 94977
Without knowing anything about this, I really question the HDMI certification process, too, and the culpability there. Reminds me of the FAA letting aerospace manufacturers self-certify; what could possibly go wrong?

1 of the major advantages of having an HDMI product being submitted for compliance to the HDMI testing center
beyond just processing and operation of supporting features
..
Is that the product is tested for interoperability with other HDMI components including CEC…
Note that certain products like a cable box or satellite tuner or game console connected directly to the HD display with HDMI has a
wider tolerance
for reliable operation. Because it is simply a source, sending an encoded stream to the HD display for decoding… But an AVR does much more; its HDMI circuit is actually a
"repeater…"
The AVR does the following:
Takes the incoming encoded HDMI stream

Extracts the audio and decodes it for processing and sound output

Extracts the video, decodes the stream

Re-encodes the HDMI stream exporting to the HD display

Re-encoded HDMI stream/timing must be a mirror image of the native incoming HDMI input stream

Just my $0.02…
snakeeyes posts on May 03, 2021 11:48
The first clue HDMI 2.1 was not close to ready was seeing TVs and AVRs only supporting 40g instead of 48g.

I'll try to wait for 2023 or 2024.
Post Reply