Mac & PC Software Solutions and Conclusion
Mac & PC Software Solutions and Conclusion
So the whole point of this is to simply get content streaming from the Internet to your television. After you have made your connections, the only remaining thing is to boot up and select the best and easiest way to procure said content to your screen. For our purposes, we'll separate this section into Mac and PC.
For PC Users
PC users will want to boot up Windows Media Center, which is included on most versions of Windows Vista and Windows 7. If you do not have either of these operating systems I'm going to defer you to a later article or the forums as we can't possible tackle all of the permutations. Realize, however, that if you can pull up the content on your laptop manually, you can see it on the screen. This means that you can have easy, direct access to Hulu, YouTube and Pandora, etc without running Windows Media Center. MCE simply consolidates your options and presents a nice unified interface for bringing up content.
With Windows Media Center you'll want to note that several plug-ins will serve to make your experience more convenient and unified:
SecondRun.tv – Hulu for MCE
First off, we suggest grabbing the MCE plug-in from SecondRun.tv. This is a plug-in that brings Hulu content to Windows Media Center. It's a beta plug-in, but it is free and, except for some particular quirks, works very well. Here are some screenshots of what you can expect to see: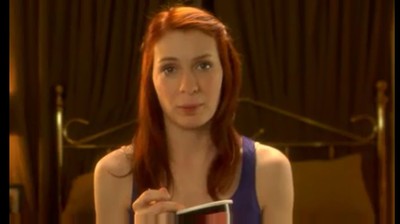 Netflix on MCE
Netflix is now available on Windows Media Center. This is an incredibly useful addition and it can be accessed simply by going to the new Netflix tile under "TV + Movies". To stream movies and TV shows from Netflix, just click on the new Netflix tile and login with your existing Netflix account. You'll have to register the device, but as Netflix gives you up to 6 Netflix-enabled devices or PCs, you shouldn't have any difficulties.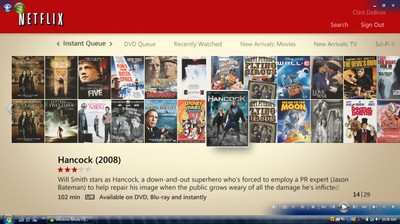 YouTube, Apple Trailers, MSN Soapbox, ZeroPunctuation, Yahoo! Music and More...
With the Yougle Vista plug-in from Push-a-Button, users can stream videos from YouTube, MSN Soapbox, ZeroPunctuation, Yahoo! Music and more. This is a freeware plug-in, however additional features can be unlocked, including saving videos to specific folders and saving searches, by making a small donation.
So for PC uses, Windows Media Center offers a lot of power and a simplified user interface for accessing some of the best streaming content online. Mac users, on the other hand, have it a bit tougher.
For Mac Users
Mac Users have an application called Front Row. Unusual for Apple, Front Row is going to be largely useless out of the box unless you are really into loading up your iTunes Library with DVD and other content. Front Row is largely software that simply interacts with the libraries of media in iTunes. Fortunately, this hasn't stopped third-party developers from picking up where Apple left off and making plug-ins which fix the massive holes left by this software. In particular, an application called Understudy has been designed which allows users to access the Hulu Desktop Player from within Front Row. This is significant as Hulu represents one of the largest and most populated sources of free, current television content for the computer. Understudy currently supports Hulu, Netflix, YouTube, and to some degree the BBC iPlayer. So with this plug-in installed, Front Row comes alive.
The Hulu Desktop option in Understudy actually launches the actual application, and so may require an addition control or click to bring it into full-screen mode. In either case it worked fine for us, with only the occasional glitch. And, of course, Hulu has so much content that its navigation leaves much to be desired. If you know the name of the show, however, the alphabetical listing is always going to lead you where you need to be.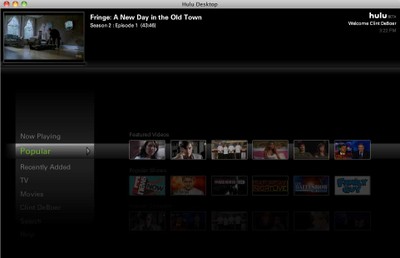 The Experience

So what is the experience? It ranges. Those who really deck out their systems with the proper peripherals will enjoy a tremendously cool interface that will allow them to sit at their couch and watch streaming content on their televisions. There is so much free (or ad-supported) content online that it's a wonder anyone still has CableTV. If you can stand to delay yourself a day or two, Hulu offers just about everything you could hope to watch - and then some. Sporting events are another story, of course, but there are online subscription models for some of those as well and a good HDTV antenna may fill in the rest.
Here is the bottom line. Peel all of the complexity away and anyone can, with a couple inexpensive cables, connect their laptop to their TV. Since laptops are quite portable, it takes almost no effort to bring up Hulu – even in a web browser – and initiate a full screen movie or TV show. Contrast this with the traditional HTPC, which tries to be a TV tuner, DVR, Internet browser and everything else. The key these days is simply getting access to the media you want – and putting it up on your television. With a laptop this can't get any simpler – and it doesn't require a dedicated machine or expensive hardware.
Hopefully this short guide has at least unlocked the possibilities and given you insight into how you might use products you already own to bring excellent new content into your living room that would otherwise remain trapped online. With the right mindset, the possibilities are almost limitless and the ease with which you can access content will change the way you look at online media forever.
Confused about what AV Gear to buy or how to set it up? Join our Exclusive Audioholics E-Book Membership Program!
Herb posts on May 31, 2011 09:46
Thanks , I have recently been searching for info about this topic for ages and yours is the best I've discovered till now. But, what about the conclusion? Are you sure about the source?
Be listed software
tsunamiguy posts on April 08, 2011 04:57
"This isn't an HTPC, its a streaming appliance. If its going to be a single purpose appliance, you can strip most of the OS out and leave in the few things needed to decode and stream.
To me, that also puts it in a different price category, more like $300, to be of value."
I do agree with you, dude .
____________________
dvd ripping software
filmbug posts on October 19, 2009 02:07
What about upscaling of DVD?

Hi Clint,
Thanks for shedding some light on the HTPC.

I have always wanted to backup my DVDs on a media server. Short of spending loads of money getting the Kaliedascape, this sounds like a workable alternative.
I do have some queries, however. I watch my movies on a 110 inch screen (either blu ray or up scaled DVD) using the Denon 3930. Therefore i am particularly concerned with the output resolution.

Do you know of a graphics card that can upscale a normal DVD? Or do I require some form of hardware/software processing to do this?

I would appreciate it if you could help enlighten me about this.

Thank you very much.
perato posts on October 17, 2009 20:59
There are commercial products available, such as those from
Neuros Technology
, that run Linux for much less than $579.
With a little work you can assemble your HTPC, include capture devices, and install MythTv and keep the cost below $579.
MythTV Cast
podcast does a pretty good job of describing this process.
As noted before, the Audioholics article's HTPC is little more than a streaming device. There are many more features available in
MythTV.
Phillyfan1138 posts on September 30, 2009 14:50
To me, that also puts it in a different price category, more like $300, to be of value.
I bought my htpc for 30 bucks used of ebay, came with new ram, hdd. It works perfectly. added a 750 gb drive for 60 bucks, a graphics card for 30, and linux. Plays everything from dvds to blu ray rips. Admittedly I do my ripping on my main computer and send the movies to my htpc over the network, but still, the price was really low and the functionality awesome.
As for the Mac, the video quality is superb (not sure the last time you ran a Mac, but mine even runs Windows faster than my dedicated Windows box).
I have run even recent macs and I dont like them for htpc….they seem to be slower than other pcs and last I checked lack advanced tools such as forcing frame rates, which is a must for pcs imo. I could be wrong on the last point, and the "slower" is subjective, but that is my view on the matter.
Post Reply