Edifier S2000 Pro Sound Quality Tests and Measurements
Edifier S2000 Pro Sound Quality Tests and Measurements
I tested the Edifier S2000 Pro speakers in the following three scenarios:
Theater room - placed on stands for music listening
Office- placed on desktop as nearfield monitors
Theater room - placed on floor used with Roland drum kit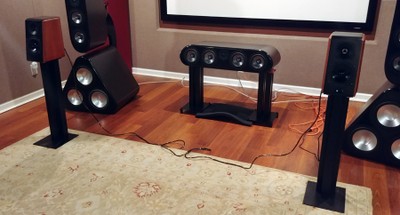 Edifier S2000 Pro in Audioholics Showcase Theater Room
Listening Scenario #1: Theater Room placed on stands
I placed the S2000s on my 30" plateau stands towards the front of my room 8 feet apart while sitting 10 feet away. I feed them a direct unbalanced RCA level connection from my Marantz PM-11S3 integrated amplifier and also connected to my LG G6 phone via Bluetooth to compare audio fidelity using the same source material.
Edifier S2000 Pro in Audioholics Office Room 
Listening Scenario #2 Office Desktop Nearfield
I connected the S2000s to my Headroom preamp to bypass the soundcard in my desktop PC. The speakers were placed on my desktop 4ft apart in a nearfield environment with me sitting about 5 ft from them.  Most of my listening was done utilizing a combination of lossless FLAC files from my network HDD and streaming from Pandora and Spotify. I also tested a direct bluetooth connection from my LG S6 phone which has aptX capability.
 Edifier S2000 Pro with Roland Drum Kit

Listening Scenario #3: Theater Room on Floor with Roland Drum Kit
Although the S2000's weren't specifically designed to be used with musical instruments, I wanted to test Edifier's claim of low distortion and incredibly loud and heavy bass. The speakers were placed on the floor on each side of my drum kit.  What better way to test this claim with some kick drums and good ole fashion drumming?
Listening Tests
After I settled on placement of the Edifier S2000s in my theater room, I cued up  Kurt Elling - Nightmoves.  I was immediately impressed by the respectable bass extension I was hearing from such a small set of speakers. The top end was incredibly airy and detailed, more so than I'm accustomed to from similarly- priced conventional dome designs. Kurt Elling's voice wasn't bloated sounding and for the most part the overall sound was balanced. I switched between streaming this song on my LG G6 phone vs. streaming it from my network HDD to my Oppo UDP-205 fed to the Marantz PM-11S3.  The Bluetooth connection sounded excellent and very close in fidelity to the analog connection from my preamp. I was able to play the speakers much louder via the analog connection than streaming from my phone. However, if driven too hard by my preamp, I did detect clipping from the Edifier preamp section.
I fired up Muse 2nd law - Madness to test how these speakers could handle it at loud volume levels.  Via the Bluetooth connection, I heard a decent approximation of the deep bass this song belts out. While a subwoofer would be needed to really reproduce the bass in this song, the Edifiers didn't distort or bottom out at full volume even with the bass cranked up. I've had similar sized, though much pricier, speakers that would completely crap out on this song at these SPL levels. Rather than distortion, I just couldn't get them to play any louder until I ran analog connection to my Marantz preamp. Only then was I able to get these speakers to misbehave but it was more a preamp overload issue than a driver going into gross distortion.  The S2000 Pros showed off the uncanny ability of the tweeter at conveying every little detail of sound, most notably in Bob Marley Is This Love.  The percussive instruments just popped out more pronounced than I've typically heard in conventional dome tweeters. If I had to characterize the sound quality I was hearing from these speakers, I'd say, detailed, satisfying, but a bit forward sounding. The soundstage didn't seem to extend as deeply as I've heard on other speakers but if you favor a bolder, in your face sound, then you likely won't mind.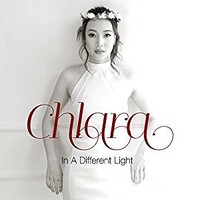 Listening to Chlara - In a Different Light SACD on the S2000 Pro speakers was a true delight.  Her voice was portrayed majestically, and the stringed instruments were vibrant.  The reverb of Chlara's voice in Track #2 "Hotel California" was intoxicating while the guitar strumming between the speakers was mesmerizing.  Bass was again taut with good depth that was nicely satisfying but had you wanting just a little more. That was easily remedied with the rear panel bass control.  I did feel her vocals were a bit forward or more aggressive in track #3 "Stuck on You" than I was used to when listening to my desktop reference speakers. One thing about the Edifiers is their sound is detailed and BOLD. Ok, that's two things and a combo that I'm sure many audiophiles will appreciate.  I don't know where I got this SACD but it's an absolute treasure both in musical content and fidelity.  Chlara does some of the best covers of popular songs I've heard and it's a great disc to showcase the fidelity of your system.  The Edifier speakers did NOT disappoint here one bit!    
Listening to these speakers in my office space provided similar results though perhaps a bit more satisfying since they were playing in a smaller space in a nearfield environment. Pop music, particularly Bruno Mars, proved quite satisfying on these speakers. The tweeter again showed off its delicacy and attention to detail. Stereo separation was very good and expansive in "That's What I Like." Bass wasn't lacking per se but these speakers could really benefit from the supplementation of a subwoofer, perhaps a small compact like a Velodyne MiniVee.  The S2000 Pros played louder than I could ever handle at sustained levels in my office. "Uptown Funk" thumped pretty good with very tightly controlled bass while these speakers again just imaged like bastards. The sound was very blunt and in your face, especially when switching to dynamic EQ mode. Now I felt like I was in a nightclub, but without the annoying smell of smoke infused with body odor. Compared to my RBH 41-SE/R office reference speakers, I'd say the Edifiers sounded larger and more detailed though bolder and more forward, while the RBH's played more delicately and needed the assistance of my Velodyne MiniVee sub to produce the bass that was missing from their anemic response. Size matters in this case and the Edifiers have the advantage with a bigger woofer (4" for the 41-SE/Rs vs 5.5" of the S2000 Pro).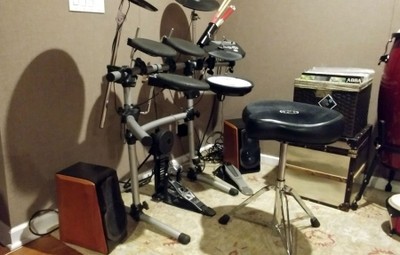 Edifier S2000 Pro Speakers with Roland TD-6V Drum Kit

I wanted to gauge how well the Edifier S2000 Pros would handle a studio environment, so I connected them up to my Roland TD-6V drum kit. In fact, this is where my first listening experience began with these speakers. Over time, my beloved Swan T200C speakers have developed a power supply problem that gave them an annoying hum, rendering them useless for this duty. I was hoping the Edifiers could provide a similarly satisfying experience for my drumming needs. Initially I felt the Edifiers lacked the depth in bass that I loved so much about the Swans.  Over the course of a few days of playing drums, I felt the drivers did break in a bit and this helped.  I also boosted the bass a tad to compensate.  The depth of the bass was closer to the Swans, but the Edifiers had the upper hand in clarity and detail in the upper registers. This was most notable with hits from the high hat and digitized sound effects.  The S2000's played plenty loud for my needs and never bottomed out or produced audible distortion.
Measurements & Analysis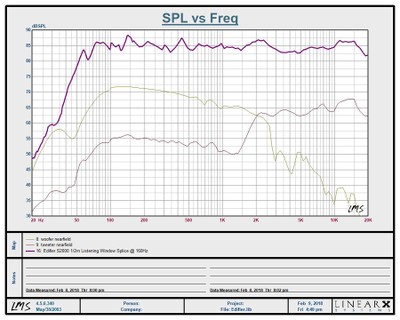 Edifier S2000 Pro In-room 1/2 meter Listening Window Response Spliced 1 Meter GP at 160Hz
I took a total of seven measurements (on-axis +-15 & +-30 deg horizontal and +-15 deg vertical) at ½ meter on the tweeter axis and averaged the response to more accurately represent what the listener will actually hear. I then spliced this data with a 1-meter indoor groundplane measurement for 160Hz and below with the mic placed between the woofer and rear port as equidistant as possible.  The combined response gives a reasonable anechoic approximation and identifies any potential acoustical problems with the speaker.  As you can see, the frequency response is fairly linear with a slight bump at the crossover region (2kHz) which looks slightly better below the tweeter axis.  The -3dB point appears to be around 50Hz with a 4th order (24 dB/oct) HPF response below the tuning frequency.  As a side note, the slight upward tilt in high frequency response can easily be tamed to taste by slightly reducing the treble control 1-2dB if you feel the speakers are a bit too forward sounding. Make sure the speaker is set to "monitor" flat position before adjusting down the treble else you will be boosting and cutting needlessly.
Edifier S2000 Pro  EQ Settings      
The Edifier S2000 Pro offers 4 EQ settings accessible only via the remote control. I measured the 4 positions (monitor, classic, dynamic and vocal) as shown above. Monitor position is the flat (No EQ), while dynamic elevates both bass (below 100Hz) and treble (above 2kHz) and classic elevates mostly the treble response while vocal elevates mids and highs starting at around 500Hz.  My personal preference was to use the speaker in the default monitor position for all of my listening tests.
The Downside
Let's face it, this review can't be all roses and virtually all products at this price point have shortcomings.  I have a hard time faulting the sound of these speakers.  While I did find the depth of the soundstage a bit lacking and the tonal balance a bit forward, the clarity and detail in the high end response was nothing short of amazing.  The bass won't shake your room, but the S2000 Pros do provide a full satisfying sound that won't require a subwoofer for most listening scenarios.  However, the lack of a subwoofer output was a real oversight, one I hope Edifier remedies in future iterations of this product.  While they are at it, a redesign of the remote so it can fit in your pocket or at least easily in the palm of your hand would be nice and please contour the edges.  A shorter connection cable would also be a welcomed change.     
Conclusion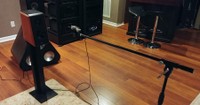 Edifier proved their mettle as a serious speaker designer with the S2000 Pro active speakers.  They offer an incredibly attractive, great sounding product with plenty of connection options, including Bluetooth 4.1 with aptX for near CD quality streaming.  I had a satisfying listening experience in virtually every scenario I listened to them in.  For $400/pair, these speakers would absolutely obliterate ANY soundbar on the market in terms of both fidelity and aesthetics.  I mention this because the Toslink input makes them really easy to connect to an HDTV display and anyone serious about sound will thank me for this recommendation over a cheesy little soundbar that barely improves upon the sound of the internal speakers of their HDTV.  Imagine having an attractive, compact, affordable speaker package that works with your TV, streams from your Smartphone and sounds great in all scenarios?  Edifier has made me a believer with their S2000 Pro speakers, and I suspect they will do the same for you.
Edifier S2000 Pro Wireless Powered Speaker YouTube Review
The Score Card
The scoring below is based on each piece of equipment doing the duty it is designed for. The numbers are weighed heavily with respect to the individual cost of each unit, thus giving a rating roughly equal to:
Performance × Price Factor/Value = Rating
Audioholics.com note: The ratings indicated below are based on subjective listening and objective testing of the product in question. The rating scale is based on performance/value ratio. If you notice better performing products in future reviews that have lower numbers in certain areas, be aware that the value factor is most likely the culprit. Other Audioholics reviewers may rate products solely based on performance, and each reviewer has his/her own system for ratings.
Audioholics Rating Scale
— Excellent
— Very Good
— Good
— Fair
— Poor
| Metric | Rating |
| --- | --- |
| Build Quality | |
| Appearance | |
| Treble Extension | |
| Treble Smoothness | |
| Midrange Accuracy | |
| Bass Extension | |
| Bass Accuracy | |
| Imaging | |
| Soundstage | |
| Dynamic Range | |
| Performance | |
| Value | |
Confused about what AV Gear to buy or how to set it up? Join our Exclusive Audioholics E-Book Membership Program!
Recent Forum Posts:
plemieux posts on November 13, 2018 11:14
Hi -
I realize that this thread has been stale for a few months, but I hope that more people (and the author) are still monitoring it and interested. This is a great review for what is sure to be a great speaker set.
I'm writing now because I'm interested in slowly getting back into high quality audio, after many many years of sacrifice for the sake of convenience (ipods, cheapish portable BT speakers like Jambox; etc), and am considering starting with either these speakers, or the Swans M200MKIII+ (about $100 more). Let's face it, I'll probably still stream my music, news etc through the iPhone, but I don't mind having speakers in one place, fixed in the room, if that will give me similar sound to what I grew up with as a teenager. Eventually, I'd even like to pair them with a high end amplifier/receiver and maybe even a turntable. No fix plans yet (yes, I know: both sets have built-in amps… and I'm not sure if that makes them completely incompatible with standalone hifi amps etc down the line…) The TV pairing will come first, certainly.
The reason for this post is a simple question, since both speakers are getting rave reviews everywhere, and we must get down to the details. Should the fact the Swans embraced the newer BT 5.0 standard as opposed to Edifier's BT 4.0+APTX (a lower standard, with about 1/4 of the streaming rate) be a decision maker in your opinion? The Swans are also 100W vs 50W for the Edifier (more capacity, but I'm not looking for 'loud').
Thank you for your comment!
PL
RichB posts on March 26, 2018 09:36
I was considering powered speakers for my game room to replace my Yamaha RX-A820 and Revel M20's but the logistics did not work out. Here were the obstacles:
Routing Power to through the walls. There was power below so it was not moderate but not sever.

Routing between speakers. There is a drop ceiling so it could be done.

Driving from the Oppo BDP-105D Balanced outs. The runs gets long so balanced inputs are a good idea.

Auto power on. The models I looked at did not appear to have a low power and auto-sensing. Wall mouted in my 9.5 ceilings would require a step-stool. I don't like leaving stuff powered on 24/7.

Some models are fully DSP controlled so powered also meant re-digitizing.

If DSP controlled, then a digital interface is preferable. This means wiring then together or wireless.

So, I bought an ATI AT5222NC which when driven directly by the Oppo BDP-105D is a marked improvement over the RX-A820. I like the Paradigm 9H approach that powers and DSPs only the bass section.
- Rich
Siddharth posts on March 25, 2018 13:57
Well i am thinking to buy it.
SKA posts on March 23, 2018 13:08
Thanks Gene for wonderful review. It seems S2000Pro are in direct competition to Swan M200MKIII and upcoming SVS Active Prime. It will be great to do comparison.
SK
KEW posts on March 21, 2018 20:04
gene, post: 1239114, member: 4348
I plan on getting in a pair of LSR 306 mkII to compare. I heard from others that these do compare favorably to the LSR 305s but haven't done a direct comparison myself.

IN my large room they just don't get quite loud enough or have enough bass which is to be expected. They do work best as a nearfield monitor and do quite well with my drum kit. I am not keeping them as I really want the LSR 306's bc of the bigger woofer and more powerful amp which should be even better for use with my drum kit especially when my friend brings his bass amp over which is far louder and more powerful than these monitors.
Yeah, the 306's won't be as pretty, but getting the full wallop from your kick drum definitely needs a decent sized driver!
Post Reply