Aperion Audio Intimus 4T Summit Wireless System First Look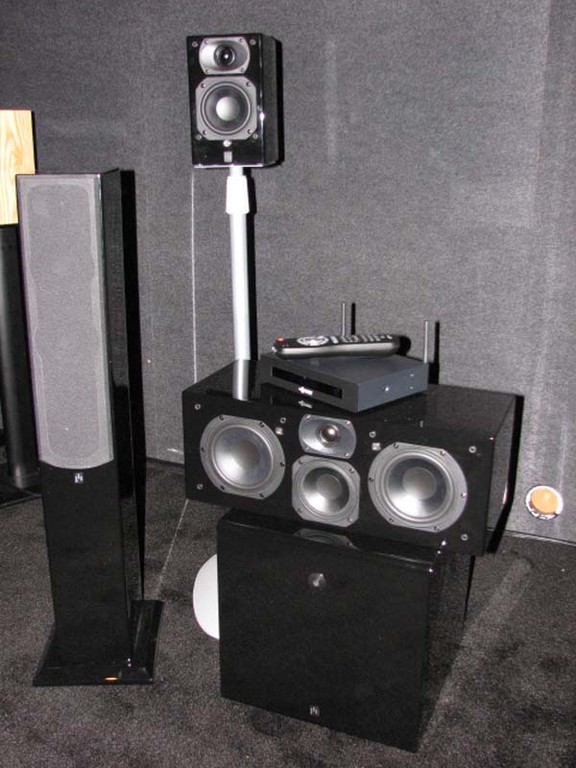 Aperion Audio Intimus 4T System
Summary
Features:
Automatic Speaker Discovery and Setup, True Plug and Play
Audiophile Grade Audio Path from Source to Speaker
Uncompressed 24-Bit Wireless Digital Audio
Less than 5ms Latency
Each Speaker Bi-amped with Active Crossover and DSP
Aperion Summit Wireless 5.1 Home Theater System includes:
(1) Aperion HDMI Digital Wireless Home Theater One
(2) Intimus® 4T Summit Wireless Powered Tower Speakers
(1) Intimus® 5C Summit Wireless Powered Center Speaker
(2) Intimus® 4B Summit Wireless Powered Satellite Speakers
(1) Bravus® 8A Summit Wireless Powered Subwoofer

Powered by Summit Wireless technology:
Automatic speaker channel assignment (SpeakerFinderTM)
Remote with instant sweet spot optimization (MyZoneTM)
Advanced Aperion HDMI Digital Wireless Home Theater One
Aperion HDMI Digital Wireless Home Theater One:
(1) Optical
(1) Coax
(3) HDMI inputs
(1) HDMI output
(2) Stereo analog inputs
HD Decoding for DTS Master Audio, Dolby TrueHD
LCD status: input selection and surround mode
Executive Overview
Once again Aperion Audio and Summit Wireless teamed up at CEDIA to put on yet another impressive demo.  This time the full Intimus 4T Summit Wireless System was demoed as a finished product. 
Imagine this:
Plug in a box (HDMI Digital Wireless Home Theater One) about 1/2 the size of a cable box to your display and source components such as a Blu-ray player (up to 4 sources)
Place each speaker around your listening space (5.1 or up to 7.1)
Plug each speaker into a wall receptacle
Point the remote at the Home Theater One box from any listening position and press the magic button

The beauty of this system is it eliminates the need for an A/V receiver.  The Home Theater One wireless hub does all of your surround sound decoding of HD formats such as TrueHD, DTS HD, etc.
Summit Wireless technology does automatic channel assignments (SpeakerFinder), complete automatic calibration of levels, and distance to yield an optimized listening experience (MyZone) for that very spot.  
Each 4T tower is bi-amplified by two 100 watt amplifiers in conjunction with active crossovers to eliminate losses associated with passive components.  The 5C center channel is tri-amplified and utilizes active crossovers in a similar manner.  The 4B surround speaker is also bi-amplified with active crossover components and can be used as surround back and surround side channels for a full 7.1 home theater experience.  The Intimus 4T system comes standard with 1 Bravus 8A wireless powered subwoofer. Even the Bravus 8A is digitally hotrodded by Summit Wireless as the amplifier goes from a Class A/B 100 watts (RMS) Class A/B to a Class D 190 watts (RMS) and is also DSP controlled.  Of course being the bass heads we are, we recommend purchasing an additional sub if your budget and room accommodations allow for it.
The Aperion Intimus 4T Summit Wireless 5.1 Home Theater System goes far beyond eliminating speaker wires. The system replaces all speaker wires with an uncompressed, audiophile-grade 24-bit digital wireless link that transmits pure sound directly from all your home theater sources to each speaker in your system. No Receiver, no speaker wires, no confusing setup menus for the customer, and with the automatic speaker discovery and optimization, every seat in the house can be a sweet spot with the touch of a button. Just plug it in, turn it on, and enjoy!
This is the ultimate lifestyle system that looks great, sounds great, and is easy to setup.  I look forward to reviewing this system and recommending it to those like my parents whom are fed up with complex bulky A/V gear.  It's nice to know there is an intelligent alternative that doesn't compromise fidelity for convenience. 
For more information, visit Aperion Audio and Summit Wireless. 

Unless otherwise indicated, this is a preview article for the featured product. A formal review may or may not follow in the future.