Legacy Audio Studio HD Measurements and Analysis
Legacy Audio Studio HD Measurements and Analysis
The graph below shows the frequency response of the Legacy Studio HD on-axis (red), 15 (green) and 30 (blue) degree off-axis horizontally, 15 degrees off-axis above (yellow) and below (purple) the tweeter, and an average of these responses (black) at 1 meter, smoothed 1/12 of an octave, and offset for easier viewing.  All measurements were taken in room, so keep in mind that the low-frequency response is affected by room modes.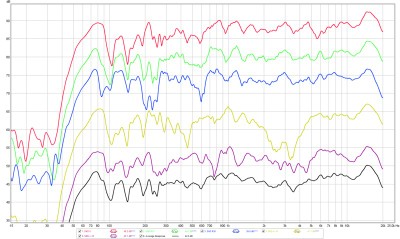 Listening window response of the Legacy Audio Studio HD
And here is the average response spliced at 300Hz with a .5 meter indoor ground-plane measurement for a more accurate picture of the bass response.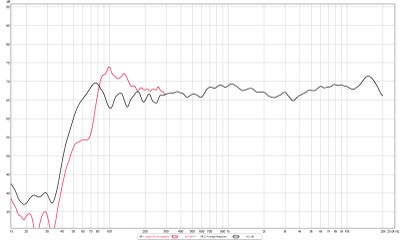 Averaged Listening Window Response (Black) and Indoor .5 meter groundplane (Red) 
You might notice that slight rise around 15kHz.  All measurements were taken with the grill off, while I did the vast majority of my listening with the grill on.  In the graph below, you can see on-axis measurements with the grill on (red) and off (blue), and how that rise is flattened with the grill in place.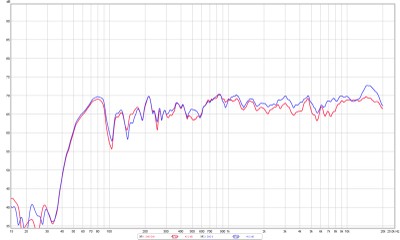 In-Room Frequency response, on-axis, with the Grill On (Red) vs Grill Off (Blue)
Below is the on-axis response as affected by the Treble Filter Switch.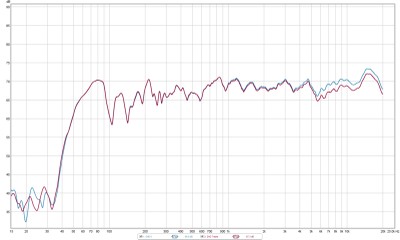 In-Room Frequency response, on-axis, with the Treble Filter In (Red) vs Out (Blue)
The treble filter produced predictable results, dropping the high frequencies centered at 10kHz by about 1.5dB, a little less than spec.
Confused about what AV Gear to buy or how to set it up? Join our Exclusive Audioholics E-Book Membership Program!