Passengers Blu-ray Disc Review
Passengers Blu-ray Disc Review
Passengers on Blu-ray
Starring: Anne Hathaway, Patrick Wilson, David Morse, Andre Braugher, Clea Duvall, Dianne Wiest
Director: Rodrigo Garcia
Studio: Sony Pictures Home Entertainment
Production Year: 2008
Release Date: May 12, 2009
Rating: PG-13
Length:93 minutes
Passengers on Blu-ray is set to be released on May 12, but we'd be very surprised to see copies of this relatively unknown film rushing off the shelves. The hype around Passengers was minimal at best, which is surprising, given Hollywood "It" girl and every woman's favorite leading lady Anne Hathaway has the starring role.
Hathaway has yet again stepped out of her comfort zone to play something besides her quirky, girl-next-door typecast. In Passengers, she plays an over-cautious, over-serious young therapist who is forced to pull her nose out of the books when she's asked to treat five survivors of an otherwise fatal plane crash. It's no simple task when the survivors start disappearing and, despite her better judgment, she finds herself attracted to one of the passengers who has yet to vanish. Oh, and there's also the mysterious man who appears out of nowhere to watch her, and the crooked airline official who seems to be orchestrating a cover-up of what truly caused the plane to go down in the first place.
Sound confusing? How could the film not be, when it features romance, mystery and a dash of sci-fi conspiracy rolled into one. There's a lot going on in this film, and at times the genre-mixing was almost too much to handle. Though each plot line was easy to follow, there didn't seem to be any reason why they should all be comingling, and they very often competed for attention.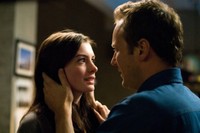 The love story was definitely the most odd-ball of the bunch, blossoming basically out of nowhere and really testing the limits of believable on-screen chemistry. Surviving passenger Eric (Patrick Wilson of Lakeview Terrace) is overly self-absorbed and self-assured after the disaster, which would most likely send up red flags rather than cartoon hearts in someone as bookish and meticulous as Hathaway's character. Way too much time was focused on the relationship between Eric and Claire in the movie, yet all that time failed to lead to any real connection with or development of their so-called romance.
Still, despite the bogart-ing love story and the competing plots, the film did keep you looking for the reason behind so many angles, and did a good job of giving small glimpses of an overall big picture. Sticking it out to the end meant you were rewarded with a message that, although not groundbreaking or life-altering, was definitely meaningful and was something you could take with you long after the film was done.
Audio
English Dolby TrueHD 5.1 Surround

French Dolby TrueHD 5.1 Surround
A film of heavy dialogue and virtually no action beyond the initial plane crash, there wasn't much in Passengers to really test your home theater sound system. However, there was a "coolness" to the audio that was interesting and was actually perfect for the suspenseful piano highlighted in the film and the detached, tranquil therapy-speak Hathaway perfected in the film, keeping her voice clear and almost clinical throughout.
Video
1080p/AVC MPEG-4

 2.40:1 Aspect Ratio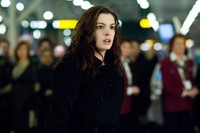 Passengers wasn't a real showcase for video quality either, as it was short on breathtaking landscapes and vivid backdrops. Most of the time was spent up close with the actors, whom don't always benefit from the close-up detail.
One bright spot though was how the coolness of the audio was reflected in the film's color palette. Smoky grays, intense blues and dark blacks pervaded, providing a foundation for the suspense and intrigue of the plot. Sharp contrasts between light and dark were good punctuation as the film shifted moods to its most emotional points.
Special Features
(Standard Definition)
In a day where special features are usually over-killed in a release, this film actually seemed a little lacking in the extras. Of the three that were included, none were particularly interesting or added to the experience of the film.
Commentary. Director Rodrigo Garcia and Patrick Wilson walk you through the film from their perspective.
Featurettes. Only two featurettes for Passengers. "Anatomy of The Plane Crash" breaks down the special effects, CGI and design that brought together the big plane crash, both as it happened and after. "The Manifest and Making of Passengers" is an interview with screenwriter Ronnie Christensen, producer Julie Lynn, Judd Payne and Keri Selig and Director Rodrigo Garcia, who offer their explanations on the plot and talk about the casting choices. The actors also make appearances, including super-celeb Anne Hathaway, which was a nice surprise.
Deleted Scenes. Only three deleted scenes, which are very short and don't really add anything to the film.
Overall
Passengers was definitely a decent watch. It had good suspense, a touching message and the actors did admirably for what they were given. But you have to wonder with this film whether removing one – any one – of the sub-plots could have made it a little bit better, or whether focusing on one genre and doing it well would have been better than overextending the reach and doing multiple genres just okay.
Overall, Passengers was certainly worth watching, but not a film that will blow your mind. Save it for a Saturday afternoon when you just want a movie that's comfortable like your favorite slippers.
Confused about what AV Gear to buy or how to set it up? Join our Exclusive Audioholics E-Book Membership Program!
See also:
Recent Forum Posts:
Wayde Robson posts on May 12, 2009 14:13
It's actually one of those "guy approved" chick flicks (sorta). The movie is likely to have surface appeal to women (and guys who find Anne Hathaway easy to watch) and it's not a completely "cutesey" schlubb of a movie. The supernatural twist is a Sixth Sense-like mystery.

Not a bad viewing by any means.
Nomo posts on May 11, 2009 20:47
I just added it to my queue. On short wait of course.
I like Anne Hathaway. While I haven't heard of it either I'm willing to give it a chance.
j_garcia posts on May 11, 2009 17:35
Never even heard of it. A quick perusing of other reviews said much the same thing. Long on promises, not quite up to the task on delivering on them. If I didn't have a full queue on Netflix, I might add this one.
Post Reply