Toshiba Vardia HD DVD/HDD DVR First Look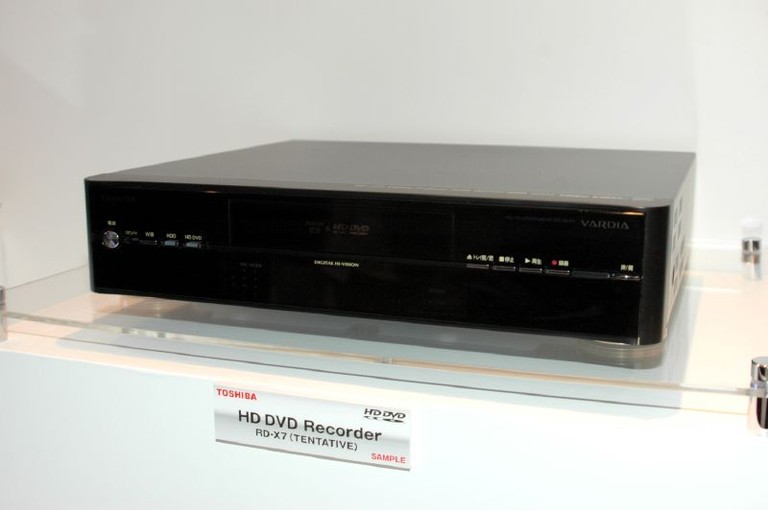 Toshba RD-RX7 HD DVD Recorder
Summary
Product Name:

RD-RX7 HD DVD Recorder

Manufacturer:

Toshiba

Review Date:

October 05, 2007 10:32

MSRP: $TBD
First Impression:

Pretty Cool
720p/1080i/1080p Upconversion/output via HDMI

Deep Color Support
MPEG-2/4 support
Internal 160GB Hard Disc
Video DAC -10-bit/54 MHz
DivX Home Theater Certified
MP3, WMA support
Composite, S-video, component analogue video outputs
Optical digital audio output
Support for Dolby TrueHD

Executive Overview
If you thought the format was was confusing, consumers are in for a surprise when Toshiba releases its new HD DVD recorder dubbed the RD-RX7. The recorder features the ability to write to HD DVD recordables as well as DVD-Rs. What makes it truly unique is that it has a special mode allowing users to record HD video to standard 4GB DVD-R/RW/RAMs. The way it does this is through a proprietary format that squeezes 2 hours of "HD" material onto that regular DVD. The unit can upconvert MPEG-2 standard DVDs to its HDMI output and transcodes MPEG-2 to AVCHD MPEG-4 on the fly.
Considering that the HD DVD media nets around 6 hours of video on a single-layer HD DVD-R disc, this isn't too bad at all. You can thank MPEG-4 and some fancier laser technology for that. These special DVDs will not be playable on regular DVD players, so remember that if you think you're going to be able to record something and hand it over to someone else when you are done with it.

With that said, why exactly do we need a new HD DVD format again? Just kidding - life would be so boring without an industry-wide format war. The player outputs up to 1080p/24/60 out its HDMI port and HDMI 1.3 with Deep Color is supported along with all the latest audio formats like Dolby TrueHD. Obviously, the RD-RX7 is a formidable HD DVD player as well, so you won't need to pick up a dedicated unit just to play back your HD DVDs.
The player/recorder also has an internal 160GB hard drive and can store up to ~40 hours of HD material. Pricing and availability are still in flux, but based on the competition this player/recorder should really be ready in time for Christmas.

Unless otherwise indicated, this is a preview article for the featured product. A formal review may or may not follow in the future.
terror_beast posts on October 05, 2007 15:15
While complete details and specs would be needed before making a buying decision (like can it burn to double layer DVD-9s? Can it only burn HD-DVD-R or can it also burn HD-DVD-RW? Double layer? Dolby TrueHD and DTS-HD bitstream output? DTS-HD internal decoding? PRICE???? etc.) this is an interesting product.

The real question to me is all about being able to record HD broadcasts. I have little doubt that this unit will work for over-the-air HD broadcasts, but what about cable and satellite? So far, with my cable provider, the only way I can record HD is using the PVR that they sell. There is no way for me to record my cable HD broadcasts onto disc and retain the 1080i resolution and Dolby Digital audio. I can, of course, use the S-Video or composite output and the analogue audio outputs and record onto a DVD using a DVD burner, but doing so obviously means 480i video and stereo analogue sound.

So being able to record HD from a cable provider onto the DVR in this unit and also being able to record those programs onto HD-DVD discs and retain the 1080i video and Dolby Digital audio would obviously make me very happy. In order for that to happen though, I'm not sure what all needs to be in place. Does my cable provider have to specifically support this unit? My guess is that they would since this unit would have to connect directly to the coax cable coming out of the wall and be able to access and decode the signal from the cable company. I suppose some sort of cable card program could work, but I'm in Canada and our cable provider (Shaw) doesn't use cable card.

It's all very confusing and that certainly doesn't help the situation for the average consumer. All I'm really after is the modern equivalent of a VCR! I just want to be able to record programs off of cable onto some sort of removeable media!
Post Reply
Confused about what AV Gear to buy or how to set it up? Join our Exclusive Audioholics E-Book Membership Program!