Samsung BD-F7500, BD-F5900, & BD-F5100 Blu-ray Player Comparison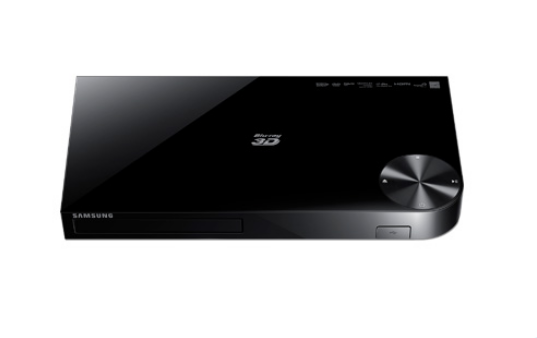 Samsung BD-F7500, BD-F5900, & BD-F5100 Blu-ray Player Comparison
Summary
| | | | |
| --- | --- | --- | --- |
| | BD-F7500 | BD-F5900 | BD-F5100 |
| MSRP | $279 | $149 | $99 |
| 3D | Yes | Yes | No |
| UHD | Yes | No | No |
| WiFi | Yes | Yes | No |
| Smart Hub | Yes | Yes | No |
| HDMI | Dual | Single | Single |
| Optical | Yes | No | No |
| Digital Coax | No | Yes | Yes |
| Analog | Yes, 7.1 | No | No |
| Ethernet | Yes | Yes | Yes |
| Weight | 4.4 lbs. | 2.6lbs | 2.2 lbs. |
| Dimensions (WxHxD) | 16.9" x 1.8" x 7.9" | 14.2" x 1.6" x 7.7" | 10.6" x 1.5" x 7.6" |
Executive Overview
Samsung's 2013 Blu-ray players stay pretty much within the lines. They continue to phase out analogue connections, while focusing on smart features, UHD, and 3D playback. This year they are offering three different units, the BD-F7500, BD-F5900, and BD-F5100. Surely you will find other Samsung Blu-ray players on the market, as they always release a few specialty players in different regions, but these are their three strongest and most widely available products. Read on for an overview and our recommendations surrounding each model.
Samsung's top of the line Blu-ray player, the BD-F7500, is outfitted with all of the features we've come to expect from players in its price class: built in WiFi, 3D support, full web browser, and dual HDMI outputs. For legacy equipment it also has 7.1 analog and digital optical outputs, but lacks a digital coax output. One special feature is its support of Samsung's SmartHub (powered by a dual-core processor), including AllShareCast, which allows you to wirelessly send media from your Android tablet or phone directly to the Blu-ray player. It also features UHD (4K) upscaling. Even though most higher-end products (and even some entry level receivers) and starting to support UHD pass-through or upscaling, in this case we think this feature is pretty useless for one reason. Currently, the cheapest UHD TV is from LG, and it's $20,000! We can't image anyone spending $20k (or $39,000 for Samsung's UHD S9 TV) on a TV and then hooking up a $279 Blu-ray player. Plus, the scaling built in the TV is bound to be much better than what's in the BD-F7500.
A USB port on the front supports media from a flash drive or HDD. It can also rip songs from CDs and save them onto the flash drive or HDD plugged into the USB port. Again, we're not sure about the usefulness of this feature because any computer with a disc drive can do the same thing. All in all, if you need 7.1 analogue or dual HDMI outputs to accommodate legacy gear, but don't want to spend the cash for an Oppo BDP-103, the BD-F7500 is a good option.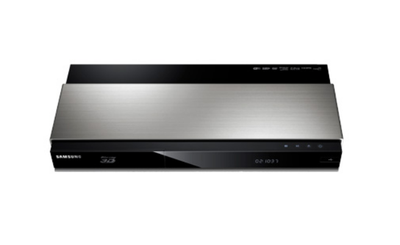 Samsung BD-F7500
The BD-F5900 is likely the player that will work best for most people. It still supports the most important features from the BD-F7500, like WiFi, SmartHub with full Internet browser, and 3D playback. The outputs drop to a measly single HDMI and digital coax. Samsung notably decided not to include a digital optical or analogue output, which will limit the use of this Blu-ray player to HDMI and digital coax touting equipment. The single HDMI output means that if you have a 3D TV but a receiver that doesn't support 3D, you will have to run HDMI directly to the display and digital coax to the receiver. We aren't a big fan of this setup because you lose out on HD audio from Blu-ray discs, but Samsung isn't the only company following this trend. Finally, the BD-F5900 also drops UHD support, which is a pretty minor sacrifice. If you want a Blu-ray player that will get you the industry's best "Smart" platform and support 3D, but don't need any analogue connections, the BD-F5900 should be a good fit.


Samsung BD-F5900

Samsung's entry level Blu-ray Player, the BD-F5100, cuts out quite a few features when compared to their other two models. It retains a USB input and digital coax output, but drops WiFi, 3D playback, and the SmartHub. It can be connected to the Internet via an Ethernet jack on the back and still supports Netflix, Pandora, and YouTube, but no other Internet content. It also still supports AllShare (DLNA) and will upconvert DVDs to 1080p, but that's about it. This is a basic, compact Blu-ray player for people who just want to get a player but want to avoid the bells and whistles of more expensive units.


Samsung BD-F5100

Conclusion
We've already covered Samsung's 2013 soundbar lineup and home theater lineup, both of which impressed us, but the Blu-ray lineup is a little more lackluster. Don't get us wrong, the units are fine, and Samsung's SmartHub is an industry leader, but as a whole the lineup isn't really innovative. No features pop out and WOW us. Still, the lineup is solid and on even footing, or a little ahead, most of the competition. Any of these players is sure to work fine for most consumers who just want to sit down and pop in a movie.

Unless otherwise indicated, this is a preview article for the featured product. A formal review may or may not follow in the future.