Is the PS3 and BD 2.0 for you?
Is the PS3 and BD 2.0 for you?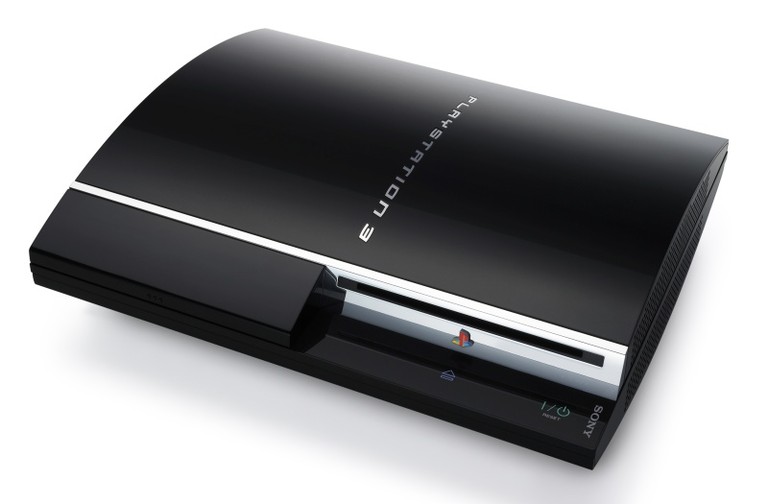 PlayStation 3 Blu-ray 2.0 player
Last week, Sony released the 2.20 firmware update for the PlayStation 3. Among the list of features was BD Profile 2.0, the coveted Holy Grail of Blu-ray playback. Is BD 2.0 really that useful? Will the guys with the BD 1.0 and 1.1 players be left wanting more? Can the PS3 work well as a standalone Blu-ray player for the masses who aren't into gaming? Armed with a Nyko Blu-Wave remote and BD copies of War and Saw IV, we'll try to help you decide what's best in this new era of a single HD disc format.
The PS3 for Non-Gamers

As the most capable Blu-ray player currently available, it's tempting to run out and pick one up even if you aren't a gamer. It supports video output via HDMI or from a special display port for Component video and older video output formats. An optical port is built in for Dolby Digital, DTS, and PCM stereo output. Of course, the HDMI port supports those protocols as well as Uncompressed PCM for multiple channels. The only drawback at this time is the lack of internal DTS-HD Master Audio decoding. This doesn't mean you can't play a BD movie with this format, it just means you won't get the full uncompressed version. It will still output normal DTS, as the format seems to be backwards compatible. I was able to confirm this playing Saw IV.

Editor's Note: As of April 2008 Sony has released firmware 2.30 which adds, among other things, support for dts-HD High Resolution and DTS-HD Master Audio. This means that Sony is now the most well-equipped Blu-ray player in the industry under $500, lacking only analogue multi-channel audio outputs.

There are lots of other playback options including CD, SACD, DVD, BD, network A/V streaming, and playback from removable flash or hard drive storage devices. Just look at the logos on the side of this thing! It does it all… Well, except for DVD-Audio and HD-DVD and… er… never mind.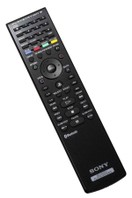 There are is another issue to consider when making the "buy" decision, as the unit doesn't come with a remote control. It comes with a game controller. Yes, for your $400 you are buying a game machine. You can control all the Blu-ray functions with it, but it's a little awkward to use. A real remote will cost you in the neighborhood of $15 to $25 extra. There are a couple of good options available for your cash, however. Sony makes a dedicated Bluetooth-based remote that is fully featured and includes the Red,Green, Blue, and Yellow buttons, as well as a number key pad and power buttons. This remote will only work with the PS3 and isn't programmable to work with any other components. This may be fine for some people, but others, like myself, will use a universal remote control for their system. This is a little bit of a problem for the PS3 as it does not include an IR receiver. What? No IR receiver? That's right, you have to buy one and plug it in to one of the 4 front USB ports. Enter the Nyko Blu-Wave remote… It includes the needed IR receiver, but has some limited functionality.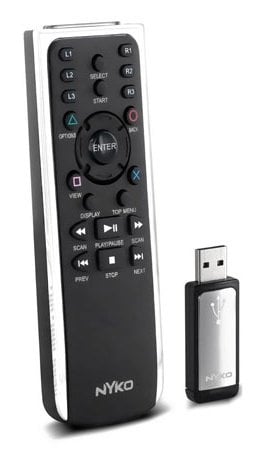 Universal remotes, like the Logitech Harmony, can be programmed with the functions included. However, there are no numbers, no colored buttons, and no power on/off options. Most of these extra functions are available by hitting the Triangle (View) button, but powering the console up and down will often have to be done manually. Also, some extra info can be accessed with the Select (Display) button. This is a good way to see which sound stream is being used, how far along the movie is, and even the bandwidth of the video stream. Please note that the PS3 can't be easily integrated into a more expensive control system like those from Crestron due to its lack of serial (RS-232C) or control ports.
One more thing to consider is physical placement and appearance. It may seem nice that the PS3 is smaller than the average component player, but the machine gets really hot. It has a fan in the side that runs faster as it heats up. So far this hasn't been much of a distraction, but a cold basement room has been helpful for me. Also, with the Bluetooth remote control it seems perfect to jam into that closed off cabinet, but it might get hot enough to cook a steak on. (YouTube Link) Ok, so that's a bit of an exaggeration but it's still good to give it some decent breathing room. As for the looks of the console? Well it's really shiny, and as such, finger prints far too easy. Oh, and it gets dusty 30 seconds after you dust it off. Yeah, nitpicky, I know, but it just bugs me somehow.
Editor's Note: We can just imagine all the people reading this going "Yeah, I was about to pull the trigger on the PS3, but it just gets so darn dusty!" - Clint DeBoer

Confused about what AV Gear to buy or how to set it up? Join our Exclusive Audioholics E-Book Membership Program!
Recent Forum Posts:
Paul Atreides posts on October 11, 2008 20:08
I'm coming into this discussion rather late, but I bought a PS3 about a month ago and wanted to share my experience. I've used it for Blu-ray playback, photo storage and slide shows, and music playback and storage.

As everyone else has said, there is nothing to criticise about the Blu-ray playback. Disc loading and unloading is extremely fast. There is a resume feature that I really like. You can unload a disc, then reload it later, and playback will start exactly where you left off.

I have the Blu-ray remote, which is highly recommended for movie playback. However, for photo slide shows, the game controller is best. The joysticks allow for precise and effortless zooming, panning and scanning.

CD playback sounds good and ripping a CD is very easy. I haven't tried SACD playback, yet–I still need to buy a couple discs.

My only criticisms of the PS3 are: 1) It does get hot; 2) The cooling fan does make some noise and 3) It does not allow a CD to be ripped into a lossless codec or wave file, though it will play both .wav and .wma files. If you can get past those three issues, then I would recommend the PS3 highly, even if you don't ever play a game on it.
rrehart posts on April 04, 2008 17:04
PS 3 for BD 2.0

I have been using the PS3 for my primary BD/DVD/CD/HTPC since I got it in Jan '07. It has worked flawlessly for me. I have it hooked up to my A/V controller via HDMI. In your article you mention the pain of entering your name/email/password for these BD 2.0 sites via remote. I, too, found that to be a problem, but I easily solved it with the Logitech MediaPro keyboard for the PS3 (logitech.com/index.cfm/keyboards/keyboard/devices/3616&cl=us,en).

It works as seamlessly as the SIXAXIS controller and solves the remote-as-a-keyboard text entry issue.
GlocksRock posts on April 04, 2008 16:35
corey, post: 397076
How does the PS3 compare to the Xbox 360 as a music player?
They both play music from the optical drive, and from a PC connected to the network. The PS3 will also play SACD as long as it's not a 40 gig PS3, and the PS3 connects to the CDDB or something similar so when you put in a retail cd and you have the PS3 connected to the internet, it retrieves the disc information such as title, track names, and artist. Both will rip and store music onto the hard drives, and both will play music from a .mp3 player or flash drive. I also find that the 360 has much better visualizations than the PS3.
jnmfox posts on April 04, 2008 15:57
Ir2bt
A IR to Bluetooth adapter was just released that apparently will allow you to fully control your PS3 with a universal remote, including power on/off .
http://ir2bt.com/
corey posts on April 04, 2008 14:56
How does the PS3 compare to the Xbox 360 as a music player?
Post Reply