THX, Lexicon Official Response Regarding BD Player Certification
THX, Lexicon Official Response Regarding BD Player Certification
THX's Official Response

"The major focus of the THX Certified Blu-ray Disc Player certification is on video performance. THX engineers conduct in-depth analysis of image quality and signal processing to ensure Blu-ray disc players present accurate color, contrast, and black/white levels without softening the picture or producing digital artifacts. The testing is rigorous, precise and few players can meet our specification. Generally, we believe that the Blu-ray player will be connected via HDMI to an AV Receiver and Display in the home theater chain, eliminating the need to use analog interconnects."
On January 19th, 2010, THX sent us a second follow up email asking that we mention the fact that the BD-30 is capable of outputting PCM over HDMI which allows the new high definition audio formats to be reproduced on Lexicon rigs at the correct THX levels with preserved headroom.
Our rebuttal:
Thanks for responding to our article.  Perhaps if THX discloses more testing metrics, consumers can better understand the value in your certification.  We conducted rigorously testing of the stock Oppo BDP-83 and it passed all of our video tests with flying colors.  Since the Lexicon = Oppo player from our observation, we can conclude that Oppo did a great job with their stock player and although they didn't pay a licensing fee to THX, it's essentially a THX player.  Ordinarily we'd agree the focus should be placed on HDMI audio and video pass through with Blu-ray players.  However, to our knowledge, Lexicon doesn't currently ship a processor that decodes Dolby TrueHD and DTS HD formats.  Thus a consumer purchasing an entire THX certified Lexicon rig is forced to use the BD-30's analog outputs to decode these high definition audio formats in their native form.  Since the BD-30 doesn't meet the critical 80Hz crossover point and slopes mandated by THX, the consumer is essentially not achieving that THX experience in their homes that they are paying for.  In our opinion, this should be cause for concern.
Alternatively, a fellow Lexicon owner on AVS Forum pointed out that the end user can in fact have the BD-30 player do the transcoding and pass the multi channel PCM data out of the HDMI output where the processor can do the bass management and D/A conversion.  Assuming THX still tests the bass management circuitry of A/V processors and receivers that they certify, this can be a viable option to consider, though perhaps not as seamless as the actual A/V processor doing the decoding.  To our knowledge, no Lexicon processor supports 192 kHz / 24 bit audio so for those instances, the user may still wish to consider using the analog connections to achieve the highest possible resolution.
Oppo Official Response

January 19th, 2010
We received an email from Oppo stating they did work directly with THX during the certification process for the Lexicon BD-30.  They allowed us to publish the following statement.
"Oppo worked directly with THX to improve video performance during the testing of the Lexicon player and the benefits trickled down to the Oppo platform as well.  We also worked directly with Lexicon engineers for various issues they discovered during their internal tests."

In light of this fact we are pleased to see there was direct involvement from all three parties to produce such a wonderfully performing platform.  We do however hope the analog bass management issues we discovered on the Lexicon player will be addressed by Lexicon engineers to better support their customers using legacy analog THX equipment that doesn't have bass management facilities.
Lexicon's Response
Lexicon had a call scheduled with us for 2PM on Friday the 15th of January, but decided that a written response would be more suited to our readers and will be sending us something soon which we will post here. They have been very courteous to-date and emphasized their emphasis on the CE Channel, which we certainly understand.
Where Did the THX Certification Go?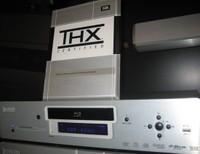 One final observation. When this products was announced and displayed at last year's 2009 CEDIA Expo in Atlanta, Georgia, there was a lot of hoopla about it being the world's first THX-certified Blu-ray player. There were dozens of websites which posted the release. Here are just a few, not including our own:
What is a mystery to us now, is that suddenly we can find no mention of THX certification on Lexicon's own website. The original press release seems unavailable and the specs, description and product page are bereft of any mention of THX. There is even a (date-less) press release on the BD-30 which speaks nary a word of the THX certification. The THX website still has a brief mention of the original 2009 CEDIA THX announcement on the bottom its CEDIA page, but the link, which is supposed to go to a page offering more info, instead goes to a release on Panasonic Viera HDTVs. THX certification on this Lexicon product, for all intents and purposes, appears (we do not know this as fact) to be scrubbed. Whether this is a result of our investigative review or not, we're not certain, but it does seem to indicate that at least something is going on. We're hoping an official statement on this will be made at some point. The product appears to be selling as THX-certified. This is backed up at least historically in marketing literature and press releases to this effect. If this is no longer the case then consumers and CE installers need to be informed so they can have clarification in order to make appropriate purchase decisions.

 THX certainly seemed to think the Lexicon was THX certified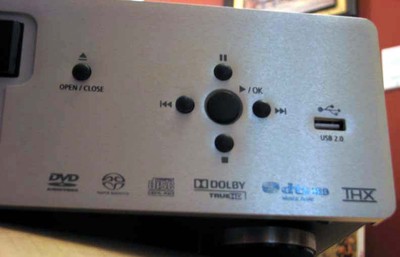 Our review sample certainly had the appearance of possessing a THX certification