Yamaha RX-V577 Sound and Video Quality Tests
Yamaha RX-V577 Sound and Video Quality Tests
I started off my listening with streaming sources. Yamaha's on-screen HDTV interface is inexcusable in today's day and age (it looks like a video game screen from 1982).  By contrast, the mobile app's UI is sleek, elegant, and gives you nice options.  If you're going to use any streaming sources, I think you'll instantly prefer the mobile app.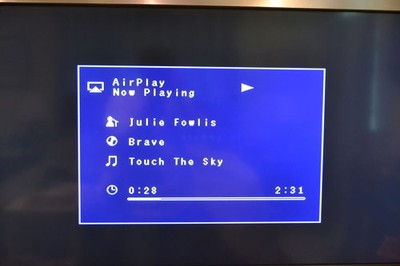 The on-screen streaming interface of the Yamaha is a disappointment

I started off my listening with AirPlay-based content from my iTunes server. Unlike AppleTV, the AirPlay implementation on the Yamaha supports audio only.  If you do try and play a movie or a TV show through Yamaha's AirPlay implementation, you'll hear only the audio through your speakers.  The video will play on your source device.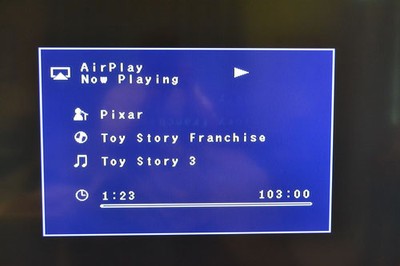 Attempting to play a movie, like ToyStory 3 via AirPlay only plays audio and shows you the above screen. Video plays only on the source device.
Streaming direct from my iPhone or using AirPlay from my iTunes server was flawless.
The audio streamed through AirPlay sounded really good.  I didn't feel as though the Yamaha attempted to do anything overtly ambitious—and that's a good thing!  Delta Goodrem's vocals on "In This Life" from her self-titled album, Delta, sounded natural without hints of compression or strain.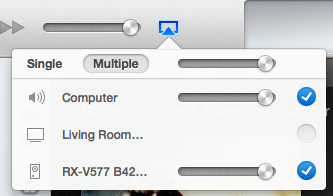 The Yamaha RX-V577  showed up as an AirPlay speaker through iTunes.  Performance was flawless
Sarah McLachlan's single "Shine On" from the album In Your Shoes had good instrument separation, weight, and Sarah's distinctive vocals were spot-on.  Perhaps even more importantly, I never experienced any network drops or lags during any of my listening sessions. 
Next, I turned to Pandora to test out Internet music streaming.  Connecting to my existing Pandora account through the Yamaha was straightforward. In a matter of minutes, all my station lists were there for the choosing.  As with AirPlay, content streamed from Pandora sounded good and was free of any lags or drops.  Orchestral works from the "John Williams" station I set up as well as several other rock and jazz stations from U2 to Diana Krall all sounded great.
From setup to use, Pandora stations all sounded just fine and there were never any lags or drops.
Kicking up the quality of the source material a notch, I turned to high-res files.  I played several ALAC-encoded tracks purchased through HDTracks.  I fed the tracks to the Yamaha's S/PDIF input via my USB/SPDIF converter.  The Yamaha accepted all the 96/24 high-res audio files I fed it without issue.  Audio performance on the Yamaha was consistently smooth, natural, and I felt it always gave me a good window into the source material's quality.
In my experience, home theater receivers are a mixed bag when it comes to two-channel music. Orchestral works, in particular, are an area that I feel receivers fall short.  Compressed soundstages, lack of amplifier headroom and poor dynamics, and higher-order total harmonic distortion (THD) that can introduce some harshness are all among my biggest complaints about receivers.  I have often wondered if the abundance of artificial DSP surround modes in lower and midrange receivers has served as a way to mask a receiver's two-channel shortcomings. I popped in a few orchestral CDs to test things out. 
I must say that the Yamaha gave me a pleasant surprise.  Saint Saens Symphony No. 3 in C Minor sounded pretty good.  With two subs, the organ notes came through with clarity, authority, and depth.  Strings and brass sounded relatively smooth and for the most part tonally correct.  The same was true of Tchaikovsky's 1812 Overture by the Leningrad Philharmonic.  The orchestral piece sounded relatively clean with no signs of bloat and instruments remained distinct.  While the RX-V577 certainly didn't make me want to dump my separates, the Yamaha did a respectable job. 
Movie Watching
While music was thoroughly enjoyable, you can tell that this is really a receiver built for home theater and in particular multichannel audio.  The Yamaha took great control of the Man of Steel on Blu-ray from start to finish.  Whether it was delicate touches of piano keys or a full orchestral onslaught, the Yamaha presented the Hans Zimmer soundtrack incredibly well. With the RX-V577 feeding dual subs, the LFE effects from the Man of Steel were incredibly nimble, articulate, and authoritative.  If I cranked up the volume, however, I did notice hints of strain.  Instead of playing cleanly, the things just started to get loud.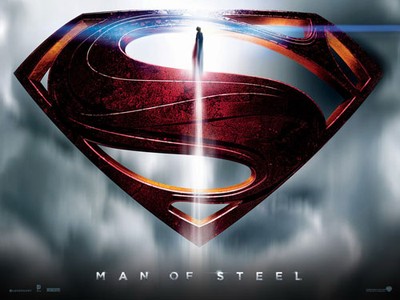 Man of Steel - Blu-ray
300: Rise of an Empire is the sequel to the movie 300 and very loosely based on the historical events surrounding the Greek General Themistocles and the Persian invasion of Greece.  I rented the movie on a Gen 2 AppleTV (720p output), and it showed.  The unscaled 720p video didn't have the crispness I'm accustomed to seeing.  If you're a hard-core videophile and don't have an alternative way to scale non-1080p, you may not be happy with the Yamaha's results.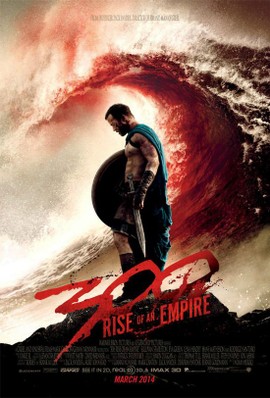 300 Rise of an Empire - Blu-ray
Audio on 300, by contrast, was a ton of fun.  The grandeur of the visual spectacle was well-supported by the aggressive sound mix.  As noted before, instead of playing cleanly at high volumes, things just started to get loud.  Make no mistake, there's a difference between the two.
Nevertheless, at this price point such characteristics of the amplification stage are not surprising.  For the overwhelming number of users looking at this receiver, the built-in amplification performance won't be an issue and the Yamaha will serve you just fine.  However, if you'll be using the RX-V577 with some tougher to drive speakers or if you have a very large room, you may want to consider one of the higher-end models.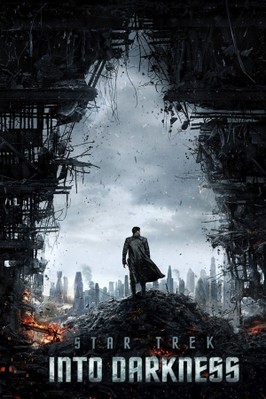 Star Trek Into Darkness - Blu-ray
Going back to my thesis that this is a receiver built for digital sources and the digital generation, I turned to Star Trek: Into Darkness on Blu-ray.  This movie was an awesome experience on the RX-V577.  Explosions thundered, warp engines rumbled.  Raw, gut-wrenching moments—such as the scene with the terminally ill little girl that Khan pledges to help cure—came across with powerfully emotive qualities.  Dialogue was always clear and crisp.  I was drawn into a full-blown experience of the storyline throughout. 
As Star Trek, Man of Steel, and a few other samplings from my collection showed, the Yamaha was dynamite performer when complemented with full HD (1080p) sources and solid audio tracks. The Yamaha never left me wanting for more.  While the unit clearly had an Achilles heel in the video department, hard-core movie buffs will find it an able and satisfying audio performer.
Confused about what AV Gear to buy or how to set it up? Join our Exclusive Audioholics E-Book Membership Program!
Recent Forum Posts:
TheoN posts on August 18, 2014 11:09
rick451 posts on August 14, 2014 16:35
diff between a rx 575 and rx577

thats all i wish to know is the differance because i bought a 575 6 months ago to replace a Onko??
Goliath posts on August 08, 2014 10:27
Steve81, post: 1045033
It's worth keeping in mind that these aren't scientific trials that we're publishing in the JAES. These are billed as nothing other than simple subjective listening tests. If you want to take them with a grain of salt, feel free. I certainly won't hold it against you. At this point though, the horse is dead. Move on.
Fair enough.
Steve81 posts on August 08, 2014 08:44
Goliath, post: 1044986
Acoustic measurements are not sufficient for level matching. You need to measure the voltage across the speaker terminals. An SPL meter is not capable of this.

Other than that, we don't know how loud you were listening, but I digress. Sorry for putting you on trial, but I tend to be very skeptical of certain types of claims.
It's worth keeping in mind that these aren't scientific trials that we're publishing in the JAES. These are billed as nothing other than simple subjective listening tests. If you want to take them with a grain of salt, feel free. I certainly won't hold it against you. At this point though, the horse is dead. Move on.
Goliath posts on August 08, 2014 02:00
RichB, post: 1044962
And when faced with a high-phase and low impedance, what does an amp with insufficient power supply do ?

- Rich
If too much current is drawn, the power supply voltage decreases under load and …. bingo, the power amp is power supply voltage limited.
Post Reply