Marantz SR6004 Measurements and Analysis
Marantz SR6004 Measurements and Analysis
Using the Audio Precision APx585 8 Channel HDMI audio analyzer, I bench tested all performance aspects of the SR6004.
Preamp Section
Marantz SR6004 Preamp FFT Distortion Analysis

With 0dBFS in, the SR6004 was able to output a whopping 7Vpp unclipped (<.1%THD +N) or 2.49Vrms.  The 3rd order harmonic component was over 80dBv below the fundamental which was very good.  Adjacent channel to channel crosstalk produced 81dB @ 1kHz, 65dB @ 10kHz which again is excellent.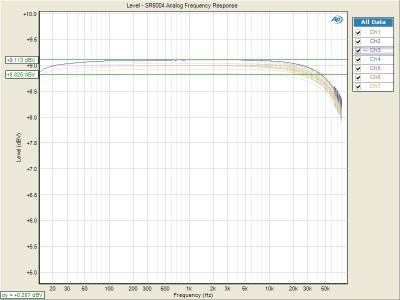 Marantz SR6004 Frequency Response
Using the HDMI input, measured frequency response was within +/- 0.25dB from 20Hz to 20kHz with -3dB of 43kHz (limit of Nyquist, 1/2 sampling rate of 96kHz).  Channel to channel variation was within .5dB within the entire audio bandwidth.
Using the analog inputs produced a ruler flat frequency response beyond the bandwidth of my Audio Analyzer (80kHz).  With plenty of clean output drive and excellent distortion and crosstalk figures, the Marantz SR6004 is more than capable of serving as a dedicated A/V processor in the event you wish to bypass its amplifiers for more powerful external amplification.

Power Amp Section


Power vs. Distortion
Using our Audio Precision APx585 8-channel HDMI analyzer, we conducted a full barrage of multi-channel amplifier tests on the Marantz SR6004. We tested power using three methods all of which were taken at < 0.1% THD + N:
Continuous Full Power Bandwidth (CFP-BW) from 20Hz to 20Khz into 8 and 4 ohm loads (up to two-channels)
1kHz Power Sweep vs Distortion (1kHz PSweep) - popularized by the print magazines, this is an instantaneous power vs distortion test at 1kHz. The problem with this test is it often masks slew related and or frequency response problems some amplifiers exhibit at the frequency extremes, and thus inflates the measured power results. It does provide an instant gratification # for consumers to argue over on the forums so we are now incorporating this test to please the masses.
Dynamic PWR - 1kHz CEA-2006 Burst Method testing. This is a dynamic power measurement adopted from the car industry similar to IHF method only a bit more difficult for an amplifier and more representative of real musical content.
Keep in mind most review publications don't do continuous power measurements and they usually publish power measurements into clipping at 1% THD + N. Our measurements are very conservative and it is clear that the 110wpc power rating is conservatively stated as you will see in the measured output below.
For more info on amplifier measurements, see:  The All Channels Driven (ACD) Test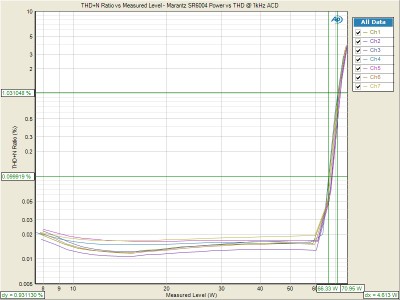 Marantz SR6004 Power vs Distortion
| | | | | |
| --- | --- | --- | --- | --- |
| # of CH | Test Type | Power | Load | THD + N |
| 1 | CFP-BW | 135 watts | 8 ohms | 0.1% |
| 1 | CFP-BW | 208 watts | 4 ohms | 0.1% |
| 2 | 1kHz Psweep | 112 watts | 8 ohms | 0.1% |
| 2 | 1kHz Psweep | 120 watts | 8 ohms | 1% |
| 7 | 1kHz Psweep | 66 watts | 8 ohms | 0.1% |
| 7 | 1kHz Psweep | 71 watts | 8 ohms | 1% |
| 1 | Dynamic PWR | 155 watts | 8 ohms | 1% |
| 1 | Dynamic PWR | 266 watts | 4 ohms | 1% |
| 7 | Dynamic PWR | 100watts | 8 ohms | 1% |
Marantz SR6004 Tabulated Power Measurements
The Marantz SR6004 power reserves were quite impressive for a receiver of its price and size.  Not only did they exceed their 110wpc rating for up to two channels driven but they also exceeded their engineering spec of 50% power under 7 channels driven by outputting 66wpc at 0.1% THD +N and 71wpc at 1% THD +N.
Crosstalk
Marantz SR6004 Crosstalk Measurement at Full Rated Power vs Frequency
 Running a full range frequency sweep from the preamp all the way through the power amp at full rated power (110wpc @ 8 ohms), I measured all-to-one crosstalk where all but the channel under test acted as the noise source or disturbers.  This is the worst possible crosstalk test scenario. The other was the DUT. The Audio Precision plotted crosstalk for each channel under these circumstances and showed that the worst channel exhibited around 61dB at 20hz, 70dB at 1kHz with a gradual increase with frequency (50dB @ 20kHz) due to capacitive coupling.  These were good measurements. 
Signal to Noise Ratio (SNR)
Marantz SR6004 SNR per AES17

We measured the SNR at 1 watt power using no weighting for the worst possible measurement.  It's important to know how quite a product is at low power levels to ensure the noise floor of the product isn't masking sonic detail.  A number greater than 60dB at 1 watt is acceptable while a measured response above 80dB is considered excellent or very quiet.  The SR6004 yielded 82.9dB for the worst channel which is an excellent measurement.  It's no wonder why the SR6004 sounds so clean and detailed at low power levels.
Confused about what AV Gear to buy or how to set it up? Join our Exclusive Audioholics E-Book Membership Program!
Recent Forum Posts:
chadfs posts on June 16, 2010 21:41
SR6004 Bluetooth

The Blue tooth didn't work well with my i touch either. However it works great with my Samsung phone so I blame Apple not Marantz.
Lee Bailey posts on June 16, 2010 00:26
Audyssey with HD soundtracks

Even though the unit will not enable Audyssey when playing any of the HD bitstreams, you can send LPCM from the source unit instead, and Audyssey processing will be available to you.
Seth=L posts on June 13, 2010 22:06
gene, post: 725348
Heat sinks are pretty generic parts. The same heatsink is likely used on many different brands and model#s of A/V receivers. Marantz and Sherwood receivers are not shared platforms as far as I can see.
You may be right. However, it is known that Sherwood builds Denon's lower end receivers to Denon's specification. Being that both companies fall under the same umbrella it's not outside the realm of possibility that Marantz receivers could be made in part or whole by Sherwood completely to Marantz's specifications. This says nothing about the quality of the end product as Sherwood has made a name for itself in the production of quality OEMs and spec'd builds. IMO, if the Marantz receivers are made by Sherwood it's a cost effective route to take.
bellevegasj posts on June 13, 2010 21:07
I wish these shared the same video upscaling as the upper Denon line. I would jump on this for sure if they did. I use this feature.
gene posts on June 13, 2010 12:33
Marantz seems to have made some modifications to the heatsink, although it mostly looks like a typical Sherwood heatsink. If this receiver is made by Sherwood, it was definitely made to Marantz's exact specifications. That is a bold beautiful machine.
Heat sinks are pretty generic parts. The same heatsink is likely used on many different brands and model#s of A/V receivers. Marantz and Sherwood receivers are not shared platforms as far as I can see.
Post Reply