Denon AVR-5805: The Ultimate One Box Separates Solution
Denon AVR-5805: The Ultimate One Box Separates Solution
About a year and a half ago we reviewed Denon's flagship A/V receiver, the AVR-5803 . At the time this was one of the best receivers on the market, outgunning many dedicated pre/pros, not just because of its stunning performance, but because of its intelligent and complete bass management solution, host of innovative features - most of which were captured in our detailed review and A/V Processor Checklist (which this product was partly responsible for us revamping since it raised the bar on performance and feature expectations). In fact, the AVR-5805 managed to score 100% of our critical features and nearly all of the bonus features on our list, not to mention having a host of features not even listed in our checklist (time to update again)! See the Denon AVR-5805 Checklist Scorecard .
The major additions of the new AVR-5805 over its predecessor, the venerable AVR-5803, are almost too numerous to list but here are a few key ones that stand out:
Audyssey Room Correction System
HDM I (ver 1.1) and DVI Switching
3 additional amplification channels (10 total)
I/P conversion and scaling
Time base correction for composite/s-video conversion to component
Two fully independent multi-channel surround zones (up to 7.1 in each zone by adding 4 amplifier channels)

Auto 'surround back channels on' function
4 high current 12V triggers
Enhanced power supply that is over double the size of the one in the AVR-5803
Automatic bi-amp capability
Ability to distribute audio to 22 channels
Up to 4 independent Zones of audio
Our First Look article offered a glimpse into what I refer to as a Multi Function A/V Control Center since it's so much more than what we normally think of when we hear the word "receiver". In this review we plan on going much deeper into the primary functions of this product for a dedicated multi-channel surround solution. In later articles, we will follow up on its multi-room, multi-source capabilities as well as upgrade functions when they are made available by Denon.
When I first got news on the concept of the AVR-5805 and its subsequent price tag I briefly pondered if Denon had finally gone off the deep end in home theater lunacy until I actually envisioned the purpose and endless possibilities of this product. The idea on having a one-box solution that could not only give separates a run for their money, but also distribute independent multi-channel audio into two unique zones while also distributing up to 22 channels of audio into an entire house became quite an ingenious concept in my mind. Throw in some other goodies such as the Audyssey room correction system, support for the latest audio and video formats and you have a unique product solution that would typically require 3-4 boxes from their competitors and still may not offer the entire gamut of features this single box solution possesses!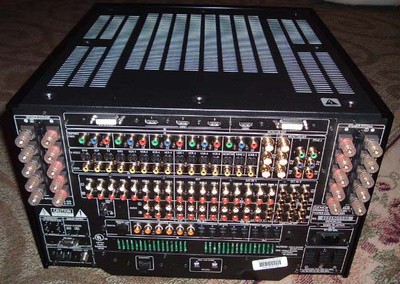 Denon AVR-5805 Back Panel - Got Cables?
Confused about what AV Gear to buy or how to set it up? Join our Exclusive Audioholics E-Book Membership Program!