Classé Sigma SSP MkII Preamp/Processor Adds Dolby Atmos, DTS:X and 4K UHD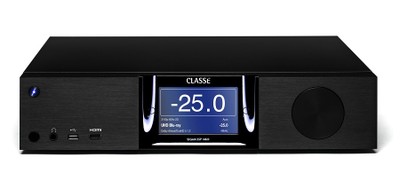 Summary
USB audio up to 24-bit/192 kHz
USB (Host) charging capability 2 Amps
DLNA supported formats Apple Lossless (ALAC), mp3, FL
Frequency response 8 Hz - 200 kHz < 1 dB, stereo digital bypass 8 Hz - 20 kHz < 0.5 dB, all other sources
Channel Matching (Left to Right) better than 0.05 dB
Distortion (THD+noise) 0.0005%, digital source/bypassed analog source .002%, processed analog source
Maximum input level (single-ended) 2 Vrms (DSP), 4.5Vrms (bypass)
Maximum input level (balanced) 4 Vrms (DSP), 9 Vrms (bypass)
Maximum output level (single-ended) 9 Vrms
Maximum output level (balanced) 18 Vrms Gain Range -93 dB to +14 dB
Input impedance (single-ended) 100 kΩ (single-ended) Input impedance (balanced) 50 kΩ (Balanced)
Output impedance (single-ended) 100 Ω
Output impedance (balanced) 300 Ω
Signal-to-noise ratio 104 dB, bypassed analog source (ref. 4Vrms input, unweighted) 101 dB, processed analog source (re. full-scale input, unweighted) 105 dB, digital source
Channel separation better than 100 dB
Overall dimensions Width: 17.0" x 14.57" x 3.75"
Net weight 18 lb (8.21 kg)
Executive Overview
If you're in the market for a new immersive audio preamp and you have the money to spend, Canadian audio company Classé announced the release of their Sigma SSP MkII.  For $6,000 this eight channel pre/pro is an upgrade to their highly regarded Sigma SSP which we did a full review on about two years ago. We found the original Sigma SSP to be an excellent choice for any audiophile wanting simple operation while having superb sonic performance for both two channel and multichannel setups.  The Sigma SSP sports fully balanced left and right channels,flexible features, and an intuitive interface. However, one of the biggest gripes we had was the lack of immersive audio format support. With the new MkII model that's been fixed. The new eight-channel Sigma SSP MkII supports Dolby and DTS:X 3D when configured as a 5.1.2 channel system and has been has been much improved with the addition of new audio DSP and HDMI hardware. 
The MkII's new dual DSP module features a Texas Instruments 456 MHz DA830. This dual core floating-point audio processor with ARM9 and an audio-specific DA810 32-/64-bit floating point DSP should provide the needed processing power to accurately decode the latest immersive audio formats and perform the many post-processing capabilities that the original Classé Sigma SSP is known for. On the video side, the newly upgraded HDMI board adds HDMI 2.0 features like pass through of UHD video (4K @ 60 Hz) and HDCP 2.2 compatibility for the better performance and added convenience when connecting to UHD sources and displays.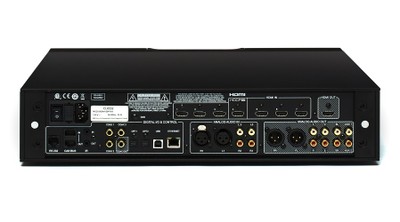 A variety of connection options supports many different source inputs and outputs.  Streaming audio asynchronously from a computer, storage device or the Internet is an option via the Sigma SSP MkII's Ethernet connection. The Sigma SSP MkII also supports both AirPlay and DLNA streaming. Front and rear panel USB connections support asynchronous streaming from computers and iOS devices. Eight HDMI 2.0 inputs (including one on the front panel) provide a path for Blu-ray players, games and set-top boxes while simplifying system connections. The Audio Return Channel lets YouTube, Netflix and other online sources decoded at your display play through the Sigma SSP MkII by using the HDMI connection between them. Even coax and optical inputs are provided for those sources lacking the HDMI option.
For those of you who have already purchased the classic Classé Sigma SSP, do not fear! Classé is offering an upgrade to your original Sigma SSP preamp as well.  For $1000 Classé will ship you an upgrade kit comprised of a hardware kit and instructions for updating the firmware.  For speed and convenience, MkII upgrade kits consisting of four new circuit boards may be installed in Sigma SSPs either in your home or a dealer's shop—no need to return the unit to the factory!
Building on the outstanding value proposition that defined the original Sigma SSP, the MkII version brings a technology upgrade aimed squarely at raising the user's experience to another level We are particularly pleased to support owners of the original Sigma SSP by offering an upgrade path that gives them every advantage of the latest model. A properly executed 5.1.2 system like this can envelope you in a true 3D experience.

Dave Nauber: Classé President
With all these new improvements, Classé has gone a long way towards bridging the gap between a great sounding music room and an immersive home theater room. The Sigma SSP MkII is designed to unify the limitations between these two categories, optimized as a stereo preamp/processor but with HDMI 2.0 switching (with HDCP 2.2 on input 4) and 7.1 channels of high-performance multi-channel processing included.
The US retail price for the Sigma SSP MkII is $6,000 and the Upgrade Kit is $1,000. Both will be available later this month.
Confused about what AV Gear to buy or how to set it up? Join our Exclusive Audioholics E-Book Membership Program!
Recent Forum Posts:
gene posts on June 27, 2017 19:17
If you're in the market for a new immersive audio preamp and you have the money to spend, Canadian audio company Classé announced the release of their Sigma SSP MkII. This eight channel preamp is an upgrade to their highly regarded Sigma SSP. The new MkII has been made even better with the addition of a new audio DSP for Dolby Atmos and DTS:X immersive surround sound and HDMI board for 4K UHD support.

Current SSP owners can purchase this hardware update and have it installed at the dealer or in their homes.



Read: Classé Sigma SSP MkII Preamp/Processor Adds Dolby Atmos, DTS:X and 4K UHD
Post Reply