PRO Audio 23 Channel Dolby Atmos System
PRO Audio 23 Channel Dolby Atmos System
In their 10'H x 23'W x 35'D demo room, complete with wet-bar and billiard table, Pro Audio has installed their 23-channel Dolby Atmos sound system.  Customers can call, schedule a demo and relax while enjoying a cocktail.  It's a setting one might have in their home.  The demo room was also complete with sound-absorbing material on the walls, but it also had normal furniture such as a sofa, a couple of loveseats, coffee table with a chessboard, a few floor lamps, and also a digital drum set in the left corner closest to the 12' screen.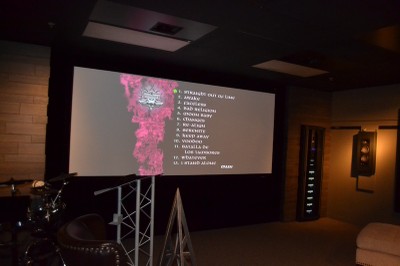 The 12' screen is from Stewart Filmscreen made of THX-certified MicroPerf material with a 2.35:1 aspect ratio.  This front-projection system is viewed using a late model Runco XTremeProjectionTM Series projector, model X-400d with the DimensionTM DC300 processor and Active 3D technology.  According to Paul Hales, since Runco's parent company Planar has decided to discontinue all Runco products, the projector is somewhat of a "white elephant."  Video playback is done off of an OPPO BDP-105D.  This entire system is controlled via a Creston control system.  Using a handheld tablet-like device, PRO is able to control the main audio system, lighting, shades, and the projector's anamorphic lens.  According to Paul, this would be typical of end users of PRO products with control systems from Savant, Control4, etc.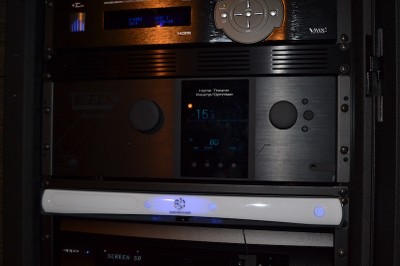 Trinnov Altitude32 Atmos AV Processor

The Trinnov Altitude32 is the heart and soul of this already exceptional home cinema system.  This high-end preamplifier comes in black or light gray aluminum.  PRO was using the black aluminum model.  This unit comes in four different models:  8-8 (eight processing channels and eight optimizer channels), then it's the 8-16 (which comes with up to 16 pro/opt channels), then comes the 16-24, and lastly the 16-32.  Three models have the 3D codecs as available upgrades.  Though honestly, at $21K - $31.5K, I really think all three should be standard.  Even the $17K 8-8 basic model should have it as an option at least.  The 8-8 does not have Atmos capability, but still has Trinnov's 3D mapping technology. 
The particular model used (according to Chuck Back the representative from Sound Developments Ltd, the Cinema distributor of Trinnov in the US) was the best of the best, the $31.5K 32-channel monster complete with all three 3D audio codecs:  Dolby Atmos, Auro-3D, and DTS:X.  This processor contains a built-in Ethernet and Wi-Fi connection, with an Intel i7 processor, 2GB of RAM, 64-bit processing, 24bit/192kHz native processing on all channels, and flash storage.  Since this preamplifier is PC-based, the Altitude32 can update automatically via Wi-Fi, through the Internet, with no need for a DSP upgrade.  The automatic processing of this unit via the optional 3D tetrahedric measurement probe adjusts the time/frequency acoustic analysis on all channels.  The Altitude32 also features Trinnov's loudspeaker/room optimizer, which adjusts the phase for all channels.  This allows the processor to fully create an enveloping experience by utilizing Trinnov's patented 2D/3D spatial remapping technology.  This technology basically creates a map of the room and communicates that information to the system.  With this system, one can calibrate 29 different presets for multiple viewing positions at once.  It even takes into consideration if there is an acoustically transparent screen that is used.  The Altitude32 also uses Trinnov's high-performance AD/DA converters, the converters used daily by professional mastering studios.  For more details about this fine product visit www.Trinnov.com.
Speaker Placements
PRO connected 19 loudspeakers and four subwoofers throughout the entire listening area to exhibit the 11.4.8 Dolby Atmos experience.  All 23 of these speakers/subs were powered by nine of PRO's amplifiers (two DMA-1508s, three PMA-9942s, three PMA-4242s, one PMA-9900).  Sitting in the recessed shelving spaces of the false wall behind the 12' projection screen are three tri-ampable SCR-2115sm (surface mount floor/shelf) loudspeakers.  These 42"H x 22"W x 16"D speakers have an 89lb. 15" woofer (with a 4" voice coil) and a 36lb. 90 x 60 degree horn with a 2" mid/high frequency compression driver.  These speakers are designed to be tri-amped via PRO's amplifiers with a configuration of 1000W LF, 450W MF, and 200W HF.  They were all connected to three of PRO's Programmable Modular Amplifiers (or PMA) model 9942.  Their frequency range is 34Hz-21kHz with a max output of >130dB.
Editorial Note about Speakers Employed by Gene DellaSala

There were no bouncy house Atmos-enabled speakers in this installation. Again PRO Audio took a science based approach putting together a system with virtually unlimited dynamic range. You simply cannot get this level of realism, accuracy or dynamics with Atmos-enabled reflection type speaker schemes.
The six side speakers were the SCRS-26im (invisible mount) models.  As with all of PRO's "im" line of speakers, these are designed to fit within a 2" x 4" architectural wall space, but in this instance the fixtures were out in plain sight.  I actually liked this look.  These loudspeakers have two 6.5" long-throw woofers and a 1" compression HF driver with a 90 x 60 degree elliptical horn.  These have a sensitivity of up to 114dB HF, freq. range of 54Hz-31kHz, and a max output of 200W HF up to 122dB.  These are 30"H x 14"W x 3-3/8"D and weigh in at only 24lbs.  All six of the SCRS-26im's are powered by three of the PMA-4242s (one for the front "wide" pair, one for the side pair, and one for the side "back" pair of speakers).  These speakers are also bi-amped through the PMA-4242s with 450W LF and 200W HF each.
Above the listeners and slightly to the front and rear were six SCRS-25ica speakers and four SCRS-5iw speakers.  The bi-ampable SCRS-25ica (in-ceiling angled) speakers were arranged as two front "height", two rear channels, and two rear Atmos speakers.  These in-ceiling speakers have dual 5" woofers, 0.75" compression HF driver, and 90 x 60 degree elliptical horn.  The front baffle is angled to direct sound into the listening area.  They are 11.6"H x 11.6"W x 7.2"D (w/grille and black box), 13lbs., can fit in a 10.6"H x 10.6"W cut-out, have a freq. range of 60Hz-18kHz, a 109dB HF sensitivity, and a 300W peak at 115dB.  The other four loudspeakers that give the Atmos effects are the SCRS-5iw.  These bi-ampable in-wall speakers are mounted in the ceiling in the middle of the listening area.  They have one 5" woofer and one 0.75" HF compression driver.  These are the same drivers as the SCRS-25ica.  These are 11.5"H x 7.5"W x 3.9"D, with a cut-out of 10.4"H x 6.6"W, freq. range of 65Hz-18kHz, a 109HF sensitivity, and a 300W peak at 109dB.  These ten loudspeakers are powered by two (8-channel) DMA-1508 amplifiers in a bridgeable configuration.  This means that all 16 channels are converted into ten channels and each loudspeaker is set up as a single passively-powered speaker.  Each DMA-1508s were pumping out 5x300W channels.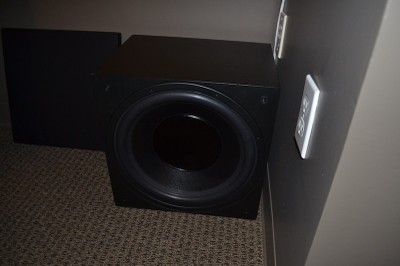 LFC-14sm subwoofer
PRO also had two 266lb. LFC-24sm subwoofers and two LFC-14sm subwoofers in their system.  The massive 26"H x 60.5"W x 21"D LFC-24sm has an 88lb. driver, four 6" ports, 6" voice coil, freq. range of 22Hz-80Hz, a 99dB sensitivity, and a 2000W peak at >129dB.  This thing looks like a huge end table.  It is also covered in a material that feels like the lining of a pick-up truck bed.  All of PRO's cabinet loudspeakers and subs are made from birch wood for a very sturdy and durable product.  Two of these behemoths were positioned on the floor behind the false wall under the projector screen.  They were also powered by two of the PMA-9942s that were powering the SCR-2115s through two of the 1000w channels (one per sub).  The other two subwoofers in the system were the LFC-14sm.  These were positioned in the rear corners of the listening area.  These two 49lb. 16"H x 16"W x 13.5"D (12" w/o the grille) subs are 15" subs that are capable of 1000W peaks, a freq. range of also 22Hz-80Hz, a sensitivity of 90dB, and a max output of >115dB.  These are designed to be the companion sub for the SCRS-25ica/SCRS-5iw loudspeakers.  One last PMA amplifier, the 9900, was powering these two subs with 2-channels at 1000W each.
Sound Revelation
Movies
Previously, I was aware of a few custom home theater installations, in homes and on display at some high-end hi-fi shops, and some big-box stores.  Nothing could prepare me for what I experienced at the PRO Experience Center.   One of the demo videos was the opening scene from Mad Max Fury Road.  The roar of his car firing up sounded like a raging inferno.  The impact created by the four subwoofers when his car tumbles out of control is thunderous, visceral.  This scene is shown in this link https://youtu.be/-IJ8_Jf891k.
We saw another video, a documentary about sea life.  The scene showed the hunting habits of a lionfish.  The audio in this scene made me imagine I was scuba diving and watching this scene play out with some background music playing in my ears at the same time.  The pulsating rhythm of bass in the music reminded me of the pulsating bass of the Jaws theme, though not as grand in scale.  This bass increased in dB until the point of attack by the lionfish on its prey.
Mad Max (left pic) and Unbroken (right pic) Blu-ray Movies
The most impressive demo video was the bombing mission scene from Unbroken.  The dialog and delicate sounds of the men bustling around the aircraft, as well as the sounds when the pilot and Louie Zamperini were trading off the controls from one to the other until Louie dropped the bombs, was clearly defined.  In the meantime, there was the constant sound of the wind and the hum of the B-24's engines.  Once the bombs hit their target, there is a few seconds delay between the impact and when the sound is heard.  In this case it is the LF rumble of the impact, which was actually startling and "Oh so cool!" at the same time.  This plastered a big smile on my face for the rest of the scene.  When the Zeros start their attack, each round of the B-24's .50 caliber machine guns is felt with great impact.  In concert with this audio barrage, the other artillery rounds from the Zeros are whizzing by and making contact with the B-24's fuselage.  The scene is a great test for any 3D sound system.  It gives the sensation of being inside the aircraft with the other characters.  The scene was quite short, but the dramatic impact of the audio and visual effects made me crave more.  Although I've already seen this movie and experienced it on my humble home theater, seeing it like I saw at PRO, I felt like I was seeing it for the first time.  Here's a link to a portion of the clip https://youtu.be/HaWWvJ7nhNk.
Music
The last scene I'll mention is from the concert disc of the Crossroads Guitar Festival 2010.  In this scene the John Meyer Trio is performing a fine, slightly more upbeat cover of the classic song Ain't No Sunshine by Bill Withers.  Viewing this clip, I felt like I was at the concert.  Every guitar pluck is produced with great detail.  I felt every kick drum shot from drummer Steve Jordan.  You can hear the distinct variations of the bass guitar.  Voices came through with pristine clarity.  None of the sounds, including the crowd, overpowered the others. Everything was perfectly balanced. This was apparent with all of the demo videos as a matter of fact.  The HFs were not shrill or overpowering.  They were loud yet smooth and easy on the ears.  The LFs were thunderous and impactful, but not overpowering.  I've heard many systems where the LFs are just deafening and gave me a headache.  The highs were too shrill and had to be dialed back especially at high volumes.  Even at reference levels as displayed at PRO, the sound was not deafening, nor did it make my head feel like I was underwater.  This system was LOUD, but surprisingly bearable.  The sound was much better, in my opinion, than watching a movie in an IMAX auditorium.  This has to do with the amazing amount of control one has with components as capable as the Altitude32 and PRO Audio sound system and loudspeakers.  Here is a link to this clip https://youtu.be/Q4hcxqP9Oo8. 
Conclusion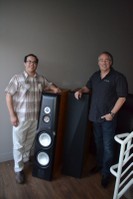 The PRO Audio Dolby Atmos system was already great as according to a representative from Audiovisions, the custom installer company next door to PRO.  With the Trinnov Altitude32 introduced into the system, it sounded different, in a good way.  The pre-amp PRO used before was no slouch, a Datasat RS-20i.  I guess the Trinnov just took it up a notch.  It is now going to be their staple pre-amp/processor.  If you are looking to have a custom-built Home Theater installed in your house or just looking for a high-quality system and do not want to tear down walls or do any other construction, then PRO has got you covered.  They do not high-pressure sell something they just give you the facts, make some suggestions, and let you decide.  Customer satisfaction is the main goal for them.  They have many different options you can choose from and amplifiers that can adapt to whatever you'd like them to do.  Now with the Altitude32 in place, you'll have many more options available in terms of sound processing.  If you have the funds for a high-quality sound system (two-channel, HT, or whole house audio), whether your listening room is big or small, and you do not want to ask "What if?," then look no further than PRO Audio Technology. 
Visit their website www.proaudiotechnology.com, give them a call, visit their showroom, have a cocktail, and share your experience.
Confused about what AV Gear to buy or how to set it up? Join our Exclusive Audioholics E-Book Membership Program!
See also:
Recent Forum Posts:
nervecntr posts on June 06, 2016 02:37
We have had opportunity to install the Pro Audio systems and they easily represent the greatest bang for the buck in the hi-end world. I do agree however with chriscmore, why demonstrate the incredible capabilities of your system through a screen that even with proper placement colors the sound with comb filtering etc when there are great alternatives available. Interesting choice of reviewers to write about this system having made it clear he has never owned a system in this realm and probably hasn't even heard one at a trade show or other venue.
chriscmore posts on May 31, 2016 17:08
Perforated vinyl screen - really? Sigh.
gene posts on May 30, 2016 16:56
We were fortunate to be invited out to PRO Audio's headquarters in southern California for a 23-channel Atmos demo featuring Trinnov processing and 14,800 watts of power. What we saw and heard here was an immersive surround sound Atmos/DTS:X spectacle based on science; no gimmicky bouncy house speakers were used. Instead, PRO Audio employed ALL high efficient, discretely placed speakers that sounded superb for two-channel and full on multi-channel surround sound.

If you have the funds for a high-quality sound system and you do not want to ask "What if?," then look no further than PRO Audio Technology.




Read: PRO Audio Technology / Trinnov 23-Channel Dolby Atmos/DTS:X Experience
Post Reply