Red Dragon M1000 MkII and M500 MkII Conclusion
Red Dragon M1000 MkII and M500 MkII Conclusion
My experience with the M1000 MkII and M500 MkII amplifiers underscored two important facts:  First, great amplification is essential to getting the best performance from your system; and second, the match between your amplifier and speakers is critical. 
I found the M1000s and M500s to be consistently able performers with power, dynamics, and detail.  In other words, they delivered much of the potential that Class D has been teasing us with.  With an incredibly small footprint and a ridiculously light and cool to the touch chassis, there's a lot to like about these amplifiers. If your speakers mate well with them, then you'll have a winning combo that will satisfy you with both music and movies.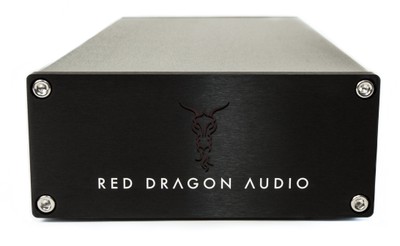 Red Dragon Audio Monoblock in black finish

At the same time, my experience also underscored some of the weaknesses that critics of Class D have leveled against it.  As I saw first-hand by pairing the MK1000s with Revel Ultima2 Salons, unless you can deliver that power cleanly and without distortion, it's irrelevant.  But when the match works—as it did with the SVS Ultra Towers—then the results can be something amazing to experience. 
The bottom line is that the Red Dragon amplifiers are an incredible value. For both their rated power output and for a monoblock design, their pricing is incredibly low.  Bundle that with personalized customer service and a 45-day risk free trial with free shipping both ways, you have a winning combination. If you're in the market for an amplifier then you owe it to yourself to try these out.  If these amps mate well with your speakers, then it will be a one-way trip.
The Score Card
The scoring below is based on each piece of equipment doing the duty it is designed for. The numbers are weighed heavily with respect to the individual cost of each unit, thus giving a rating roughly equal to:
Performance × Price Factor/Value = Rating
Audioholics.com note: The ratings indicated below are based on subjective listening and objective testing of the product in question. The rating scale is based on performance/value ratio. If you notice better performing products in future reviews that have lower numbers in certain areas, be aware that the value factor is most likely the culprit. Other Audioholics reviewers may rate products solely based on performance, and each reviewer has his/her own system for ratings.
Audioholics Rating Scale
— Excellent
— Very Good
— Good
— Fair
— Poor
| Metric | Rating |
| --- | --- |
| Two-channel Audio Performance | |
| Build Quality | |
| Fit and Finish | |
| Ergonomics & Usability | |
| Performance | |
| Value | |
See also:
Confused about what AV Gear to buy or how to set it up? Join our Exclusive Audioholics E-Book Membership Program!
Recent Forum Posts:
TheoN posts on January 28, 2014 23:48
AcuDefTechGuy, post: 1013828
All I can say is, that dragon picture on the front of the amp looks timid and it isn't even red.
I know! Trying to capture the actual color of the "red" in the Red dragons just was beyond the capabilities of the camera. The red LED either came out magenta or a light red. I borrowed an SLR digital camera and that was the best I could capture. I can vouch that it is red
AcuDefTechGuy posts on January 28, 2014 21:29
All I can say is, that dragon picture on the front of the amp looks timid and it isn't even red.
jliedeka posts on January 28, 2014 16:37
+1 for Power Cube, it makes the performance easy to see at a glance.

I live in a medium sized city. We used to have at least three specialty audio shops. Now we're down to one.

Jim
RichB posts on January 28, 2014 14:07
Hi Theo,

Thanks for the reply.
I would love to see AH measure the M500 or the M1000s.

I like the PowerCube (or something like it) that gives an insight into an amp ability to drive speakers with difficult impedance and phase angle loads.
If an amp can drive difficult loads, has sufficient power and low distortion, then I would think pairing is less complicated.

I have the Salon1's which appear to be a bit more difficult to drive than the Salon2's.
Trying amps is no simple task, but at least the new Class-D amps are easier to handle.

Unfortunately, high-end audio shops are endangered species.
I went into one on Saturday, and all the salesmen appeared to be in their 60's
It makes me wonder if it will be there 10 years from now. It is in a location where the real estate is valuable.
At some point, the labor of love may end…

- Rich
TheoN posts on January 28, 2014 12:36
Hi Rich,

I can't say for sure, but if those were 400wpc into 4ohms then those were probably older ICEpower modules. The newer ICEpower modules in the Mk500s had no problems with the Salon2s.

Now here's the interesting thing. The M1000s are rated into 2ohm loads and the M500s are rated into 3ohm loads. The real issue, as Gene had pointed out in our many conversations, was really the load at a specific frequency or frequencies.

Based on my experience with these amps and that two sets of speakers—one of which was a Salon2—my hunch would be that if you tried the current M500 MkIIs you'd have no issue with your Salons—I don't know whether you have the Ultima1 or Ultima2, but I don't think it would make a difference.

Talking about amps always seems to stir up some great, healthy conversation. But one of the take-aways continues to be how important listening, pairing, and measuring all are. To me personally, that pairing is really important and sometimes you really need to see how a particular amp will react to a particular set of speakers. The SVS Ultra Towers are by no means slouchy speakers and they loved both amps and I found them to be a very capable match.

Thanks for your comments! It's much appreciated.

Theo
Post Reply