NAD's C 3050 Integrated Amp Looks '70s, Parties Like It's 2023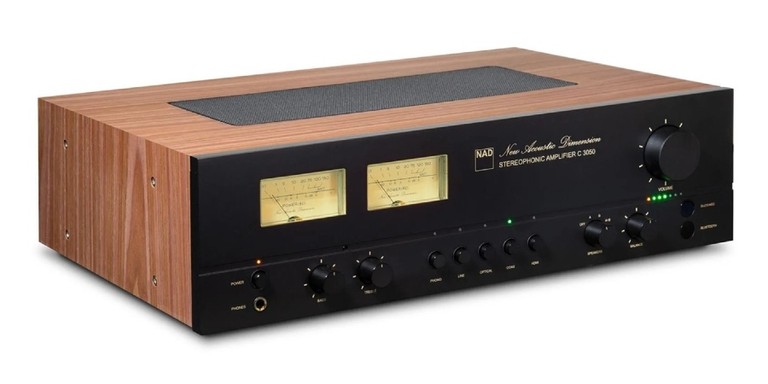 NAD C 3050 Integrated Amp
Summary
Executive Overview
It was just over 50 years ago, in 1972, when Marty Borish founded NAD. I've probably said it before, but there must have been something in the water back in 1972, because that same year saw the birth of several other significant audio brands, including Mark Levinson, Monitor Audio, Polk Audio, and PSB. Nowadays, NAD and PSB are sister companies under the Lenbrook International umbrella. To celebrate its own 50th anniversary, PSB launched a special loudspeaker called the Passif 50, featuring a 1970s aesthetic, and finished in an open-grained walnut veneer. Soon after, NAD also announced a limited-edition product dressed in that exact same walnut.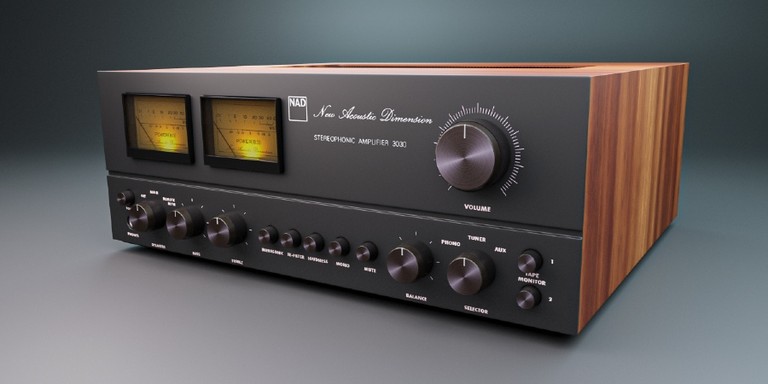 NAD's 1970's 3030 Amp

The C 3050 LE Stereophonic Amplifier ($1972) paid homage to the 1970s classic NAD 3030 amp, with retro design elements like VU meters, push-button controls, and NAD's original cursive logo. Though the exterior design was rooted in the 70s, it was a different story on the inside, which paid tribute to NAD's tradition of innovation and the brand's legendary engineer, the late Bjorn Erik Edvardsen. Internally, the C 3050 LE is fairly similar to NAD's thoroughly modern C 389 integrated amp, complete with HybridDigital Class D amps, BluOS streaming, and Dirac Live room correction. NAD built just 1,972 units of the C 3050 LE amp, with the idea that this limited-edition product would be a heritage piece for NAD super-fans. If the idea of a capable and versatile 21st-century streaming amp with classic 1970s NAD styling sounds good to you, well… you're not alone. Unfortunately, the C 3050 LE doesn't appear to be available anywhere, and I've even heard that all 1,972 units were pre-ordered before the product officially launched. But it's not all bad news. If you're willing to accept a satin vinyl walnut instead of the real walnut sleeve that adorns the C 3050 LE, then allow me to introduce NAD's new C 3050 ($1,299; or $1,899 with the optional BluOS-D streaming module).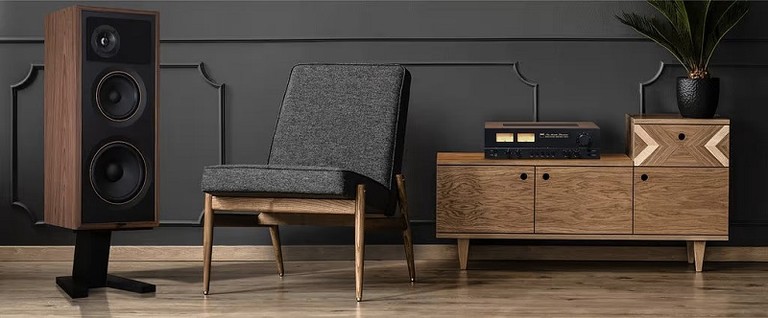 C 3050 Integrated Amp and Passif 50 Speaker

Aside from the vinyl walnut sleeve and some slightly different branding, the C 3050 stereo integrated amp appears to be exactly the same as the C 3050 LE. Its beautifully retro design is identical, and the dual VU meters don't look any less cool on this unlimited-edition product. While BluOS high-res multi-room music streaming and Dirac Live were included in the limited-edition version, they're optional on the regular C 3050, to be added via the same slide-in BluOS-D streaming module used in other recent NAD products, such as the C 389 and C 399. NAD's proven HybridDigital Class D amplifier design is at work, though it's worth pointing out that both the C 3050 and C 3050 LE use UcD amplifier modules, like those found in the C 389. At first, I was slightly disappointed that NAD didn't use the more advanced NCore modules found in the more expensive C 399, or even the Purifi Eigentakt amp designs used in the Masters Series M33 integrated and M23 power amp. But doing so would have raised the price significantly, and in the end, I think NAD made the right choice by leaning into its history of building high-value, reasonably-priced electronics. Interestingly, the UcD, NCore, and Eigentakt amp modules used by NAD aren't off-the-shelf parts made by Hypex or Purifi; instead they are built in-house by NAD using designs licensed from those other companies. This arrangement affords NAD's engineers the opportunity to optimize the amp designs and select individual parts as they see fit.
The C 3050… is based on a 1974 industrial design of the original 3030 stereophonic amplifier, which in its day, produced 30 watts per channel using a class A/B design and offered audiophiles and music lovers an affordable performance-oriented amplifier option versus its contemporaries. The original 3030 had a matching companion tuner but the C 3050 (and C 3050 LE) modernizes it as a 'just add speakers' product that comes equipped with BluOS, a hi-res multi-room streaming platform, giving music lovers access to thousands of internet radio stations, as well as over 20 music streaming services.
— Cas Oostvogel, Product Manager for NAD Electronics
Both the C 3050 and C 3050 LE are rated to deliver 100 watts per channel of continuous power and 135 watts per channel of instantaneous power, providing "effortless delivery of musical transients, with virtually unmeasurable noise and distortion." The result, according to NAD is "neutral, distortion-free sound, even at high listening levels, with exquisite detail, superb portrayal of space, and thrilling dynamics." The DAC section is designed around a Texas Instruments PCM5242 high-resolution differential DAC chip, which boasts high tolerance to clock jitter and excellent dynamic performance. NAD says that the C 3050's digital hardware delivers pinpoint imaging, amazing musicality, and stunning clarity.
Rating power at one frequency, one volume level, using a simplified test load is fine for submitting documentation to regulators but in reality, music impacts our emotions by being complex and dynamic. It's easy to create an amplifier that performs well in narrow conditions, but we are music lovers designing products for music lovers, so we rate our amplifiers across the whole frequency band and dynamic range to give our consumers a realistic expectation of amplifier performance for all the music they enjoy. That often meant the power rating on paper of NAD's products were lower than what our competitors would publish, but our ratings better reflect the full and rich sound that great recordings contain.
— Greg Stidsen, Chief Technology Officer of Lenbrook International, the parent company of NAD
While the amp's original "New Acoustic Dimension" cursive logo and dual VU meters make the dark grey front panel scream "1970s classic," the company's Modular Design Construction is all about embracing the future. In fact, MDC is one of the most successful future-proofing schemes in the audio business, with countless NAD products having gained new features and capabilities since the program's launch some 16 years ago, allowing owners to stay technologically-current without having to replace their electronics. The C 3050 incorporates the latest generation of Modular Design Construction, called MDC2. The C 3050 can be purchased with or without the MDC2 BluOS-D module ($600), which adds both Dirac Live room correction and BluOS high-resolution multi-room music streaming. As we have discussed many times over the last several years, Dirac Live is a powerful tool for analyzing and correcting room acoustics problems like standing waves and anomalies in frequency-response. Dirac uses a calibrated microphone and an app running on a smart device or personal computer to measure and mitigate these common listening-room issues, resulting in "vastly improved bass definition, greater clarity and tonal accuracy, and more precise imaging," according to NAD. Because the second-generation MDC2 modules feature two-way communications, Dirac Live works on all sources connected to the C 3050.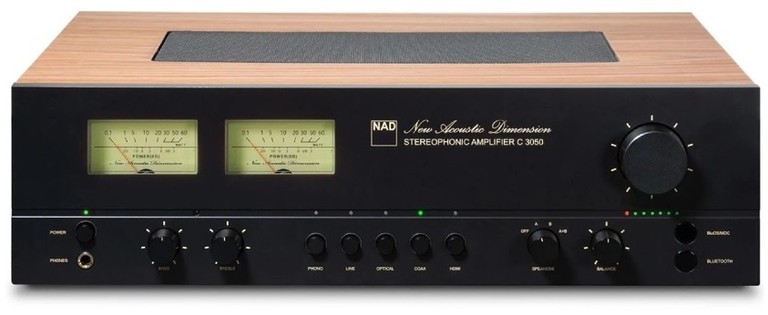 The MDC2 BluOS-D module also provides network connectivity via Wi-Fi or ethernet, using the BluOS multi-room music management system. Other than Roon, BluOS is about as good as it gets, incorporating   lossless and high-res audio from a variety of popular streaming services, such as Qobuz, Tidal, and Amazon Music. Spotify Connect and Tidal Connect are both supported, and the module performs full MQA decoding and rendering for Tidal. The MCD2 card supports high-res audio up to 24-bit/192kHz, so you can play your own digital library in addition to thousands of internet radio stations. Apple AirPlay 2 support adds another host of audio possibilities for users of the iPhone, iPad, or Mac. And if you can't be bothered to use the app or the included IR remote control, you can control playback using Amazon Alexa, Google Assistant, or Siri (via AirPlay 2). The BluOS-D module can also make the C 3050 part of a whole-home music system with as many as 64 zones. Those zones could use gear from Bluesound itself, or from other BluOS-capable brands like PSB, DALI, Monitor Audio, Cyrus, Peachtree Audio, and of course, NAD. Each zone can have independent source and volume control, or you can group zones together and play the same music all around the house in perfect sync. Again, the bidirectional architecture of NAD's second-generation MDC2 modules allows any source connected to the C 3050 to be streamed to other BluOS-enabled components around the house.

Speaking of source components, the C 3050 can accommodate a turntable, thanks to an "ultra-low-noise" MM phono stage, but the amp can just as easily connect to a smart TV via the HDMI eARC interface. Other inputs include line-level analog, coaxial digital, and optical digital. There is a subwoofer output and a dedicated headphone amplifier in addition to dual sets of loudspeaker terminals and a preamp output. There's also bi-directional aptX HD bluetooth, so a friend can stream music from a phone without connecting to your Wi-Fi, and the amp can also stream music to your wireless headphones for late-night listening.
NAD's success is a result of the dedication to the values the brand was founded on, that Marty & Erik led and mentored us with, and that we have maintained throughout our 50-year history. The mutually profound relationships amongst our present-day team and our global industry partners, together accounts for many hundreds of years of NAD experience, and that means that the multiple generations of hi-fi enthusiasts that form NAD's fan base continue to benefit from excellent value for performance, without sacrificing the modern conveniences of music enjoyment. This is something few remaining brands can claim and something we are very proud to be able to claim.
— Gordon Simmonds, President and Chief Executive Officer of Lenbrook International
The C 3050 just launched in early March, 2023, and NAD expects a very warm reception, based on the enormous demand for the limited-edition version. The company is therefore hosting a series of global retail events jointly sponsored by NAD Electronics and its network of distributors and retailers, culminated in the Munich High End Show last weekend (May 18th-21st, 2023). It was apparently in Munich that "the idea to create NAD Electronics first germinated back in 1972," according to the company. Between now and the Munich show, you can expect authorized retailers to advertise unique listening events and exclusive promotional offers in celebration of NAD's 50th anniversary. To find an event near you, visit www.NADelectronics.com/50years.

Unless otherwise indicated, this is a preview article for the featured product. A formal review may or may not follow in the future.
Confused about what AV Gear to buy or how to set it up? Join our Exclusive Audioholics E-Book Membership Program!