JBL Classic Series Audio Components Blend Retro w Modern Tech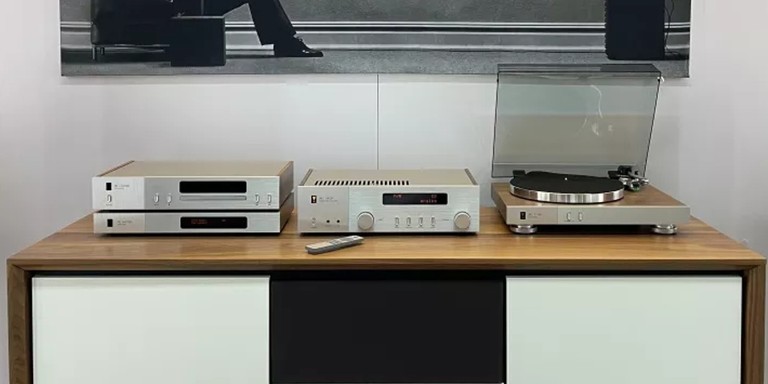 JBL Classoc Electronics
Summary
Product Name:

SA550 Classic integrated amplifier, MP350 Classic streaming media player, CD350 Classic CD player, TT350 Classic turntable

Manufacturer:

JBL

Review Date:

April 04, 2023 00:40

MSRP: $ 2,000 - SA550 Classic integrated amplifier, $700 - MP350 Classic streaming media player, $800 - CD350 Classic CD player, $1,000 - TT350 Classic turntable
First Impression:

Pretty Cool
Executive Overview
JBL's retro-inspired Classic Series loudspeakers have been all the rage for the last five years, so it should come as no surprise that the company is now spreading that retro charm to a whole line of Classic Series electronics. At this year's CES-adjacent "Harman Explore" showcase in Las Vegas, JBL showed off its new SA550 Classic integrated amplifier ($2,000), MP350 Classic streaming media player ($700), CD350 Classic CD player ($800), and TT350 Classic turntable ($1,000). All will be available in the second quarter of 2023, according to Harman. JBL's savvy formula of timeless design plus modern technology made the 2018 launch of the L100 Classic a huge hit for the company, despite its relatively high $4K-per-pair price. After all, the original 1970 JBL L100 Century was the company's most successful speaker of all time, and the 2018 version capitalized on that nostalgia factor while taking advantage of thoroughly modern engineering. Will JBL strike gold again with these new Classic Series electronics?
The design inspiration for the new electronics was the JBL SA600 amplifier from the 1960s. (In 2021, JBL celebrated its 75th anniversary with the exclusive $3,000 SA750 integrated amplifier, which also paid homage to the SA600 via its retro styling and wood-clad side panels.) Looks-wise, the new Classic Series electronics blend the old with the new quite gracefully, thanks to the same natural walnut wood veneers as the Classic Series loudspeakers, paired with machined aluminum faceplates and controls. Inside, however, there's plenty of 21st-century tech in the form of the latest hi-res digital and analog audio electronics.
Whether streaming audio from a mobile device or enjoying a CD or vinyl record, the latest additions to our Classic Series create captivating experiences for listeners that bring music to life. And they look as amazing as they sound. With their retro design, they perfectly match each other and JBL Classic and Studio Monitor Loudspeakers for a sleek, cohesive look in any environment.
— Jim Garrett, Senior Director, Product Strategy and Planning, Harman Luxury Audio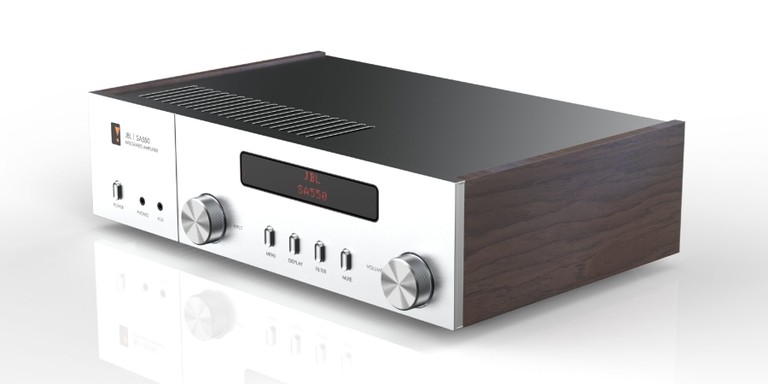 The SA550 Classic integrated amplifier boasts 90W per channel of advanced Class G power (150W into 4 ohms), which should be sufficient for most loudspeakers, though JBL would naturally steer buyers toward the Classic L100, L82, or L52. (See below for an explanation of Class G amplification from Arcam, JBL's stablemate at Harman.) The SA550 has three analog inputs plus a MM/MC phono stage. Digital inputs include one optical and two coaxial with support for files up to 24-bit/192kHz, plus bluetooth with  AptX Adaptive technology. While the 50%-more-expensive SA750 from 2021 includes streaming smarts (along with Dirac Live room correction), the SA550 requires a separate streaming device, and that's where the MP350 Classic streaming media player comes in. The Roon-ready MP350 Classic can stream from personal libraries and streaming services, with support for Spotify Connect and Tidal Connect, along with a myriad of other music services via Apple Airplay and Google Chromecast. Both the MP350 and SA550 use a "reference hi-res DAC with time domain jitter elimination." I think it's very likely that both units' DACs are based on ESS chips, but that's only speculation at this time.
Class G Explainer from Arcam

What exactly is Class G? Like a hybrid car engine, Class G implements multiple power supplies rather than just a single supply. If a dynamic signal is received that goes beyond the capability of this first power supply, the secondary supply is gradually brought in up to full rated power output as required. This gives a very efficient design as additional power is only used when required, much like a turbo-charger. Modern high-speed silicon allows us to make this switch faster than would ever be required, even way beyond the audio bandwidth, so there is no 'turbo lag.' The first power supply is of lower power and within this region we run in pure Class A, which has no crossover distortion. As the secondary supply is only used when required, extreme levels of power are possible because very little energy is wasted in the amplifier as heat when it is not being used. Without control, this power would be ill-used, so like high performance car tires, multiple output devices within the amplifier keep a tight grip on the loudspeaker at all times, ensuring your listening experience never leaves the road.

— Arcam
For those who prefer physical media, the CD350 Classic and TT350 Classic should do nicely. The CD350 supports CD-R and CD-RW playback, if you still have a collection of those lying around. You should have no issues playing FLAC, WAV, MP3, AAC, or WMA file formats, and a USB-A input allows for file-based playback from an external hard drive. JBL says that the CD350's tray loading mechanism is robust enough to withstand the impending compact disc renaissance which, I'm told, will take off any day now. Meanwhile, the TT350 Classic turntable features a direct drive motor with support for 33.3 rpm and 45 rpm speeds. Both rotational speeds are locked with a speed sensor "for perfect pitch," according to JBL. The curved aluminum tonearm comes pre-installed with a high-quality moving magnet cartridge on a removable head shell, which should make for easy replacements or upgrades down the line. At press time, we don't yet know what you'll be upgrading from, though, as JBL remains tight-lipped about what cartridge is included. We do know that the adjustable feet allow for those oh-so-crucial leveling adjustments to be made when placing the turntable on surfaces that might not be ruler-flat, and the feet also provide damping to impede external vibrations from making their way into the audio signal. The TT350 certainly looks the part, thanks to its walnut wood chassis and tinted dust cover.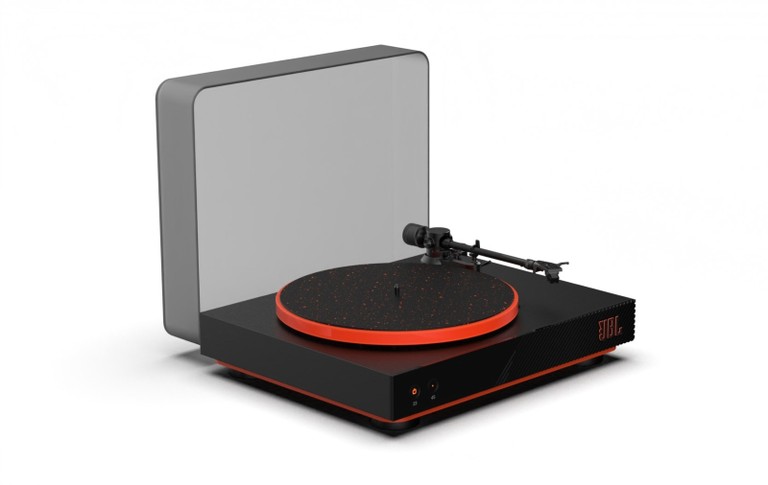 If you want to get into vinyl at a lower price, JBL also introduced the $399 JBL Spinner BT turntable, which isn't part of the audiophile-oriented Classic Series, but nevertheless offers a vibrant design and bluetooth, pairing easily with the portable speakers, soundbars, and headphones used by, shall we say, normal people. The Spinner BT's use of aptX HD encoding means that the bluetooth signal should sound better than average, though a wired connection via the built-in (defeatable) MM phono stage will surely yield better results. The Spinner BT features a black MDF plinth with JBL orange accents, an aluminum platter and tonearm, a belt-drive motor, and an Audio Technica moving magnet cartridge, once again pre-installed on a removable head shell. The Spinner BT will begin shipping during the third quarter of 2023.
The JBL Spinner BT is a testament to the joy of music and vinyl, and we couldn't be more excited to introduce it at Harman Explore. With Bluetooth 5.2 technology, the turntable provides listeners with an instant wireless connection to their record collections — allowing them to enjoy their albums in any way they wish without losing the signature sound of vinyl — while its sleek design makes a bold statement in any system. And with its analog output and integrated phono preamplifier, the Spinner BT is equally at home with purists who prefer a wired connection.
— Jim Garrett
Initial Impressions on JBL Classic Series Products

I think it's fair to say that a significant part of the appeal of JBL's Classic Series loudspeakers is their undeniable cool-factor and retro styling. While most folks don't find electronics especially exciting to look at, these Classic Series components perfectly walk the line between retro and contemporary. It's an aesthetic slam dunk if you ask me. It remains to be seen (and heard) how well they perform, and I would have loved to see Dirac Live incorporated into the SA550 amp, especially considering it's available on the similarly-priced (though much less visually attractive) NAD C 399. Will the Classic Series electronics be big sellers for JBL? Share your thoughts in the related forum thread below.

Unless otherwise indicated, this is a preview article for the featured product. A formal review may or may not follow in the future.
ban25 posts on April 04, 2023 21:07
Very nice looking gear!
gene posts on April 04, 2023 04:26
JBL has done gangbuster business with its retro Classic Series loudspeakers, and now there's a set of electronics to match. The SA550 Classic integrated amplifier ($2,000), MP350 Classic streaming media player ($700), CD350 Classic CD player ($800), and TT350 Classic turntable ($1,000) combine retro-inspired designs with modern technology for "unmatched listening experiences." All will be available in Q2 of 2023. JBL also launched the Spinner BT, a $399 turntable with a built-in phono preamp and Bluetooth.

61229

With the resurgence of vinyl and vintage audio styled components, it's easy to see JBL has some very appealing products on their hands with the expansion of their new Classic Series of audio components. Who here is rocking some L100s and planning on adding a matching component in this line up?

61230

Read: JBL Classic Series of Audio Components Blend Retro w Modern Tech
Post Reply
Confused about what AV Gear to buy or how to set it up? Join our Exclusive Audioholics E-Book Membership Program!