Marantz PM-11S1 Build Quality and Connections
Marantz PM-11S1 Build Quality and Connections
Build Quality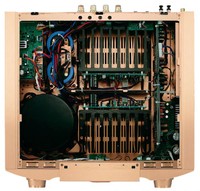 The PM-11S1 is nearly impossible to open up, but we were able to get a look at the internal components and see what makes this ~60 lb beast tick. Of first note, the entire chassis is champagne-finished and copper-plated. And I mean it is PLATED. Even the chassis screws are copper - making for a very rugged, yet elegant, look. The PM-11S1 utilizes fully balanced pre-amplifier section, which doesn't just slap on XLR inputs and route neutral to ground. The dual mono-block power amplifier design assures that the unit can operate in either stereo or mono "bi-amplification" mode. I suppose if you don't feel one of these monsters is enough for your system you can always grab another. The PM-11S1 also employs Marantz' new HDAM® SA2 system. HDAM stands for Hyper Dynamic Amplifier Module, an ultra high-speed buffer amplifier that can operate at 0 dB unity gain with an unparalleled slew rate of 200 V/micro-second. These buffers are on all inputs and outputs of the unit. This is a proprietary technology developed by Marantz to ensure smooth signal transfer to and from the PM-11S1.
The volume is controlled by a Wolfson WM8816 high-precision linear system and a floating control bus system allows multiple units to be synchronized for use in a multi-channel environment. Even the LCD display is designed with zero noise technology to ensure nothing interferes with the sound output.
Editorial Note: Under the Hood
This amp has it where it counts. The PM-11S1 inherits its design from the venerated SC-7S1/MA-9S1 preamplifier/monaural power amplifier separates of days passed. It features a massive hybrid toroidal transformer which takes up residence towards the front of the unit, just behind the input selection knob. Marantz, not particularly concerned with size reduction or cost, opted to utilize a choke input system power supply circuit to increase power factor (real power) of the system. This amplifier is designed to "double down" - doubling its output as the loudspeaker impedance drops.
The interior layout of this integrated amplifier is magnificent, with huge heatsinks radiating out from the center, and sandwiched carefully between the ventilated top and bottom covers. This allows for optimal heat dispersal and is the reason this behemoth requires no internal fan system. Two large capacitors and the remaining electronics circuitry fill the remaining space. Airflow is primarily vertical through this amplifier, since there isn't a lot of wasted space within the chassis itself.
Fit, Finish and Connections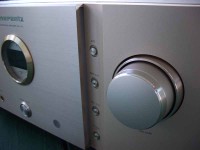 Moving once again to the exterior of the unit, the front panel has a beautiful brushed aluminum finish, in the aforementioned champagne color. This is something special that really stands out in a crowd, but in a way that will have you figuring out how to acquire the rest of Marantz' Reference series components to not break up the look of your system. The volume and input selection knobs feel rugged and allow you to turn them without feeling like you will break them off. Buttons are firm but easily accessible, and the centrally-located power button is nicely recessed against accidental activation.
There is a nice blue backlighting on the main unit that serves to illuminate the primary buttons in a subtle, yet appealing manner. In addition, the lower three buttons on each side of the raised central panel have tiny central blue LEDs that light up enough to access the button, but not enough to blind you in a darkened room (these don't go off when the Display function is set to 'off'). Overall it's one of the nicer looking lighted systems I've seen - unobtrusive and elegant.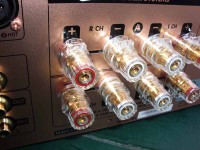 Taking a look at the rear of the Marantz PM-11S1 will show off the high-quality WBT-style 5-way binding posts. These are the top of the line and make it very easy to connect your speaker cables, regardless of type (banana, spade, etc). There are 'A' and 'B' speaker connections, but these are primarily for use with bi-wiring. If you have well-made speakers cables that are 10- or 12-gauge you shouldn't need to bi-wire. The rear of the unit is well laid-out, with ample room for maneuvering your fingers where they need to be in order to make connections and get all of your equipment connected properly. I liked the simple vertical structure which laid out all of the inputs in a nice row, with the outputs located in a separate column. The balanced XLR inputs (which I utilized with Logitech's new Transporter network music player) are located on their own, above the outputs, with ample room for making the connections.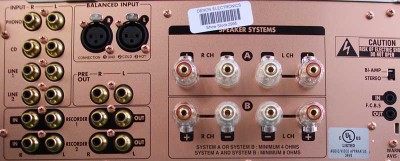 As is evident from this rear photo, there isn't much to confuse users here. Six (6) analogue RCA stereo inputs, a stereo XLR balanced input and 3 line level outputs (including a preamp out) make up the bulk of the back panel. Note that phono inputs are provided - which is key since this system is definitely targeting audiophiles who may still cling to their LP collection like a cat on a screen door. On the right side of the unit users will see the switch for using the system in bi-amp mode (assumes you have two or more of these integrated amplifiers in your system) as well as the Floating Control Bus System (F.C.B.S.) Unlike other things that end with "B.S." this is actually a useful feature when using two or more PM-11S1a in your system as it allows you to have a 'master' unit and control the slaves via a single remote.
Confused about what AV Gear to buy or how to set it up? Join our Exclusive Audioholics E-Book Membership Program!
Recent Forum Posts:
cosmin.batica posts on July 08, 2011 07:44
Marantz amplifier

I always admired Marantz gears. I listen to PM-11S1 and it's indeed a very good amplifier.
But I recently own the PM-15 model (the original one - 1994, not current PM-15S1 or PM-15S2 model) and I must say it's a truly high-end masterpiece. Far better than any of other integrated that Marantz ever made.
cornelius posts on June 23, 2007 09:34
Great review! Thanks!
I liked the amp comparison, really helps appreciate the quality of a great piece of gear.
mattburk posts on June 22, 2007 22:52
So, moderator. what would you pick: 1. Parasound jc-2 and mono blocks or 2. Marantz ma-9s2 & SC-7s2.
mattburk posts on June 20, 2007 00:01
great read. I have been eyeing the high end marantz gear for a while but I have yet to see a review. I hope you review there separates next & compare them with the likes of classe, parasound, plinius and ps audio.
Post Reply