JBL Brings Stylish New Hi-Fi Gear to CEDIA 2023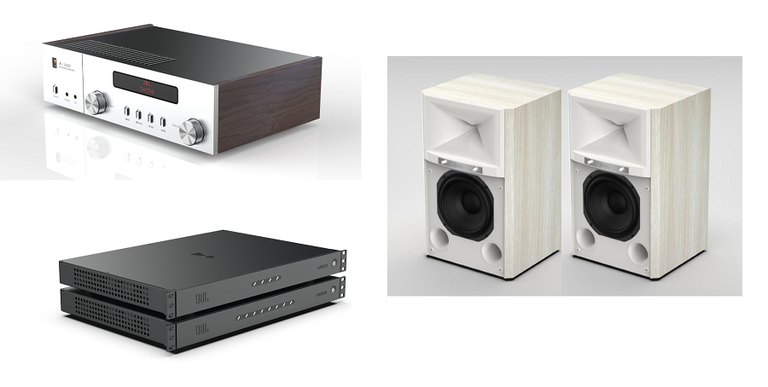 JBL at CEDIA 2023
Summary
Product Name:

L42 integrated music system, DA850 and DA1650 distribution amplifiers, 4305P & 4329P Monitor loudspeakers

Manufacturer:

JBL

Review Date:

September 11, 2023 00:00

MSRP: $1,000 - L42 integrated music system, $1,200 - DA850, $1,800 - DA1650 distribution amplifiers, $2,400 - 4305P, $4,500 - 4329P Monitor loudspeakers
First Impression:

Gotta Have It!
Executive Overview
JBL is at CEDIA Expo 2023 in Denver with new gear to show off. Attendees will surely spot the great-looking JBL Classic Series audio components, which were teased earlier this year at the CES-adjacent "Harman Explore" showcase in Las Vegas. At CEDIA, JBL also announced that the SA550 integrated amplifier ($2,000), MP350 streaming music player ($800), and CD350 CD player ($700) are all now shipping. The TT350 turntable ($1,000) will be available in the fourth quarter of 2023. For more information on these beautiful audio components, check out our article: JBL Classic Series Audio Components Blend Retro with Modern Tech.
JBL L42ms Classic Integrated Music System


The Classic Series is still growing, as evidenced by the introduction of the new L42ms integrated music system ($999). This single-cabinet system combines JBL's timeless design and acoustic technologies with a variety of wired and wireless connectivity options. According to JBL, the L42ms is all about "style, performance, and convenience to fit today's entertainment lifestyle." The compact cabinet features tapered side edges and a black or natural walnut real-wood veneer finish, but the iconic JBL Quadrex curved grill is the star of this design. Under the hood, you'll find a pair of 4-inch woofers and dual 0.75-inch aluminum dome tweeters. Waveguides positioned to the left and right "create a wide and even sound field," according to JBL. There's a built-in 24-bit/96kHz DAC, and 200 watts (RMS) of total system power to pump out the tunes.
Naturally, the L42ms accommodates streaming audio via both wired and wireless network connections. Apple Airplay 2 and Google Chromecast are both built-in, along with bluetooth. The L42ms is Roon Ready and offers both Spotify Connect and Tidal Connect. The JBL Premium Audio app handles setup and makes additional streaming audio services available, including Amazon Music, Qobuz, internet radio, and podcasts. JBL says that "all audio signals are routed through an advanced DSP engine, where content is carefully contoured and output to the speakers via an integrated four-channel amplifier." Most users will likely leave the two sets of analog stereo inputs (RCA and 3.5mm) unused, but the L42ms could work as a minimalist turntable speaker. On the other hand, the HDMI ARC connection is sure to be a popular feature, effectively turning the L42ms into a soundbar. To that end, the L42ms offers a signal-sensing subwoofer output that implements an internal 80Hz high-pass filter for the main speakers when a sub is attached. Speaking of low frequencies, the rear panel of the L42ms has a "bass contour" switch, which allows listeners to adjust the bass response. The Sound-Field Expansion (SFX) mode, which can be turned on and off via the remote control, reportedly adds "a sense of increased spaciousness and a wider soundstage."
We are excited to be adding this new model to our JBL Classic Series. Following on the heels and success of the award-winning JBL L75ms, the new L42ms offers music lovers a choice of a more compact solution and a black wood finish option while retaining most of the same features and signature JBL sound found in the larger L75ms.
— Jim Garrett, Senior Director, Product Strategy and Planning, HARMAN Luxury Audio
The JBL L42ms will be available for the holiday season in the fourth quarter of 2023.
JBL DA Series Distribution Amplifiers
Also making their debut at CEDIA are the new JBL DA Series Distribution Amplifiers, designed to power any of the brand's architectural loudspeakers. The 8-channel DA850 ($1,200) provides four zones of audio, while the 16-channel DA1650 ($1,800) provides eight zones. Both amps are packaged in compact 1U chassis and offer bridgeable outputs to handle high-power requirements. Both offer 50 watts per channel of Class D power into 8 ohms, and 110 watts per channel into 4 ohms. When more power is needed, the user can configure the amps to bridge their outputs, increasing rated power to 185 watts into 8 ohms. The amps also offer a number of flexibility features. For example, each audio zone can play an independent source, or a single source can be shared across all zones using the global audio input. The global audio output allows zones sharing an audio source to be expanded across multiple amplifiers. Other convenience features include three power mode control options: 12V trigger, audio-sensing inputs, and always-on. To prevent potential speaker damage, the amps offer overcurrent and thermal protection. The amplifiers also feature local and bus inputs and channel output level controls.
JBL 4305P and 4329P Studio Monitor Powered Loudspeakers

We've covered the JBL 4305P ($2,400/pair) and JBL 4329P ($4,500/pair) powered "Studio Monitor" loudspeakers before, but these attractive designs are getting a fresh look at CEDIA, thanks to a new White Aspen finish option. If you need a quick refresher, these powered streaming speakers feature patented 1-inch compression drivers, High-Definition Imaging (HDI) horns, and pure-pulp black paper cone woofers with cast frames (5.25-inch in the 4305P, and 8-inch in the 4329P). An integrated streaming engine, 24-bit/192KHz high-resolution DAC, and amplification are all built in. You get 300 watts in the 4305P, and 600 watts in the larger 4329P.
For spaces where the classic natural and black walnut veneers of the JBL 4305P and 4329P aren't the best fit, the new White Aspen finish is here to provide a more contemporary, modern look. This elegant new finish has been generating a lot of interest since we announced it at High End Munich this past May, and we're excited to add it as a third option for these remarkable active loudspeaker systems.
— Jim Garrett
I finally got a chance to hear the JBL 4329P in all their glory at Audio Advice Live 2023. The White Aspen finish was stunning but NOT as much as the mighty sound these speakers produced in such a large open space.  Clarity was excellent, and the bass was of epic proportions for such a small footprint. These are the powered monitors to get IF you have the means. The JBL 4329P is a solid purchase from our friends at Audio Advice.

- Gene DellaSala

The White Aspen finish for the 4305P and 4329P will be available in the fourth quarter of 2023.
Stay tuned for more CEDIA coverage!
Unless otherwise indicated, this is a preview article for the featured product. A formal review may or may not follow in the future.