Universal Remote KP-900 Keypad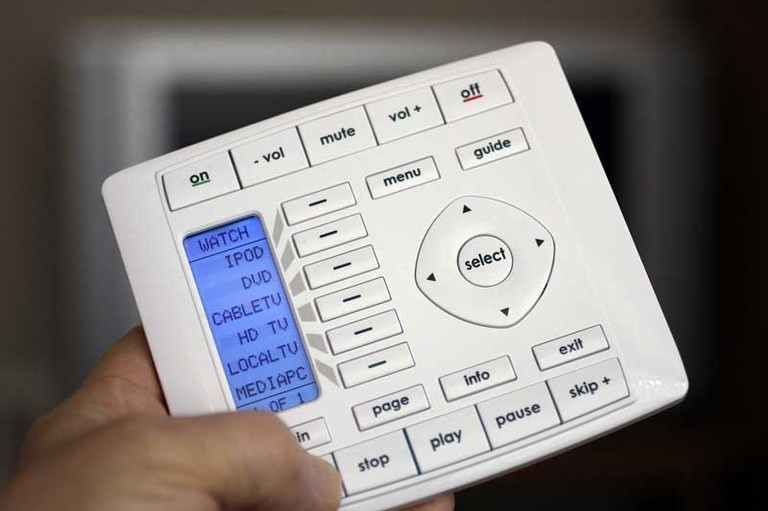 Universal Remote KP-900 Wireless Keypad
Summary
Product Name:

KP-900 Wireless Keypad

Manufacturer:

Universal Remote Inc

Review Date:

February 06, 2008 12:43

MSRP: $599
First Impression:

Gotta Have It!
USB programmable
RF/IR control (requires separate MRF-350 or MRF-260 RF Base Station)
4 AAA batteries
Wall bracket
Magnetic integrated base
Navigation, volume, menu controls
6 programmable soft keys
255-color backlit LCD screen
One-touch blue backlighting

4 Megabits of user-configurable Flash memory
Executive Overview
Universal Remote Control, Inc finally released the embargo on its new wireless, dual-use KP-900 Wireless Keypad which will be debuting at this Spring's EHX (Electronic House Expo) in Orlando in March. We were given a super-secret private introduction to the product back in January at the 2008 CES and felt that this has the potential to be one of the hottest custom install products to hit the market in a long time.

The KP-900 is a RF/IR wireless keypad remote that controls all audio and video equipment in a home. It can be mounted on a wall AND used as a handheld remote, making it ideal for retrofitting into homes with existing entertainment systems, as well as for new homes.
Four simple screws attach the KP-900's bracket to a wall, eliminating the expense and inconvenience of running new wires or opening the wall to add new wires. The keypad can be used on the wall in its bracket, or - thanks to an on-board magnet - affixed to a refrigerator or other metal surface thanks to a built-in magnet. It fits easily in the hand and we could easily see a couple of these lying around the house. The keypad is compatible with iPods and other portable music players, and comes in three decorator-friendly finishes: white, light almond and black.
The KP-900 is equipped with a bright, backlit LCD screen and injection-molded backlit buttons with laser-etched labeling. Six buttons to the right of the screen are labeled based on what a user is watching or listening to, and change accordingly. Someone 'Watching TV,' for example, will see a list of buttons useful to that activity. For example, when selecting 'DVD,' the buttons will automatically change to control the DVD - making operation of the system simple and intuitive.
To further enhance customized installation, the keypad comes with three sets of keycaps for the top buttons. One set has no labels. The other two simplify volume control (Volume Up, Mute and Volume Down) and transport control (Seek–, Shuffle and Seek+). They help installers more perfectly adapt the keypad to specific systems and user preferences, and cannot be removed once installed.
Any Room, Anywhere
The KP-900 can be added to the kitchen, the bedroom, the bath, even outdoors - or independently to each location. Equally important, there's no need to break into walls to add new wiring, since the KP-900 is completely wireless. It operates using Infrared (IR) signals with a range of 30-50 feet, or Radio Frequency (RF) signals with a range of 50-100 feet when used with an optional MRF-350 or MRF-260 RF Base Station. In RF mode, components can be controlled without pointing at them, and even if they are in other rooms, hidden in cabinets, or are behind closed doors.
The KP-900 is also compatible with URC's MSC-400 Master System Controller, which provides installers with options and advantages not otherwise available, including triggered macros, RS-232 and relay control, video and voltage sensors, among much else.
For homes that already have wall-mounted volume controls, adding a KP-900 keypad lets users operate their systems from whatever room they're in. They can turn the system on or off, select what to listen to or watch, change songs, CDs, channels, sources, and more. They can harness previously unused features their components might already possess, like second zone outputs, and use the keypad anywhere in the room by simply lifting it from its home bracket.
Programmed to Please
The KP-900 is designed to be professionally programmed using proprietary URC software through a Windows PC equipped with a USB port. The software is available at no extra cost from the URC Web site, www.universalremote.com. While a basic set-up only takes a few minutes, fully automating an A/V system requires a detailed knowledge of the equipment, the user's preferences, and how the system is connected.
The KP-900 boasts a generous 4 Megabits of user-configurable Flash memory, which supports up to 400 full pages of commands that can be distributed into as many as 255 devices. Additional features include a 255-color backlighting palette for the LCD display, one-touch blue backlighting for all the hard buttons, the ability to learn new IR commands, a small integrated speaker for audible feedback, a built-in sleep timer, and a USB cable. Four AAA batteries supply reliable, long-lasting power.
The KP-900 Wireless Keypad will be available in March from authorized Universal Remote Control dealers at a suggested price of $599. For additional technical information, please visit www.universalremote.com.
Unless otherwise indicated, this is a preview article for the featured product. A formal review may or may not follow in the future.
Confused about what AV Gear to buy or how to set it up? Join our Exclusive Audioholics E-Book Membership Program!