Build Quality and Programming
Build Quality and Programming
When a new Logitech Harmony Remote arrives on the scene I like to review it to update readers on the latest models in the line-up. With the introduction of the Harmony One universal remote I felt that Logitech had finally completely usurped the original Harmony design and replaced it with a "from the ground up" approach that reflected Logitech's penchant for svelte devices. In case you were still navigating through that last bit of pontifical text, I was giving them a high compliment. Logitech's Harmony One remote is quite possibly the most beautiful remote control I've ever held. Like a sports car that has endured countless hours in a wind tunnel, the One simply feels right and looks like it was sponsored by the Chevy Corvette. Come to think of it, with the recent rash of corporate sponsored television fare, I might need to see if it actually was before moving on...
Build Quality and Ergonomics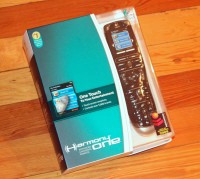 Logitech's new remote arrives in a beautiful retail package that looks as good as the remote itself. Opening it up you'll find the remote, its integrated charging cradle with AC adapter, Li-ion battery, USB cable and installation guide. There is also a CD with the initial remote control application, but the software is largely online-based, so expect an update or two once you get it installed.
As hinted at above, the Harmony One just feels right in your hand. In fact, if you hold it naturally and remove all your fingers except your middle, the remote will balance perfectly, if precariously, atop your finger. While not a good balance for a throwing knife (which I don't recommend using for home theater anyway), the remote is perfect for controlling your AV electronics and using both the hard buttons and the 2.2-inch touch-screen LCD. Speaking of the touch-screen, it is of the capacitive variety. This means that you can get touch-screen capability while maintaining a solid, thin layer of glass across the face of the remote. The result is a beautiful, continuous finish that isn't interrupted by an inset, or bordered, LCD screen.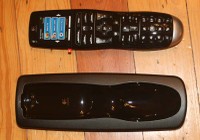 The unit recharges by being placed in the charging cradle - a process I found much improved from the 880 model I reviewed a couple years before. The remote simply slides right into the proper position and I was never able to get it to "not" dock properly (and believe me, I tried). When the unit is docked, the LCD lights up indicating (with an animated graphic) that the battery is recharging. The LCD screen goes black after several seconds to maximize charge time and not waste the usable life of the backlight. Charging occurs rather quickly and since the battery is Li-ion, users don't have to worry about memory effect. If you aren't planning on using it immediately, just place it in the dock and you'll be good to go when you need it.

Now on the buttons. This remote is nearly perfect in that the most-used buttons are within easy thumb-reach. The only exception is the lower numbers of the keypad, which tend to be a stretch, causing you to want to physically shift your hand lower on the remote. The face of the remote is actually divided into 5 clear sections: LCD, Menu, Navigation, Transport, and Keypad (these designations being mine). If you're like most people, you will find yourself most often using the Menu, Navigation and Transport functions. These sections are perfectly located in the central area and the Harmony One makes it easy to thumb through any of the buttons in these areas.
The LCD is in beautiful full color and remains active for about 9 seconds before going to sleep. It awakens, instantaneously, whenever the remote is picked up or jarred. This helps conserve battery life which I found to be acceptable but not stellar. I could get several days out of the remote if I was using it heavily (activating lots of DVR functions, for example). This isn't bad, especially since the remote can be plopped down onto its charging cradle at any time.
Setup and Programming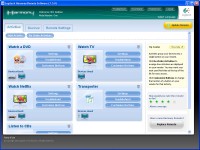 There are two activities you'll be doing with the Harmony One: Programming and, um, "Remoting." The first part is simply your setup process which you have to do at the beginning and if (or when) you upgrade a product. While Logitech gave a very handy face-lift to the original Harmony programming application, it's still pretty much the same - albeit with better graphics. That is to say that it works, it just doesn't quite "sing" yet. I found the Logitech Harmony Remote Software to be easy to use. It allows you to customize what functions go on the LCD screens and set up a bunch of screens full of those custom remote commands. What was disappointing was that users are not able to customize or create icons for the Harmony One. The interface allows no dragging and dropping of new icons and Logitech has only the bare minimum of graphical icons for just a few functions - mostly colors and letters for game and DVR controls. It seems that they should either allow you to create your own icons or provide you with a good selection.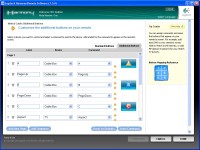 Default button settings (left); and Revised settings (right) There is a dearth of iconic buttons
From the Logitech Harmony Help system, we can see that customization of the icons on the Harmony One is just not possible at this point:
To add icons to customize the buttons displayed on your Harmony remote's screen (for example, the X, Y, A, B buttons for your Xbox 360):
From the Activities tab in the Harmony Remote Software, click the Customize Buttons button next to the appropriate Activity.
Click the Additional Buttons tab.
Enter the label name and select the device from the list.
Select the command from the list.
Once you have completed your customizations, click Done to save your changes.
List of special icons
TiVo: Thumbs Up and Thumbs Down
Xbox 360: X, Y, A, B
Playstation: Cross, Circle, Square, Triangle
Teletext: Red, Green, Blue, Yellow
Digital Cable: A, B, C
In terms of actual programming I again found the Harmony database to be very well-equipped, though there were a couple items it didn't have for my Vizio LCD TV (currently in for review). In looking for the "Dash" IR command (used for directly accessing digital QAM channels), I quickly realized I'd have to use the learning function of the remote/software. I had just customized a bunch of buttons and figured I'd click on the "Learn Command" button to save what I had done and add the new function.
That was a mistake.
The software threw out all of my changes and sent me to the Learn Command page. All the button re-arranging I had done was lost. Of course I didn't find this out until after I had added the new learned IR command, but that only made it more of a surprise. A few more JavaScript-enabled warning messages would be expected if any particular action is going to leave a page without saving the changes. In my world this is Programming 101, but someone apparently needs to tell Logitech.
After learning the new command it was able to be selected in the dropdown list for that device and I was well on my way to completing my programming session.
Confused about what AV Gear to buy or how to set it up? Join our Exclusive Audioholics E-Book Membership Program!
See also:
Recent Forum Posts:
htgeek posts on December 11, 2009 07:44
Good review, Harmony is the easiest remote on the market. I've owned the One for almost a year, after I saw it at last years EHX I had to get it. I have a dual display system and my 6 year old can operate it without issue. Best remote on the market in it's price range. It's big brother the 9000 has RF wich I don't really care for, line of site is much more reliable, unless you spend $2000 on a good RTI. I've delt with URC and Harmony and most consumers don't enjoy the URC entry level stuff as much as Harmony. Only plus I see for URC for dealers/installers is no need for a laptop to update remotes if changes are made.
JohnnyReynolds posts on December 11, 2009 03:02
Amazon has Logitech Harmony One Advanced Universal Remote on sale for $249.99 - $71 instant discount -

Recently I came to know that there is a website named AmazingWatcher.Com which is a free website that will "watch" items for you on Amazon and let you know when amazon has them in stock at regular retail price.It got so awesome!
Good luck everybody!
Adam posts on September 27, 2008 12:46
For those who are interested in this remote, I just saw that Dell has is for
$150
. From reading this thread, there's definitely mixed feelings from people on whether it's good or not, but I figured that I'd put this up for those who were going to buy it anyway.
jostenmeat posts on September 23, 2008 15:55
I'm a former Harmony user who has recently converted to the URC fan club.
Cheaper and better. Both.
Last I saw, the RF-20 + blaster combo was $75. This is RF, and I predict that I will never go back to IR-only.
My audioholics review
10010011 posts on September 23, 2008 11:12
FirstReflection, post: 460091
You definitely need to look down at the remote to make sure you hit the correct touch screen button, so for a future model, I would love for there to be some sort of physical indicator - such as a very slight ridge between each of the buttons. Just enough to give a physical indication of where each button lies on the touch screen.

This has to be the part I hated the most about my Harmony.
I do not want to look at the remote, I want to look at the screen. I can pick up any of my other remotes and simply by touch do all the basic commands I use most often. But not the Harmony, I was always having to look at it and make sure it was in the right "activity", make sure I was hitting the right "button". I think I spent more time looking at that damn remote in an evening then I spent looking at my TV
Post Reply