EHX Expo 2008 Orlando - Day One
EHX Expo 2008 Orlando - Day One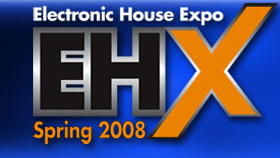 EHX Orlando 2008
Back from EHX Orlando another year and the verdict was in for the movie of the year; it was clearly Transformers. Many demonstrations were showing this movie either in the Demo rooms or out on the floor. If you've seen the movie you know why and if you haven't you need to go rent it. After seeing a lot more audio products this year compared to recent past years tells me that the audio market is making a comeback from a backseat to the video market.
There is one thing that has really been bothering me in the audio market lately. Please let me share these thoughts with you. If you take a look at the back of every receiver or processor you will see tens of connectors. The real-estate is completely full and for the average consumer it just creates confusion. The part that bothers me is that nowadays there is no need for what I like to call "red-white-yellow" or left-right audio and composite video. These connections provide the absolute worst way to hook up your system and what's worse is that the manufacturers throw in the cables for these connections so a consumer without the knowledge just hooks these up first. People are spending good money for Dolby Digital or whatever the format is and they may never get to hear it. I see a win-win situation here. The manufacturers can save a lot of money by eliminating these nearly useless connectors and also make it less confusing for the consumer. If they just left one set for an auxiliary connection and got rid of the rest they could probably eliminate 30 connectors from the back panel.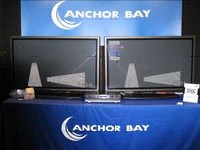 My favorite booth this year was Anchor Bay because of their simple but clever demo. They had 2 LCD TV's set up, one with their DVDO product and the other taking the signal straight from the DVD player. They weren't playing the movie Transformers like everyone else; they were showing their test disk. It caught my eye because I recognized the video tests that were the same as the ones on the HQV test disk. We got into a discussion about how their demo should be vastly shown at a consumer level instead of at the dealer level. Also in the discussion we talked about an HDTV broadcast cadence in which the broadcasters were pulling out a frame every second in order to add a 30 second commercial at the end of 30 minutes. I might not have that exactly right but I would like to find out more about this. We ended the discussion talking about video fatigue wondering what these video discrepancies left uncorrected would cause to the viewer.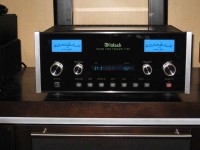 Just to have a little fun I took a picture of some new McIntosh equipment and showed it to my girlfriend (who is not any kind of audio enthusiast) to which she replied: How old is that equipment? And what is the deal with those knobs? Is that look coming back? I explained to her that it was brand new and that they have never really changed their look. Now I don't mean to offend fans of McIntosh but I just don't get why they like that retro look. I think I listened to some McIntosh equipment once but I could never get past the 70's styling. Maybe one day I can open my mind and my ears to this old tube company. I will admit though, that it was nice to see them at the show.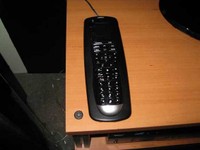 I always like to stop at Logitech to see the Harmony remotes and check out new products. Their latest remote, the Harmony One is a one-handed remote with a touchscreen. The rep explained to that many people like the touch screen but also like a one-handed remote. The touchscreen itself was also upgraded from the Harmony 1000. It uses capacitance instead of pressure which makes it much more sensitive. I dropped an idea to the rep for a future product which he seemed to like, but I can't say anything about it yet.
I took a look at KEF speakers and enjoyed seeing their small surround sound system. The subwoofer looked like a Roswell flying saucer. It is built with an active driver and a passive radiator one on the top and the other on the bottom (not sure which was which) or it could be stood on-end and fired forward. There were no bells and whistles on this sub - including no variable crossover. When you think about it, why does any sub need an on-board crossover these days? Almost every receiver/processor on the market has bass management with a crossover. Unfortunately I didn't get to hear this system and I'm not sure it would do any good in a large convention center showroom. KEF usually has some decent speakers though and I would guess it makes a nice set for a small room.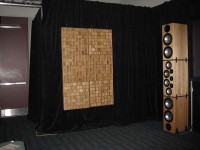 There were many demo rooms this year in "Demo Alley." You could probably spend the entire day just visiting the demo rooms. Some of them just shut the door and wouldn't let you in during the demo so if your timing was off you might never get see what they had. RBH Speakers continued to provide a great showroom; you could even come in the middle and still listen to their demo. They teamed up with Auralex again for acoustic treatments. In speaking with Shane Rich from RBH I expressed how well the system sounded. He always says the same thing - modestly telling me that it's the best he can do given the large convention center room. Don't let him kid you, it sounded great.
Runco teamed up again with Stewart Filmscreen as usual and also with Microsoft. Microsoft talked about their Media Center software while Stewart talked about their screens and Runco about their projectors. There was no mention of the sound system and because of that I don't even remember whose it was. Before the demo started I got into the discussion about the 2.35:1 ratio screens with the Runco rep as opposed to a 1.78:1 (16x9) screen. He made it out to be such a complicated task to take advantage of all the pixels on a 16x9 chip by using an anamorphic lens and horizontally masking (via top and bottom). In hindsight we're not sure they demoed this in the best possible way. With their method they still had some small black bars on the top and bottom during the showing of Transformers which is a 2.40:1 ratio movie.
At the end of the day I stopped in a demo room which had a Parasound audio system and PMC speakers. I was quite familiar with the Parasound amps because I spent some time with them a couple of years ago. What really caught my attention was the midrange driver of some of the PMC speakers; they were 3 inch soft dome midranges. It is rare to see dome midranges in speakers nowadays but it is something I have always used in my 3-way designs. I believe they add an open and transparent quality that is hard to get with cone drivers although they present other problems. I listened to quite a few different speakers that they had and I was quite impressed. The OB1 was the speaker that I liked most which was one with the 3 inch dome midrange but they all sounded very good. Hopefully I'll get a chance to take a closer look at these.
Last year I mentioned Sim2 and was hopeful they would team up with some better products this year but they weren't even at the show. I was hoping to see their more compact 3-chip 1080p DLP projector. All in all it was a good day at EHX; it's always educational and always enjoyable.
Confused about what AV Gear to buy or how to set it up? Join our Exclusive Audioholics E-Book Membership Program!
Recent Forum Posts:
kleinwl posts on March 17, 2008 16:02
At least as an option for a couple of products increase the number of HDMI connections and delete the S-cable/component/etc.

That would be nice.. not really practical…but a nice option.

The real question is when will the standard cable/sat boxes have better options than composite? Even my Directv DVR (R-15) doesn't have HDMI, just S cable/composite.

Sure… I don't NEED HDMI to pass 480i… but it would be nice to reduce the cable mess and even better to start standardizing on HDMI across the board.
majorloser posts on March 17, 2008 16:02
My favorite product this year was the SI Black Diamond screen. Looked awesome in both bright and dark room lighting conditions. I know my Stewart Firehawk's days are numbered.
http://www.siscreens.com/
birdonthebeach posts on March 17, 2008 15:34
What cool, bold step that would be by a manufacturer. An AV receiver with nothing but HDMI, Component, Toslink & Digital Coax ins and outs. The money they save could be used to throw in a component and HDMI cable, as well as a toslink….
fredk posts on March 17, 2008 12:35
Too many connectors indeed. I look at the back of these receivers and wonder if I must be a gizmo or two short of a full load.

When I am fully set up I will be using one HDMI from the htpc to the receiver, hdmi to the display and one set of audio out to my speakers (well maybe a second zone for the bedroom). The wii will be connected directly to the display. I can see needing more inputs if you are like some and have all three game consoles, but that still leaves those other 99 connectors that can't possibly have any use.

Fred
Post Reply