The Boston Experience - Manufacturing
The Boston Experience - Manufacturing
If you've ever watched an episode of Dr. Who, you can imagine what it is like to walk into a room and find much more space than you expected. That's what it was like for me on the Boston production and design tour. From a design standpoint, Boston uses absolutely cutting edge computer programs to models their cabinets, drivers, and materials. While many companies might use off the shelf drivers, Boston actually has the ability to design and create many of them in house. They literally had rooms full of baskets, spiders, magnets (that one was bad for the credit cards), surrounds, and cones. The designer can literally model the driver and enclosure on the computer and predict not only the normal frequency response but also how the driver will break up as it is pushed past its limits.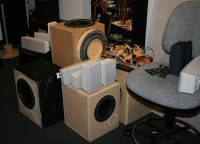 Once the designer or design team is satisfied with the design (remember, they are modeling the enclosure as well), they send it out to be modeled. Now this probably means that the driver itself is built in house and the enclosure is either built on the premises out of MDF or off site out of resin through a process called stereolithography. Stereolithography you've probably seen before but you may not know the name. It is where a computer controlled laser is used to cure a photo-sensitive resin, layer by layer, to create the 3D part or enclosure. The best part is that it is fast (sometimes they can get the enclosure back the same day) and all you need to provide is a CAD drawing. While I'm sure it isn't cheap, the fact that everything is modeled on the computer first means that many of the problems such as clearances and cabinet resonance frequencies have already been addressed. What does this mean for you the consumer? A 2 year concept to production cycle on average rather than 4. That's a lot more innovation in a short period of time.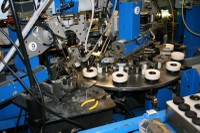 What was most interesting to watch was the device that molds woofer cones and the machine that assembles tweeters (about 4800 in an 8 hour shift). After seeing pallets full of driver parts, it was fascinating to see them come together in a full working driver. While they mostly build car audio divers in house, they use the same tolerances for their off shore manufacturing. All drivers must measure +/- 1dB and EVERY driver is measured. This level of commitment to quality demonstrates clearly that the "new" Boston, hasn't forgotten their roots. Much of the manufacturing was handled by robots but there were plenty of people there to assist and direct the machines. We even saw a fairly interesting demonstration of how Ferrofluid works to cool tweeters.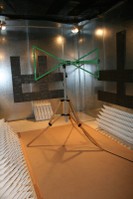 While they took us to a lot of interesting places including a fully RF shielded room, the Snell woodshop (ever wonder how they make the non-traditional enclosure of the A7 Reference Towers? Think huge robotic arm with a router on the end), by far the coolest was the speaker graveyard. External to the rest of the building  because the Fire Marshal thought having a room where they "blow up speakers" was a bad thing, the room is smaller than you'd think. Packed with amps and speakers, ear protection is a must as drivers are pushed to their limits and beyond. When I asked if the computer modeling predicted how long before driver failure, they responded "Yes, but we have to know for sure." I got the distinct impression that they think blowing up drivers is just as cool as I do.
On the Horizon
So, what's next for Boston? Vista. Unconnected to the operating system of the same name, the Vista series speakers will be the higher end of the two new lines out of Boston probably falling between Horizon and the E-series. While we were not able to see any of these speakers, they promise to continue the new tradition of interchangeable grills but will also have wood elements (probably not unlike the E-series though I couldn't get confirmation of this) that will also be interchangeable. The Boston Horizon speakers will be rolling out in October of 2007, the TVee Model Two and accompanied wireless sub in September 2007, and the SonicWare speakers in August 2007. With the Vista rollout to be announced at CES with the product available probably a few months (at the most) later, you're looking at a major overhaul of the Boston brand and lineup. Sure, they've still got all their outdoor and professional products, but all in all, it'll be around 50 new products and speakers launched! That's the most in the brand's history. It's an exciting time for Boston. Changes of this magnitude are always a big risk. Only the time will tell how big the payoff will be.
Confused about what AV Gear to buy or how to set it up? Join our Exclusive Audioholics E-Book Membership Program!
Recent Forum Posts:
bsk116 posts on November 28, 2007 12:55
admin, post: 306941
How often does a company claim to "reinvent" itself? And how many times is it actually true? Boston Acoustics is making a lot of changes - dropping most of their speaker lines, dropping many of their accessory products, and even dropping the "Acoustics" from their name. Reinvention? Absolutely. The new face of Boston was unveiling to us and reported directly to you.


The new products are sad. Personally, I dislike plastic cabinets and it looks like the entire product line is going that way.
I have a pair of VR3's mated to a 10" carver sub with some cheap Yammy surrounds so I should start looking for a Boston center and surrounds. Any ideas besides fee bay?
3db posts on September 13, 2007 08:05
Joe Schmoe posts on September 12, 2007 09:48
3db, post: 307830
have a good one!!
I have several large-format books of classic album artwork. That way, I get to enjoy it while enjoying the music in vastly superior CD sound quality.
3db posts on September 12, 2007 09:21
But vinyl comes with good artwork
Joe Schmoe, post: 307822
Good points. I agree except for the vinyl part (I will not be listening to vinyl again in this lifetime.)
have a good one!!
Joe Schmoe posts on September 12, 2007 09:04
3db, post: 307808
What I hate about MP3s besides the music having the life compressed out of it is that there is no artwork, no lyrics, no info about the band, the producer, where it was recorded etc. Thats all part of the experience for me as well. I can't believe people pay a $0.99 a song without all that inf and it still adds up to $12 to $15 a CD. If CDs die out, I'm going back to vinyl and keep increasing my vinyl collection.
Good points. I agree except for the vinyl part (I will not be listening to vinyl again in this lifetime.)
Post Reply