Page 2: Integrated Amplifiers at AXPONA 2014
Page 2: Integrated Amplifiers at AXPONA 2014
Integrated amplifiers are better known as the hi-fi component which sane people use. By combining the preamplifier with the amplifier, and often weaving in DAC functionality, a phono stage, headphone amplification, and even digital file playback from network sources, integrated amplifiers can consolidate a whole lot of space and save a whole lot of money for those who just want to listen to music without obsessing over the minutia of gear. In my more lucid moments I envy those people, but then the madness takes hold again and it's back to cursing my separate line stage module for not having more balanced pre-outs…

Jeff Rowland Continuum S2
The Continuum S2 is an integrated amplifier released late last year from Jeff Rowland Design group. It uses a class D amplifier which has an output capability rated at 400 watts per channel @ 8 ohms and 800 watts @ 4 ohms. There are a handful of upgrade options including DAC functionality and a phono stage. For base connectivity without the upgrades, you have two pairs of XLR and RCA inputs, and a single pair of XLR and RCA outputs. It has a lot of features for which there isn't space to talk about fully here, but which you can read about on the Continuum S2 product page. For all the features this integrated amp has, it keeps the weight to a manageable 35 lbs. List price for the base model is $9,500.
Marantz PM-14S1 Integrated Amplifier
A recent addition to the Marantz Reference family is the PM-14S1 integrated amplifier, priced at $3,000. The PM-14S1 is fully analog, and the input signals remain in the analog domain the whole way to the headphone and speaker outputs. Circuitry is kept separate for each amplifier stage, and high current power output devices provide compatibility with a wide range of speaker impedances. The PM-14S1's power output is rated for 90 watts per channel into 8 ohms, and 140 watts per channel into 4 ohms. The massive 650 VA toroidal transformer with oxygen free copper secondary windings is electromagnetically sealed from the environment by an aluminium screening cap so no mains radiation can escape to harm the audio signals passing through the amplifier. The PM-14S1 also has a dedicated headphone output which can handle a wide range of headphones including low-impedance models.
Music Hall A15.3 Integrated Amplifier
Successor to the popular A15.2 integrated amplifier, Music Hall released the A15.3 last year with a price of $550. For the modest price you get a very reasonable feature set, including built-in phono preamp, five pairs of gold-plated analog unbalanced inputs, front panel headphone output, front panel ⅛" line in, and a remote control. Power output is rated at 50 watts per channel @ 8 ohms and 75 watts per channel @ 4 ohms. Simple, direct, and affordable; this is a very likable integrated amp.
Sony TA-A1ES integrated amplifier
Sony's new TA-A1ES was seen on passive display in their room. This $2,000 integrated amplifier has a class A amp rated for 80 watts per channel at 8 ohms. Since class A amplification is so inefficient, Sony has setup the amp with a bias control which tracks the volume and the power supply delivers only as much power as is needed. Supposedly this greatly improves efficiency. The TA-A1ES design is a dual mono layout for the best signal balance. Connectivity isn't overwhelming, and the TA-A1ES only has four pairs of unbalanced inputs and one pair of balanced inputs. One nifty feature is a dedicated-circuit headphone jack with selectable impedance, so it should drive any set of cans with ease.
Constellation Audio Argo
Making its debut at AXPONA, the Argo is a brand new integrated amplifier from Constellation Audio. It combines the technology developed for Constellation's Virgo and Altair preamps with their massive Centaur amplifier. Much like the Jeff Rowland Continuum S2, the Argo is designed to easily incorporate upgrades such as a phono board and a DAC slated to be released later this year. The Argo's 125 watt per channel amplifier uses a balanced bridged modular concept in a unique configuration which achieves class A/B type dynamics and power using single ended circuits. Connectivity is adequate, but not amazing: two pairs of both XLR and RCA analog inputs, and one pair of XLR outputs. It also has a headphone amplifier capable enough to drive even the most demanding headphones. The Argo costs a mere $20,000.
Stereo Amplifiers
Good old-fashioned stereo amplifiers are a great way to power two speakers with one component. It should have remained as simple as that, but audiophiles have a way of complicating things, so now we have a thousand different ways to accomplish the same task, with advocates of each method claiming to have the greatest advantage. Since I don't have a doctorate in electrical engineering, I can't say whose approach is the best; however, none of the systems I heard sounded constrained by their amplifiers, so I think it would be difficult to make an outright wrong choice among the many upscale amps displayed  at AXPONA.

McIntosh MC275
While not a new product, the McIntosh MC275 50th Anniversary Limited Edition amplifier makes a remarkable visual impression which deserves a mention if only as an excuse to show what a looker it is. Re-released at various times since the original model in 1961, this striking amplifier is rated for 75 watts per channel @ 4, 8, or 16 ohms. One thing to note is the green lights aren't actually tube plasma, they are LEDs. Green lit LEDs mean the tubes are in good working order, but they will turn red if a tube failure is detected, so the green lights are more like status monitors. Price: $4,500.
Simaudio MOON 760A amplifier
On passive display was the brand new MOON 760A two channel amplifier. The 760A is a class A/B amp rated for 130 wpc @ 8 ohms, 260 wpc @ 4 ohms, 500 wpc @ 2 ohms, and can be run in bridged mono at 500 watts. It shares many of the features of the 880A including Class A output to 5 watts. This Class A output to 5 watts could be especially useful since class A designs are thought to be the best for sound quality, and most of the music playback of the amplifier would fall under 5 watts. By shifting to A/B only above 5 watt power levels, the 760A spends most of its playback time delivering the highest quality sound reproduction. The 760A is priced at $8,000.
Van Alstine FET Valve 600R Hybrid stereo amplifier
With its clean-cut and reserved appearance, the FET Valve 600R won't turn any heads or be a conversation piece, but as its purpose concerns sound rather than sight, I would say its priorities are in order. The FET Valve 600R is a hybrid amplifier in that it uses the best of tube and solid state technologies: tubes are used for voltage amplification and high power MOSFETs are used for current amplification. In the FET Valve hybrid design, each is used for its own strength while avoiding their respective weakness. Regulated power supplies play a big role in the 600R, which has five regulated power supplies in each channel: three for the tube, one for the output circuit, and one for the high-current MOSFET. The FET Valve 600R is rated for 300 watts per channel and costs $3,200 for the black faceplate model and $3,500 for the silver faceplate.
Aragon 8008 Dual Mono Amplifier
Aragon is an audio company audiophiles will remember from the nineties but had laid dormant for much of the 2000's. They relaunched in 2013 and one of their new flagship products is the 8008 mkIII dual monoblock amplifier which carries the stylistic signature crevice through the chassis top from the older 8008s. The 8008 can put out 200 watts @ 8 ohms, 400 watts @ 4 ohms and even has an ethernet connection. Its network capability lets the user control and monitor the status of the 8008 from a web browser. The 64 pound 8008 comes in black and silver cases with a satin anodized finish and laser etched logo; priced is $4,400.
Balanced Audio Technology Rex II amplifier
A large and expensive beast of a tube amplifier, the Balanced Audio Technology REX II can be run in either 80 wpc stereo or a 160 watt bridged mono configuration. Though it doesn't quite have the heft, price, or opulence of some of the more extreme amplifiers at AXPONA, it is no lightweight in any of those categories at $20,000, 100 lbs, and three rows of softly glowing tubes. Its fully symmetrical design can be thought of as two single-ended amplifiers per channel, with their waveforms summed at the output transformer. Supposedly the advantage of this approach is it "allows the output transformer to be a truly wide bandwidth design, while reducing low frequency distortion." One neat feature of the REX II is that it can be daisy-chained with other REX II amps in the event that you want more power, so you can string two together for 320 watts of output if needed.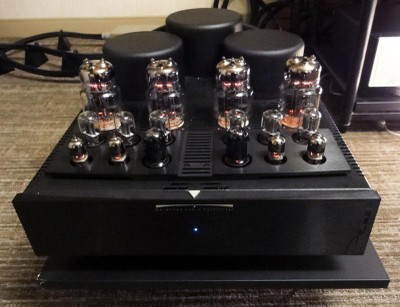 Confused about what AV Gear to buy or how to set it up? Join our Exclusive Audioholics E-Book Membership Program!
Recent Forum Posts:
oppman99 posts on May 31, 2014 15:22
I just don't understand the appeal of vinyl. IMO digital sounded better in every room that had both vinyl and digital sources. I thought the sq was much better at last year's show as well.
shadyJ posts on May 28, 2014 20:44
I think $73k for an amp is dumb. You could take a monster pro-amp like a powersoft digam k10, have it modified, and hire a guy to put it in an ultra fancy custom case for a lot lot lot less than $73k. I still think the Burmester is cool, but it's just a poor value.
haraldo posts on May 28, 2014 16:54
7
shadyJ, post: 1033282
13541
That big shiny thing at the bottom of that stack is the Burmester 909, it's a 600 watt x 2 @ 4 ohms amplifier. It also has a 1,250 watt x 2 @ 1 ohm spec. Burmester claims it is stable for a 1 ohm load. It costs $73,500. It's stupid and I want one.
What's stupid about that?
I'd like to buy a Goldmund amp … that makes the Burmester 909 look like a bargain … but I will never be able to afford it …. not even in my dreams ….
FozzieT posts on May 20, 2014 22:17
So, why the photo of the gorgeous Monitor Audio speakers, but no review? Did they suck?
shadyJ posts on May 19, 2014 23:58
13541.vB
That big shiny thing at the bottom of that stack is the Burmester 909, it's a 600 watt x 2 @ 4 ohms amplifier. It also has a 1,250 watt x 2 @ 1 ohm spec. Burmester claims it is stable for a 1 ohm load. It costs $73,500. It's stupid and I want one.
Post Reply