Wrath of the Travel Gods
Filed under: Editorials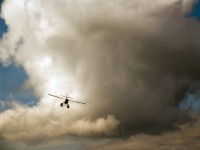 Legend has it that the travel gods always choose some poor Audioholics staffer to exact their vengeance upon every year on the way to the Consumer Electronics Show in Vegas. Well apparently this year I am that staffer. And looking back at the past 24 hours I have also come to suspect that the travel gods are Jets fans, and that they spent Sunday afternoon drinking heavily while watching the Patriots pummel the Jets…
Travel to and from my secret underground Audioholics lair located on the coast of South Carolina is not easy. The nearest "big" airport (Myrtle Beach) is a 30 minute drive. And when traveling to or from the big Myrtle Beach airport, you pray that there are no problems, because your options are limited due to the relatively small number of flights in and out. So what follows are details of why it took me almost 24 hours to get to Las Vegas.
Sunday
Today seemed simple enough. I had it all planned out: get up and go to church, come home and eat lunch, pack, watch a little football, and get to the airport early. But a few days ago a buddy calls me and says he is taking a group of Sr. High kids from church to play paintball, and all of my buddies (and their younger kids) are going to go with them to play. I tell him there is no way - they are playing at 1pm at a course about 20 minutes outside of Myrtle Beach - I would not have time to get changed and make it to the airport, etc. But by the end of church this morning, I had convinced myself it could work. So after church, I announce to my red-hot smoking wife and 2 kids that we are going to play paintball. I throw my clothes and gear together for the trip and we head out. I had clothes in the car I could change into before being dropped at the airport. What could go wrong?
The rain started before we arrived at the paintball course. The big stuff set in about the time I had bought paintballs and rented all the gear. It had become a monsoon as we took the course. And it was awesome! We had several great games (even though nobody could see a thing through our wet, fogged up masks) before I left for the airport. We stopped at a fast food joint where I commandeered (in fatigues and a black hockey jersey covered in paint splatters) the stall in the men's room to change. After washing all the pink paint off of my face from the headshot that splattered through the grill of my mask, I was good to go.
I arrived at the Myrtle Beach airport around 4:15 for my 6:15 flight. Call it a hunch, but since it was pouring down rain I figured it would be best to get there early in case of problems with my flight. When the Delta agent immediately began to try and put me on a US Airways flight, I knew it was bad. He told me that my flight was only delayed a little bit because of bad weather in Atlanta, but I knew that there had to be more to the story if he was trying to move me to another carrier. It didn't matter, because even though he could get me out of Myrtle Beach to Charlotte, there were no available flights continuing on to Vegas. So he told me my flight would be delayed 45 minutes or so, but things should work out if the weather in Atlanta cleared up.
It didn't. I sat at the small airport restaurant and had a burger and watched the Giants battle the Eagles until they finally boarded us around 6:45, which seemed like good news to me. We taxied to the very end of the runway, turned the plane, and the pilot promptly jumped on the intercom and told us that the Atlanta airport had just shut down due to tornados in the area. He decided to park us at the end of the runway, in hopes that if they did re-open we could quickly get in the air and get there. After 30 minutes or so, he announced that it sounded as if some tornados may have touched down at or near the airport, so we were headed back to the gate to sit things out for a while in the terminal. I knew this was not a good sign, because as it stood, my original flight was to land in Vegas around 11pm, and we were already the last scheduled flight out of Myrtle Beach tonight. So I can do the math - chances of me getting to Vegas tonight are getting slimmer by the minute.
Back in the terminal, I am talking to the gate agent about my options. And they are not good. He is scratching his head wondering why there are no available seats to Vegas on any airlines tomorrow. I explain to him that it probably has to do with the fact that CES begins tomorrow - the largest trade show in the world. He suggests that my best bet is to wait and see if this flight gets out tonight to Atlanta, because I will have more options getting to Vegas from Atlanta than I will from Myrtle Beach. Problem is, if I miss my connecting flight in Atlanta (last one to Vegas tonight), I will be stuck in Atlanta overnight. On my nickel. Probably with hundreds of other stranded travelers. Which probably means no available hotel rooms. But what choice do I have? I would be lucky to get there late TOMORROW night if I stay home tonight and try again tomorrow, due to all the full flights. So I wait.
Sure enough, shortly before 9pm, they board us again, and we take off. So I am now 30 minutes into the flight, unsure of what awaits me in Atlanta…
We land in rainy Atlanta, taxi to the gate, but stop short. The pilot informs us that another plane is in our gate. So we sit and wait… for about 45 minutes. My wife soon calls me on my cell to tell me that my plane - the last plane to Vegas tonight - has just departed the gate.
Eventually they let us off the plane, and I begin to work with a gate agent to figure out what to do. I ask for any airline to any city that can get me to Vegas tonight. After about 30 minutes, it is determined that I have to stay overnight in Atlanta and try to standby on flights in the morning. They offer me a special Delta discount voucher for the swanky Microtel - $50 for the night. I am beginning to feel special. I am told to head outside and look for the hotel shuttles.
It was probably at this point that I realized the full extent of the chaos I was in the middle of. It was cold, windy and rainy, and people were actually fighting each other trying to get onto the hotel shuttles. After about 45 minutes of no Microtel shuttle, I call the hotel. After about 30 rings, a lady answers and I ask about the shuttle. She says, and I quote, "you are probably not looking for the right one." So I asked her to enlighten me, and she says, it is the one that says it is "the white one that says the Hilton Garden on it." So around 1am, I am getting on the jam packed little shuttle that after 2 stops at other hotels, drops the small crowd still on board at the luxurious Microtel. We had all been discussing our "discount" vouchers, so when we saw the sign out front that said rooms were $49 for the night we all laughed out loud. (Thanks for the discount, Delta) Of course, there was ONE person working at the Microtel at 1am, and about 25 people in line. As I got close to the desk, she finally announces she only has about 10 rooms left. Thankfully, I made the cut.
A smoky, funky, worn-out Delta-discounted Microtel room never looked so good. By the time I had brushed my teeth, it was about 2am. I set the alarm for 6am and turned out the light. Within 10 minutes, the couple in the room next door began a profanity-laced argument at the top of their lungs. I still cannot tell you what it was about - maybe chicken soup, because it sounded like they kept saying "cluck stew." Honestly, I would not have been surprised to hear a gunshot. And the sad thing is, I was too tired to care. Anyway, this would continue until about 4:40am - at least that is the last time I remember seeing on the red LED display next to the bed as I drifted off.
Monday

The alarm was not a happy sound to hear. I have bad energy in the mornings anyway, but this was REALLY bad energy. I was showered and down in the lobby by 6:25 waiting for the shuttle. (My theory was that the travel gods might be sleeping late, and with any luck I could sneak out of Atlanta without waking them.) At 6:30, the shuttle arrived, jam-packed full of people. The driver hopped out and said he was full and radioed another driver. I noticed a few empty seats and pointed this out to the driver, so a new friend from the night before who had his wife and young daughter jumped in. I then noticed the empty front seat, so I was in, luggage in my lap.
I can now say that one of the great blessings in my life, previous to this morning, was that I had only connected through Atlanta - I had never had to depart from Atlanta. The amount of people waiting to get through security at 6:45 am was astounding. But it did seem to move pretty well, and next thing I knew I was ordering myself a smoothie (breakfast of champions) that was so big it took both hands to hold the cup. I then found my first standby gate. Things did not look good. I was eighth in line on the standby list, and most passengers had checked in. And by the looks of it, I would say most of the passengers had slept at the gate the night before. (I guess they didn't get the special Delta discount…) After sitting for a while and enjoying my monster smoothie, I noticed a Delta Crown room right across the concourse. So I figured this would be a good time to try out my recently acquired membership.
I went in and immediately found the agent desk to inquire about the next flights to Vegas, as I was all but certain I would not make the first one. If you are ever in Concourse A in Atlanta, go see Margie in the Delta Crown Room. She is officially my new best friend. Within moments, like magic, she had me sprinting a few gates down the concourse to hop on a flight to Salt Lake City.
On the ground in Salt Lake City, I passed a bar in the airport that had the weather channel on a TV, and I noticed they were reporting more tornados in the Atlanta airport area. I couldn't help but be thankful that I had gotten up early and made it out of Atlanta before more storms set in. Soon I boarded and after a short flight to Vegas we landed around noon. I quickly found and boarded my hotel shuttle and headed for the strip, where I soon caught up with the Audioholics gang on the floor of the 2007 CES show.
Looking ahead to my return trip Thursday, I am really hoping that the travel gods are not Ohio State fans…