Vonage Keychain Phone
Filed under: Portables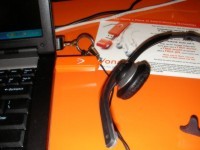 Vonage was pushing a cool new "phone on a keychain" at the CES show in Vegas this week.
The V-Phone, about the size of thumbdrive, is a complete and self-contained phone system. There is no software to install - it is a true plug-and-play product. To use it, just plug it into your USB port. The software is on the drive itself, so shortly after plugging it in a keypad will appear on your screen, and you can begin dialing.
The Vonage V-Phone includes everything you need to make and receive calls with a high-speed Internet connection, including the Vonage Talk software pre-loaded, detachable stereo earpiece microphone, 250MB usable portable memory storage, and a new vonage phone number.
A great solution for people on the go, the Vonage V-Phone fits on your keychain and can be used anywhere there's a high-speed Internet connection. You can make calls from your hotel, an Internet café - you name it! It's powered through your PC so there are no batteries to replace.
The V-Phone is PC-only for now (bummer), but the company hopes to have a Mac OS version later this year. Available now for $39.99. Please visit www.vonage.com for more information.