Toshiba REGZA 720p LCD Displays
Toshiba REGZA 720p LCD Displays
Filed under: Televisions & Displays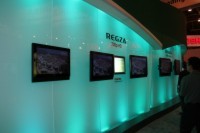 Toshiba's REGZA line includes six 720p models ranging from 26" diagonally measured to the new 42" diagonally measured. These televisions include new advanced Toshiba technologies such as PixelPure3G and DynaLight . The new Toshiba PixelPure3G advanced 14-bit internal digital video processing offers 4,096 levels of gradation for 16 times the gradation levels of standard 8-bit systems, and now creates cleaner more natural images by incorporating new enhanced MPEG noise reduction technology. Unlike standard LCD panels, the new CineSpeed panels incorporate DynaLight dynamic backlight control. This system works with PixelPure to monitor the brightness of the incoming video signal, and then adjust the backlight intensity to maximize contrast. This system creates a dynamic contrast that is up to 5X that of the original panel contrast, significantly improving black levels for deep images in virtually any viewing environment.
For 2007, REGZA 720p models sport beautiful high-gloss black cabinetry, currently uncommon in this category. Plus, the entire 2007 REGZA line also includes ATSC/QAM digital tuning, SRS WOW sound, a PC input, and three HDMI inputs for simple and complete all-digital connectivity.
Toshiba will also offer two REGZA LCDVD models in 26" diagonally measured and 32" diagonally measured sizes. These models offer all of the advanced technologies of the REGZA 720p TV models, plus a built-in DVD player with internal upconversion to 720p for HD display. The new displays will be launced in March/April 2007. For more information please visit
www.tacp.toshiba.com
.