Toshiba REGZA 1080p Displays
Toshiba REGZA 1080p Displays
Filed under: Televisions & Displays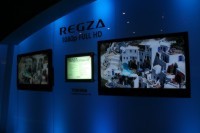 REGZA 1080p Full HD - HL167 Series
Toshiba continues to expand its 1080p offering and is adding a 52" diagonally measured LCD model to its REGZA 1080p Full HD line-up, which already includes 42" and 47" diagonally measured models. 2007 REGZA 1080p Full HD models all accept 1080p input signals and include enhancements such as ColorBurst , and CE-Link (HDMI - CEC). While a standard LCD TV may only reproduce 72% of the NTSC color gamut, ColorBurst is a wide color gamut LCD that can reproduce 90%+ for 25% more color. REGZA 1080p Full HD models now provide both enhanced resolution and increased color depth for richer colors and more realistic images. CE-Link allows two-way control between the TV and applicable source devices, such as HD DVD, through the HDMI cable. The user can use the TV remote to control the source devices, or the source devices to control the TV, allowing simplified operation. Because no IR is needed, the source devices can be placed in a cabinet or closet, which is perfect for flat panel TV applications. To ensure flexible remote connectivity of non CE-Link source devices, Full HD models also include an IR Pass-Through jack.

2007 REGZA 1080p Full HD models feature new step-up high-gloss black cabinetry that further differentiates the 720p and 1080p Full HD series. These models also include Toshiba's Native Mode , which provides clean 1080p pixel-for-pixel display without any overscanning.

Cinema Series REGZA 1080p Full HD - LX177 Series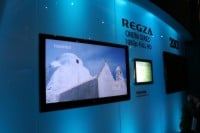 In addition to the many enhancements made throughout the new REGZA line, Toshiba is proud to offer four new Cinema Series REGZA 1080p Full HD models in 42", 46", and new 52" and 57" diagonally measured screen sizes - 57" is the largest flat panel TV Toshiba has offered yet. In addition to the features and benefits of all the new REGZA models mentioned above, 2007 Cinema Series REGZA models also feature new ClearFrame 120 Hz anti-blur technology. This advanced technology doubles the frame rate from 60 frames per second to 120 frames per second using Motion Vector Frame Interpolation, virtually eliminating motion blur without adding flicker or reducing image brightness. This makes Cinema Series REGZA the perfect choice for fast action movies and sports. The Cinema Series REGZA HDMI connections also include Deep

Color and XVycc technology for further enhanced color space.
Cinema Series REGZA 1080p Full HD models also feature a new and innovative premium cabinet design with new SoundStrip2 technology . This technology utilizes an acoustic chamber within the set to develop rich bass, natural voices and crisp highs, all with a further reduced cabinet height enhancing the overall Cinema Series design. In addition, Cinema Series REGZA models target high-end home theater applications with connectivity such as an IR input and a THINC RJ-45 connection, plus Virtual Dolby sound and a new 6-Item A/V illuminated universal remote. The 42HL167 will be released March/April 2007 while the rest of the 1080p line will be released June/July 2007. For more information please visit www.tacp.toshiba.com .