TERK WiFi Remote Control
Filed under: Remote Controls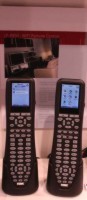 Due to be released in the third quarter of 2007, the TERK WF-REM1 WiFi Remote Control was on display this week at CES. Some of the key features that caught my eye were text messaging, auto updating local tv guide, the ability to surf listings on the remote's display (rather than changing channels on your tv), and RSS newsfeeds. The system is Windows CE based.
According to TERK, the WF-REM1 turns your TV remote into an information center. Connect it to your home wireless Internet network, and it will download a feature-rich program guide each day, tailored to your own content providers. Get more information in a format easier to use than most guides available from cable and satellite companies. It will even download and make available multiple guides, including local cable, satellite and broadcast, depending upon what services you have.
The LF-REM1 is easy to program with a simple "by brand" built-in navigation tool. Microsoft Windows-based software makes it easy to use. It will control more than 24 devices with macro ability and has a learning feature. Its vibrant 2.2-inch color QVGA screen delivers a clear, easy-to-read image.
The LF-REM1 will carry a MSRP of $299.99. For more information please visit www.audiovox.com .