Terk Introduces UWB Wireless HDMI
Terk Introduces UWB Wireless HDMI
Filed under: Technology
At the 2007 CES in Vegas this week, TERK displayed a wireless HDMI transmitter-receiver. Many times I have had people asking me how they can mount a flat panel display over a fireplace without having cables running down the wall and over to built-in shelving. This product from TERK provides a much needed solution to this common problem.
The TERK Ultra Wide-Band Wireless HDMI transmitter-receiver eliminates the cable connection between the high definition content source (cable box, DVD, game system, etc.) and the video display (TV, Projector, etc.). The HDMI-UWB features non-line-of-sight operation that enables devices to communicate wirelessly through walls and extend across multiple rooms. It also features transmission quality equal to that of wired solutions. The input from video devices can be HDMI, component video, composite video, and analog audio.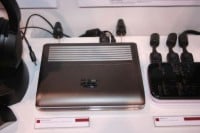 The output to the HDTV is industry-standard HDMI v1.2a. Full HDCP (High-bandwidth Digital Content Protection) compliance is supported, allowing protected content to be displayed to an authenticated display. The product is based upon standards from the WiMedia Alliance and is guaranteed to coexist with other WiMedia compliant products.
The unit will be plug and play, will ship with two short HDMI cables, and has a working range of 10 meters.
The HDMI UWB Transmitter and receiver on display at CES was a working prototype, but the final unit is scheduled to ship in the second quarter of 2007 for around $299.