Snell A7 Reference Tower Speakers
Snell A7 Reference Tower Speakers
Filed under: Loudspeakers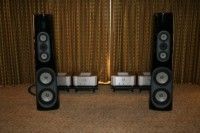 MSRP: $30,000/pair
Snell caught us off guard with this new beautifully crafted flagship loudspeaker system. The A7 Tower features a transmission line enclosure for the mid/high driver array. The top portion of the speaker utilizes a D'Appolito driver topology with dual 5 ¼" magnesium cone midrange drivers and a 1" silk dome tweeter. The bass portion utilizes dual 10" magnesium cone drivers. All of the drivers are from SEAS.
The cabinet is a slim, tall, deeply rounded tower that breaks away from the traditional box cabinet design. The top and bottom are both ellipsoids of equal area with different diametric shapes resulting in a smooth tapering column with no parallel surfaces and a constant cross sectional area.
The crossover network uses 24dB/octave-acoustical slopes which is a combination of 2 nd order electrical slopes with the natural roll of the drivers. The crossovers use the highest quality components including air core inductors and polypropylene capacitors. The networks are all individually laid out and isolated from each other.
This system was designed by Dr. Joe D'Appolito, the inventor of the D'Appolito driver array which sandwiches a tweeter between two midrange (MTM) which helps control vertical dispersion phase displacement and the related interference effects, the portions of the sound emitted upwards and downwards are minimized
Virtually any wood finish is available upon special order.
System Specifications:
Frequency Response: 27Hz - 40kHz
Crossover Frequencies: 250Hz, 1.8kHz, 3kHz
Sensitivity: 89dB @ 1 watt/meter
Impedance: 8 ohms
Weight: 170lbs
Dimensions: 59" x 15" x 21"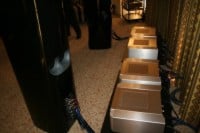 We had a chance to demo these speakers off site from CES at the Aladdin. The room had a convex shaped back wall and was wider than it was deep making the primary listening area about eight feet from the speakers. Snell engineers cleverly used the rooms natural elements to achieve the best possible sound with such items as a couch corner bass trap and heavy drapery on the front wall. The electronics consisted of upper echelon Marantz electronics including four amplifiers for biamp capability. They were spinning vinyl on the new Marantz turntable which was elegant in look and performance. This was the first and only demo where we experienced pristine Vinyl playback.
We were very impressed with their uniform soundstage the speakers presented across the entire listening area of the demo room. They had very well controlled vertical and horizontal dispersion. The speakers conveyed a very open and airy top end which was reminiscent of some of the finest speakers we've heard. The bass was tight and well controlled and the vocals sounded very natural. We enjoyed hearing Paul Simon's "Diamond on the Souls of Her Shoes " and could have stayed to listen to the entire Graceland album if we had the time. These are truly flagship products that we'd love to do a formal review on.
For more information, visit: http://www.snellacoustics.com