Shure Sound Isolating Earphones
Shure Sound Isolating Earphones
Filed under: Headphones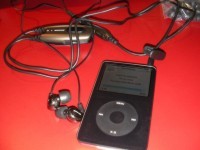 At the 2007 Consumer Electronics Show (CES), Shure Incorporated unveiled four new models of Sound Isolating Earphones. Well known for years in professional audio for their in-ear monitors, Shure has introduced a new line of sound isolating earphones for consumer use.
Sound Isolating Earphones are a special type of earphone developed originally for musicians trying to monitor their performance in loud onstage environments. They work by using soft foam or flex sleeves to seal out background noise, allowing small, high-performance MicroSpeakers to deliver incredibly precise sound directly into the ear. This isolated listening area creates a quiet, intimate experience often allowing listeners to hear subtleties in recordings that they may have never noticed before.
Building off the success of its E Series Sound Isolating Earphone line, Shure now offers four new models of Sound Isolating Earphones. This new earphone line builds on everything that is great about its predecessor, while offering consumers a number of unique attributes including new sound signatures, modularity, style and ergonomics.
The new Shure Sound Isolating Earphone line consists of the following models:
The $149.99 SE210 is designed with a Hi-Definition MicroSpeaker to provide full-range audio distinguished by an optimal high frequency response. The SE210 includes a Deluxe Fit Kit.
The $249.99 SE310 utilizes a Hi-Definition MicroSpeaker with Tuned BassPort technology which showcases extended range audio and enhanced bass for optimal high frequencies and enhanced low-end performance. The SE310 also includes a Deluxe Fit Kit
The $349.99 SE420 features a dedicated tweeter and woofer. An internal crossover sends lower and higher frequencies to dedicated drivers so that lows, mids and highs are distinct and defined, for accurate reproduction of all the details of your music. The SE420 also includes a Premium Fit Kit.
Formerly Shure's E500, the $449.99 SE530 (or $499.99 SE530PTH) represents the bridge between the E Series and the new line of Sound Isolating Earphones and has therefore been renamed the SE530 to signify its place as the flagship of Shure earphones. Offering the ultimate luxury audio experience, the SE530 features Triple TruAcoustic MicroSpeakers - a dedicated tweeter and dual woofers - for an expansive sound stage and full-bodied bass. An internal crossover routes audio to a dedicated tweeter to ensure that highs and mid-highs are incredibly accurate and detailed, while two dedicated woofers provide the ultimate in balanced lows and low-mids and full-bodied bass. A rich, elegant design is rounded out by a Premium Fit Kit.
The SE530PTH also includes the Shure Push-To-Hear Control (PTH), an industry first for sound isolating earphones. This is a great feature that mutes the signal and uses a microphone so the listener can hear those around him. I tried this out and loved it - it is something I imagine we will see more of in the future.
The new line will be available in February 2007. Please visit www.shure.for more information.