Sherwood Newcastle R-972 HDMI 1.3 Receiver
Sherwood Newcastle R-972 HDMI 1.3 Receiver
Filed under: Receivers/Processors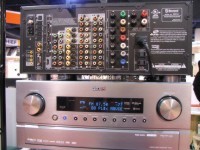 MSRP: $1499
Sherwood revamped their entire line of A/V receivers and displayed them at CES. Not only did they acclimate into the 21 st century with their first HDMI enabled receivers but they went above and beyond the status quo by incorporating new features not currently available on the market.
Some of the most noted features include:
HDMI 1.3
Video Scaling to 1080p
Converts analogue video to HDMI

GUI OSD
DTS Master Audio HD
Dolby TruHD
RF Remote Control
Automatic Audio Set-up
Audyssey MultEQ XT
RS-232 Control / Upgrade
Multi Source, Multi Zone
A/V Sync Delay by Input
XM Connect & Play
Installer Memory
Built in bi-amp capability
The R-972 boasts 100 wpc x 7 and is powered by TI DA-710 & 708 bit DSPs. Want flexible bass management? No problem, Sherwood includes a quadruple independent crossover scheme.
For more information, visit: http://www.sherwoodusa.com/