Scandyna "The Dock"
Filed under: HTiB/Mini Systems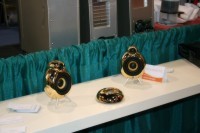 Scandyna's "The Dock" is not only a iPod recharging station, but also and amplifier and video distributor. Basically, with a video iPod, you can power a two speakers, send output to a sub, and send the video to your computer. The cool thing is that it had different adapters for all the different iterations of the iPod so that you don't have to worry about matching your iPod to the Dock (or picking which of your family's iPods to mate to The Dock). Features of The Dock include:
Color: White, Black.

Power 2 x 15 watts RMS active amplifier Class T (4 ohms).

Frequency 20Hz - 20 KHz +-1.0 db.

Voltage 100-240 VAC.

Signal/noise ratio > 75dB.

Max noise < 1mV.

Inputs Line level input dock stereo L & R 30 Pin I/O connector.

Outputs

1 x stereo speaker line output.

1 x stereo line output for subwoofer.

Distortion < 0.1% at 1 watt. Max. 1.0% at full power.

Protections

Short circuit protection.

Over current protection.

Over temperature protection.

The dock can play

iPod nano 2/4 GB.

iPod video 30/60 GB.

iPod 10/15/20/30/40 GB.

iPod mini 2/4 GB.

iPod click wheel 20/40 GB.

iPod photo 30/40/60 GB.

And all future iPods with 30 Pin I/O connector.

Weight 0.35 kg (0.77lbs) without packing and adaptor.

Dimensions

Width: 122 mm.

Height: 40,3 mm.

Length: 130mm.
For more information, please visit www.podspeakers.com .