Samsung's New Slimfit CRT HD Displays
Samsung's New Slimfit CRT HD Displays
Filed under: Televisions & Displays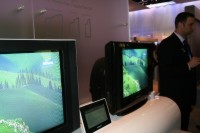 Samsung launched three space-saving SlimFit TVs offering greater connectivity, enhanced HDTV picture, and design options that complement any home decor. The less than $1,000 price tag (one 2007 model going as low as $499) gives consumers the flat panel look they want without the flat panel cost.
30-inch Models
The TXT-3092 30-inch SlimFit HDTV is a thin 30-inch CRT television at only 16-inches deep. The Nano Pigment Screen produces deeper colors, higher contrasts and a wider range of color expression throughout the entire screen, providing an even more vibrant picture than current CRT HDTVs. The speakers are placed on the side of the unit for a wide-screen design impact that visually complements the 16:9 aspect ratio. The unit sports a silver bezel, abuilt-in HDTV tuner (ATSC/NTSC), progressive scan and 3:2 pull-down. The TXT-3092 model offers two HDMI (High-Definition Multimedia Interface) digital connections so users can enjoy both digital picture and digital sound. Two auto sensing HD/DVD component video inputs allow for full HD resolution from high definition peripherals. And, SRS audio technology combines with the 20-watt built-in speakers to provide robust sound quality for an incredible home cinema experience.
The TXT-3093 30-inch Wide SlimFit HDTV features built-in speakers on the bottom, a 16-inches depth (30-inch wide), a built-in HDTV tuner (ATSC/NTSC) for tuning free over-the-air digital broadcasts. The finer pixel dot pitch flat CRT TV improves picture resolution and brightness, while 3:2 pull-down film frame rate correction keeps the picture smooth. With an INVAR shadow mask and color temperature adjustments, the TXT-3093 TV maximizes response to temperature changes. Velocity scan modulation improves edge detail, while SRS Sound 5.1 processing provides quality 20-watt stereo audio. The TXT-3093 TV offers true compatibility with high-resolution progressive scan DVD players with the HD/DVD component video input (auto sensing) and digital signal processing. Two HDMI inputs provide optimal signal transfer from all of the latest digital peripheral devices. The TXT-3093 TV also comes with a multi-function universal remote control for added convenience. The 30-inch TXT-3092 and TXT-3093 TVs will be available in April 2007 at an MSRP of $699.
27-inch Models
With the TXT-2793 27-inch SlimFit HDTV, Samsung not only offers a thin 27-inch CRT TV, but it will be available for less than $600. The unit offers viewers improved brightness, contrast, and color. The 27-inch SlimFit model employs Samsung SDI Slim CRP (Cathode Ray Panel) panel. The built-in HDTV tuner lets users watch their favorite shows in full high definition, and the Nano Pigment Screen deepens contrast and enhances color for a more vivid picture. Consumers can watch movies in theater style with the 16:9 aspect ratio, and progressive scan and 3:2 pull-down provides a clearer and more stable picture. The unit has two HDMI digital connections and two auto sensing HD/DVD component video inputs and 20-watt built-in speakers with SRS audio technology. The 27-inch TXT-2793 will be available in April 2007 for an MSRP of $549. For more information please visit www.samsung.com .