Samsung's K3 and K5 MP3 Players
Samsung's K3 and K5 MP3 Players
Filed under: Portables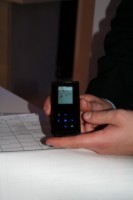 Samsung Electronics offers a stylish pocket-and-gym friendly MP3 Player, K3 Digital Audio Player (Samsung's slimmest player to date). In addition, Samsung recently released a unique model, with all the features of the K3 model and the addition of built-in slide-out speakers, the Samsung K5 Digital Audio Player. The Samsung K3 MP3 player is .27-inches thick and sports one-button design makes for a simple stylish exterior that instantly lights up into a 1.8-inch OLED screen, and lights up in icy blue and white to reveal a full navigational array.
The K5 MP3 player takes the same interface and features of the K3 model and adds built-in slide-out speakers. With most MP3 players either you plug in ear buds or you have to lug around bulky, external speakers in order for anyone else to hear. The Samsung K5 model offers small clear speakers built right into the sleek, compact device that easily slide out with a push of the thumb.
The K5 MP3 player is able to stably sit on a flat surface but for on-the-go users, the K5 unit still offers them the option of listening with snug fitting ear buds.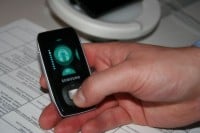 Both the K3 and K5 players offer consumers a simple to use menu and navigation system and add features such as a JPEG viewer to create personalized slideshows set to music and a built-in FM radio tuner. The K5 model, thanks to its built-in slide-out speakers also has an alarm clock function.
The K3 and K5 players support a variety of music subscription services including popular services such as Napster, Rhapsody and Yahoo! In addition, the K3 and K5 models support MP3, WMA, DRM10 and JPEG formats giving consumers the freedom to listen to music the way they want to.
The K3 player features up to 25 hours of battery life and comes in models with 2GB, 4GB or 8GB of flash memory while the K5 model offers up to 30 hours of battery life using the earphones, or six hours in speaker mode. Samsung's K3 model will be available in March 2007 in 2GB, 4GB and 8GB capacities. Samsung's K5 MP3 Player is available now at MSRPs of $149.99 (1GB) $179.99 (2GB) and $229.99 (4GB) (U.S. Market). For more information please visit www.samsung.com .