Samsung's Wireless ICE Refrigerator
Samsung's Wireless ICE Refrigerator
Filed under: Technology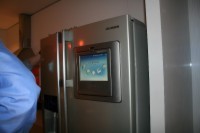 Samsung Electronics introduces its Wireless ICE (Interactive, Communication, Entertainment) Refrigerator. The 25 cubic foot refrigerator features a detachable 10.4-inch wireless TFT (Thin Film Transistor) touch-sensitive LCD Pad, allowing it to serve as both a dedicated food storage appliance and a family information center. The 10.4-inch LCD Pad is touch sensitive, allowing families to navigate functions and find information through simple on-screen buttons. The LCD Pad incorporates a digital schedule and calendar to highlight important dates, as well as a digital memo pad. The unit can also be used to leave family messages in voice or text form. A stylus pen is included to handwrite messages for a more personal touch.
The Wireless ICE Refrigerator makes it easy for busy families to track and organize both fresh foods and leftovers with a system of food management functions. The touch screen features a Detail Memo function and provides users with information on optimal food storage based on category. The refrigerator can also be set to remember expiration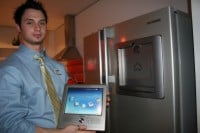 dates for different products and can generate on-screen alerts when items are too old to eat. The digital wireless LCD Pad receives its signal from a Samsung-supplied transmitter that consumers install in their existing home entertainment systems. Two additional video inputs allow the ICE Pad to receive DVD / VCR and radio programming wirelessly as well.
A sound system with two speakers provides sound from TV programs, and from the built-in digital AM/FM radio. The ICE Pad is detachable from the refrigerator, so it can travel from room to room and be conveniently placed wherever a TV is needed temporarily, or used at a desk or table for in depth family scheduling and kitchen organization. The Samsung Wireless ICE Refrigerator carries an MSRP of $3,499 , and is currently available at Lowes. For more information please visit www.samsung.com .