Samsung's New 1080p Plasma Displays and Tilt Mounts
Samsung's New 1080p Plasma Displays and Tilt Mounts
Filed under: Televisions & Displays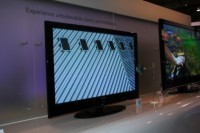 Samsung Electronics unveiled its new 50-inch (HPT5064) and 42-inch (HPT4264) plasma HDTVs today. Samsung's new PDP offerings come equipped with the company's exclusive "Ultra FilterBright" technology which features an enhanced panel and filter to minimize image glare and maximize contrast. The HPT5064 and 4264 models feature a contrast ratio (of 10,000:1) for deep black reproduction that results in clearer, crisp and more finely detailed images even in bright viewing environments. With 16 bit color processing, improvements in contrast result in a wide array of color expressions. The company has also applied Silhouette Editor, which helps eliminate false contours and dither noise in the fast moving scenes, resulting in a refined face tone and shape. These features help produce rich color tones and create a more realistic picture for users to see.
In addition, the HPT5064 and HPT4264 TVs deliver advanced digital connectivity with Anynet+ (HDMI-CEC), Wise LinkTM (USB2.0), and 3HDMI terminals (1 side). Anynet+ (HDMI-CEC) enables a single remote control unit to operate a BD player, home theater system and other A/V products that are also CEC compliant. The WISELINK (USB 2.0) connection allows users to connect their digital camcorder, digital camera or mp3 players so they can play multimedia files in a variety of viewing and playing modes. Three HDMI terminals provide users with multiple digital interfaces, providing them with added convenience of easily connecting a,Blu-ray player, HTiB, or other home theater equipment to their TV so users can enjoy clear HD quality video and images.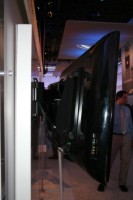 Samsung has also adopted a new auto wall mount system for the new line of plasmas which allows users to control the angle of their TV view with the touch of a button on their TV remote control. This controls the tilt of the display from 15- to 20-degrees in multiple directions, while also having a safety sensor preventing it from touching the wall or anything that may interfere with the display while in motion. Samsung's auto wall mount system will be available in March 2007 at an MSRP of $999. For more information, please visit www.samsung.com .