Samsung 1080p LCD Displays
Samsung 1080p LCD Displays
Filed under: Televisions & Displays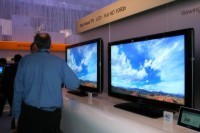 Samsung's latest premium LCD TVs (40", 46", and 52" inches) offer higher picture quality and new advanced features, including full 1080p high-definition (1,920 x 1,080 pixels). Samsung enhanced its picture clarity by combining its proprietary Digital Natural Image engine (DNIe) with a new SuperClear panel to deliver a 12,000:1 contrast ratio and truer black tones to provide the best possible picture. An optimized, wide color gamut increases image quality and color richness, while the 178-degree viewing angle offers a wide radius for viewers to watch.
The new Samsung 1080p LCD TVs sport a high-gloss finish, chrome plating, hidden speakers and swivel stand. These TVs provide cutting-edge digital connectivity, including Anynet+ (HDMI-CEC), Wise Link and 3 HDMI1.3 (1 side). The Anynet+ (HDMI-CEC) technology enables a single remote control unit to operate a Blue-ray disc player, home theater system and other HDMI-CEC compatible A/V products. WiseLink supports USB 2.0, enabling unfettered access to MP3 and JPG data. The high-definition multimedia interface will simultaneously deliver full signal transmission to three different sources. Samsung has added even more convenience with its remote-controlled wall mount (vertical up to 25- degrees and horizontal up to 60-degrees).
Main Specifications
Model #: LNT4065F/LNT4665F/LNT5265F
Resolution: 1920*1080
Contrast Ratio: 12,000:1 (Dynamic Contrast)
Brightness: 550cd/m2
Color Gamut: 92%
Viewing Angle: 178-degrees
Connectivity: 3 HDMI1.3, HDMI-CEC, USB 2.0
For more information, please visit www.samsung.com .