RBH Sound MC-44C Surround Speaker
RBH Sound MC-44C Surround Speaker
Filed under: Loudspeakers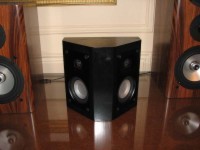 RBH Sound announces the newest addition to their highly popular MC Series, the MC-44C. The MC-44C is a speaker designed specifically for use as the rear effects channels in today's surround sound systems. RBH designed the MC-44C to provide a timbre-matched surround channel consistent with the high value the MC Series is known for.
The MC-44C features RBH's exclusive aluminum cone technology, employing two 4-inch woofers and two 1-inch tweeters in a bi-polar configuration; thus presenting diffused higher frequencies and providing solid reproduction of lower frequencies. The benefit of this design is the speaker's ability to reproduce high performance surround channel information from a position which cannot easily be located by the ear.
The MC-44C is available in the MC Series' black-stained oak veneer and also features RBH's proprietary Resonance Damping Alloy Baffle™ (RDAB) which functions to dampen cabinet vibrations and minimize tweeter diffraction. Integrated key-slot mounts are provided on the back of the MC-44C cabinet, allowing for fast and secure wall mounting. With a recommended power of 50 to 150 watts, a frequency response of 100Hz-20kHz ±3dB, and a weight of only 11 lbs, the MC-44C is sure to please the most finicky home theater aficionado.
The MC-44C measures 9.5"H x 10.5"W x 6"D, has a suggested retail price of $959.99/pair and is available now.
For more information, visit http://www.rbhsound.com