Mission Elan Series
Filed under: Loudspeakers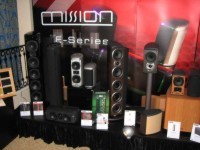 When we looked at Mission Speakers this week at CES we were impressed with their élan (e3) range of loudspeakers. Despite being designed to appeal to a younger audience and priced accordingly, the élan series uses the same cabinet construction technique as the high-end elegante system. Thin layers of variable density MDF are pressed into curved shapes and set using RF activated glue to form a rigid and acoustically inert enclosure.
The drive units use a new cast-alloy chassis design designed by Mission and a simple but high-quality crossover synergise that are designed to extend bandwidth and linear frequency response. The speakers are finished in a choice of vinyl wraps.
The range of models includes two bookshelf models, a floor-standing tower, centre channel subwoofer and bi-polar surround. All models designed to work together, although the subwoofer and bi-polar surround speakers can be used with a range of speakers from Mission and other manufacturers.
The speakers appeared to have a very nice build quality to them, employing high quality crossovers and drivers.
For more information, visit: http://www.mission.co.uk/