Matsunichi mobiledrive
Filed under: Technology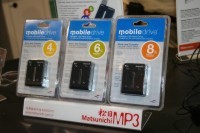 Matsunichi showed off their mobiledrive USB Hard Drive at CES this year. About the size of a credit card but thicker, a USB 2.0 connector flips out for easy hot-swappable connection to any computer (the drive is both PC and Mac compatible). The drive is available in 6, 8, and 12 gig versions.
Features include:
Up to 12GB of Portable Storage Space
USB 2.0
2MB Cache
Compatibility: Windows 98SE/Me/2000/XP, Mac OS 9.0 or greater, Linux 2.4 or greater
3600 RPM
Dimensions: 1.92"W x 2.56"H x .51"D
Weight: 1.55 oz.
Package Contents: mobiledrive, USB 2.0 Cable, Quick Installation Guide
For more information please visit www.matsunichi.com .