Jabra/Klipsch Desktop Speaker System
Jabra/Klipsch Desktop Speaker System
Filed under: HTiB/Mini Systems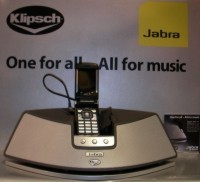 Jabra announced at CES the launch of its S5010, a corded stereo speaker designed for use with music-enabled mobile phones, mobile audio devices, laptops or a PC.
Incorporating Hi-Fi quality acoustics by Klipsch Audio Technologies, the Jabra S5010 speaker was created for music lovers who store their music on a wide variety of devices and seek high quality sound regardless of the source. The Jabra S5010 delivers bass, detail and clarity not available in other speaker systems for mobile phones. It can be connected to two devices at once (for example a PC and music phone), through one of three different inputs, giving the user easy plug and play access to their digital music files from both devices.
The Jabra S5010 features dual 2.5-inch fiber-composite woofers in a ported enclosure. The speaker system is designed with a black and silver detailed finish and ships with three connector cables: 2.5 mm, 3.5 mm and mini USB which plugs directly through the headphone jack of the desired audio device. The Jabra S5010 is designed so that the user can easily operate the phone and access its functionalities while playing music.
Technical specifications of the S5010:
• Dimensions: 110 x 330 x 170 mm
• Weight: 4.8 lbs.
• Frequency response: 70 Hz to 20 kHz
• Maximum acoustic output: 94 dB SPL at 1m
• Power: 30 watts total: 15 watts x 2 channels
• Crossover frequency: 4.6 kHz
• Tweeter: 2 X 3?4"
• Woofer: 2 X 2.5"
• Amplifier: Class D
• Power supply: 100-240 V, 50-60 Hz
The Jabra S5010 will be available during Q1 2007 at a MSRP of $149. For more information visit www.jabra.com .