Jabra C820s Corded Active Noise Cancellation Headphones
Jabra C820s Corded Active Noise Cancellation Headphones
Filed under: Headphones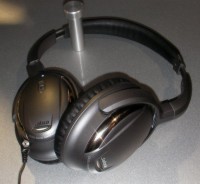 When you hear the name Jabra, most people think of Bluetooth headsets for cell phones. But at CES this week, Jabra was showing a new corded headphone designed for music lovers. The build quality looks great, and I can't wait to test them out on the flight home.
The Jabra C820s deliver full-range sound through high quality speakers, providing premium audio straight from your mobile phone, iPod, or any other music source.
The headphones incorporate the Active Noise Cancellation technology, which Jabra touts as offering one of the best ambient noise cancellation systems available today. Even in noisy environments, these headphones should allow you to enjoy your music undisturbed.
The C820s folds flat for compact and easy transportation and has a nice carry case included. It comes equipped with a standard 2.5mm adapter for stereo mobile phones, 3.5mm adapter for music players, 2-prong airline adapter, and a 6.5mm adapter for home hi-fi stereo systems.
The Jabra C820s is available now. For more information visit: www.jabra.com .