Impact Acoustics Digital RapidRun
Impact Acoustics Digital RapidRun
Filed under: Miscellaneous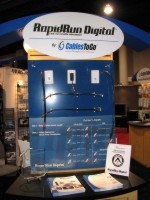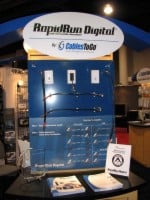 Routing cables behind drywall or in new construction just got a whole lot easier. Enter Digital RapidRun, Impact Acoustics newest addition to their modular cable design solution. These cables allow you to route cables in a much easier manner for all of your digital and analog connectivity needs, now including HDMI and DVI.
All you do is simply route and pull the cable without the connectors and attach the modular terminations at each end when ready to use. The RapidRun connector is easily pulled through a conduit as small as 3/4" diameter. With 15lbs of pulling tension, the RapidRun connector will still pass through a 90 degree sweep.
*NEW Digital Runners
4-24AWG twisted pairs with Mylar foil and drain wire

1-24AWG twisted pair plus 5-24 AWG conductors

Optimized design for TMDS uncompressed digital video for HDMI and DVI

25ft reach with passive terminated wallplates up to 1080p resolutions

65ft reach will active wallplates up to 1080p resolutions
Note: The active wallplate corrects for attenuation and impedance so that the signal can be transmitted over a runner cable as long as 65 feet. A Flying Lead or passive RapidRun Digital Wall Plate with a standard HDMI or DVI interconnect terminates the runner cable.
The Home Theater Runner
5-28AWG miniature coaxial stranded copper conductors

Mylar Foil and 85% braided copper shield.

Analog and S/PDIF Digital Audio
PC/Video Runner
3-28AWG coaxial cables with braided copper shielding

3-24AWG Twisted Pair plus a single 24AWG Pair

UXGA Runner for PC Applications rated to resolutions of 1600 x 1200 pixels
All of the RapidRun products are available with CL2 rated PVC for in wall installation and use Decora compatible wall plates. These cables are awesome hence why they have earned the Audioholics 2006 Product of the Year award. Stay tuned for our comprehensive review of the new Digital RapidRun product shortly.
For more information, visit http://www.impactacoustics.com